Country profile:

Austria



Austria's federal government formulates health policy directive and public hygiene standards are high. The country spent an estimated 8.2% of GDP on health care annually as of 1999 and, in recent years, has expanded its public health facilities. Virtually every Austrian has benefits of health insurance. In principle, anyone is entitled to use the facilities provided by Austria's health service. The costs are borne by the social insurance plan, or in cases of hardship, by the social welfare program.

Famous for its spectacular mountain scenery Austria is no longer the dominant political force it was in Central Europe under the Habsburg dynasty which ruled until the first world war.
However its position at the geographical heart of Europe on the key Danube trade route enhances its strategic importance.
Overview
Along with Switzerland Austria forms Europe's neutral core. After annexation by Nazi Germany in 1938 and then Allied occupation Austria's 1955 State Treaty declared the country "permanently neutral".
There were some questions surrounding this when two thirds of voters supported EU membership in a referendum in 1994 and entry followed in 1995.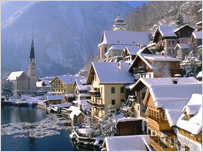 Austria - Halstatt view during winter
The entry into Austria's coalition government of the far-right Freedom Party in February 2000 sent shockwaves across Europe. Austria's relations with the EU were severely strained after some states imposed sanctions in protest. These were lifted some months later.
The capital Vienna is home to key international organisations including the Organisation for Security and Cooperation in Europe (OSCE) the International Atomic Energy Agency (IAEA) and Opec the Organisation of Petroleum Exporting Countries.
Austria has a very rich cultural heritage. Wolfgang Amadeus Mozart occupies a place of his own as composer of some of the best loved European classical music while the works of Franz Schubert enjoy great popularity too.
In the world of philosophy and ideas Sigmund Freud still provokes controversy while Ludwig Wittgenstein was one of the major influences in 20th century thinking. In fine art the paintings of Gustav Klimt are widely admired.
Facts
Full name: Republic of Austria
Population: 8.4 million (UN 2009)
Capital: Vienna
Area: 83871 sq km (32383 sq miles)
Major language: German
Major religion: Christianity
Life expectancy: 77 years (men) 83 years (women) (UN)
Monetary unit: 1 euro = 100 cents
Main exports: Machinery metals paper textiles food livestock
GNI per capita: US $46260 (World Bank 2008)
Internet domain: .at
International dialling code: +43
Leaders
President: Heinz Fischer
A centrist politician committed to the welfare state and Austrian neutrality Heinz Fischer was elected to the largely ceremonial presidency in April 2004.
He defeated Foreign Minister Benita Ferrero-Waldner who was nominated by former Chancellor Wolfgang Schuessel and who had the backing of the Freedom Party.
Chancellor: Werner Faymann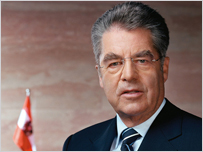 President: Heinz Fischer
A new grand coalition government was sworn in in Austria in December 2008 two months after snap general elections.
It is made up of the centre-left Social Democrats (SPO) and the conservative People's Party whose previous coalition collapsed during the summer.
Social Democrat leader Werner Faymann took the job of chancellor while Josef Proell of the People's Party serves as vice chancellor
and finance minister.
The Social Democrats won the September elections with 30% of the vote. But they and the People's Party with 26% suffered their worst results since 1945. Far-right parties won nearly 29% of the vote doubling their support since the 2006 elections.
Mr Faymann is a former Vienna city councillor and was transport and infrastructure minister in the cabinet of his predecessor Alfred Gusenbauer. He is seen as a pragmatist with a populist streak.
In his inaugural address Mr Faymann stressed the need for political compromise among members of the previously fractious coalition and he outlined measures for helping the country to deal with the global economic downturn.
Media
Austria's public broadcaster Oesterreichischer Rundfunk (ORF) has long-dominated the airwaves. Lately it has faced competition from private broadcasters particularly in Vienna.
Private broadcasting in Austria is a recent development. Local commercial radio was given the green light in the 1990s. A national TV licence was granted to commercial station ATV - which opened in 2000 - and local TV stations have sprung up.
Cable or satellite TV is available in most Austrian homes and is often used to watch German stations some of which tailor their output for local viewers.
A daily newspaper is a must for many Austrians. National and regional titles contest fiercely for readers.
The press

Television

Radio

News agency



AFRICA | ASIA-PACIFIC | AMERICAS | EUROPE | MIDDLEEAST | SOUTHASIA






Mauritania Mauritius Morocco Mozambique Namibia Niger Nigeria Republic-of-congo Rwanda Sao-tome-and-principe Senegal Seychelles Sierra-leone Somalia South-africa Sudan Swaziland Tanzania The-gambia Togo Tunisia Uganda zambia Zimbabwe Australia Brunei Burma Cambodia China East-timor Fiji Indonesia Japan Kazakhstan Kiribati Kyrgyzstan Laos Malaysia Marshall-islands Micronesia Mongolia Nauru New-zealand North-korea Palau Papua-new-guinea Samoa Singapore Solomon-islands South-korea Taiwan Tajikistan Thailand The-philippines Tonga Turkmenistan Tuvalu Uzbekistan Vanuatu Vietnam Antigua-and-barbuda Argentina Bahamas Barbados Belize Bolivia Brazil Canada Chile Colombia Costa-rica Cuba Dominica Dominican-republic Ecuador El-salvador Grenada Guatemala GuyanaHaiti Honduras Jamaica Mexico Nicaragua Panama Paraguay Peru St-kitts-and-nevis St-lucia St-vincent-and-the-grenadines Suriname Trinidad-and-tobago United-states-of-america Uruguay Venezuela Albania Andorra Armenia Austria Azerbaijan Belarus Belgium Bosnia-hercegovina Bulgaria Croatia Cyprus Czech-republic Denmark Estonia Finland France Georgia Germany Greece Hungary Iceland Ireland Italy Latvia Liechtenstein Lithuania Luxembourg Macedonia Malta Moldova Monaco Montenegro Norway Poland Portugal Russia San-marino Serbia Slovakia Slovenia Spain Sweden Switzerland The-netherlands Turkey Ukraine United-kingdom Vatican Algeria Egypt Iran Iraq Israel-and-palestinian-territories Jordan Kuwait Lebanon Libya Mauritania Oman Saudi-arabia Sudan Syria Tunisia United-arab-emirates Yemen Afghanistan Bangladesh Bhutan India Nepal Pakistan Sri-Lanka The-Maldive