Altrol
(Anastrozole)
Indications
Altrol is indicated for adjuvant treatment of postmenopausal women with hormone receptor-positive early breast cancer.
Altrol is indicated for the first-line treatment of postmenopausal women with hormone receptor-positive or hormone receptor unknown locally advanced or metastatic breast cancer.
Altrol is indicated for the treatment of advanced breast cancer in postmenopausal women with disease progression tamoxifen therapy.
Description
Many breast cancers need supplies of the hormone oestrogen to grow. In women who have had their menopause, the main source of oestrogen is through the conversion of androgens (sex hormones produced by the adrenal glands) into oestrogens. This is carried out by an enzyme called aromatase. The conversion process, known as aromatisation, happens mainly in the fatty tissues of the body.
Use
This medication is used to treat breast cancer in women who have gone through "the change of life" (menopause). Anastrozole works by lowering estrogen hormone levels to help shrink tumors and slow their growth.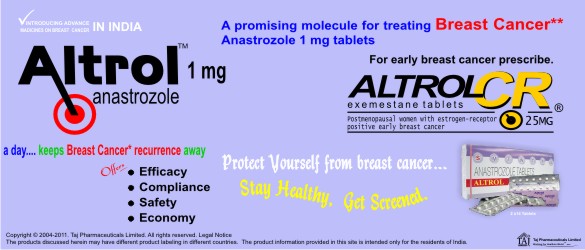 How To Use
Take this medication by mouth with or without food, usually once a day, or as directed by your doctor.
Side Effect
Constipation, diarrhea, nausea, vomiting, upset stomach, loss of appetite, body aches and pains, breast swelling/tenderness/pain, headache, dry mouth, scratchy throat, increased cough, dizziness, trouble sleeping, tiredness/weakness, vaginal bleeding, hair thinning, and weight change can occur. Changes in diet such as eating several small meals may help lessen the chance of nausea and vomiting. If any of these effects persist or worsen, notify your doctor.
Tell your doctor immediately if any of these unlikely but serious side effects occur: mental/mood changes (e.g., depression), numbness/tingling/swelling of the hands or feet, persistent cough, unusual vaginal discharge/burning/itching/odor, unusually stiff muscles, pain/redness/swelling of the arms or legs, vision changes, bone pain, bone fracture, signs of infection (e.g., fever, chills, persistent sore throat).