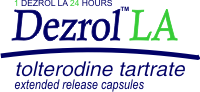 Home
>>
Products
>>
Brands
>> Dezrol LA

Dezrol LA
(tolterodine tartrate)
DRUG DESCRIPTION : DETROL LA Capsules contain tolterodine tartrate. The active moiety, tolterodine, is a muscarinic receptor antagonist.
DETROL LA for oral administration contains 2 mg or 4 mg of tolterodine tartrate. Both capsule strengths are imprinted with a pharmaceutical grade printing ink that contains shellac glaze, titanium dioxide, propylene glycol, and simethicone.
INDICATIONS : DETROL LA Capsules are once daily extended release capsules indicated for the treatment of overactive bladder with symptoms of urge urinary incontinence, urgency, and frequency.
USES : This medication is used to treat an overactive bladder. By relaxing the muscles in the bladder, tolterodine improves your ability to control your urination. It helps to reduce leaking of urine, feelings of needing to urinate right away, and frequent trips to the bathroom. This medication belongs to the class of drugs known as antispasmodics.
DOSAGE AND ADMINISTRATION : The recommended dose of DETROL LA Capsules are 4 mg daily. DETROL LA should be taken once daily with liquids and swallowed whole. The dose may be lowered to 2 mg daily based on individual response and tolerability, however, limited efficacy data is available for DETROL LA 2 mg (see Clinical Studies). For patients with significantly reduced hepatic or renal function or who are currently taking drugs that are potent inhibitors of CYP3A4, the recommended dose of DETROL LA is 2 mg daily.
SIDE EFFECTS : The Phase 2 and 3 clinical trial program for DETROL LA Capsules included 1073 patients who were treated with DETROL LA (n=537) or placebo (n=536). The patients were treated with 2, 4, 6, or 8 mg/day for up to 15 months. Because clinical trials are conducted under widely varying conditions, adverse reaction rates observed in the clinical trials of a drug cannot be directly compared to rates in the clinical trials of another drug and may not reflect the rates observed in practice. The adverse reaction information from clinical trials does, however, provide a basis for identifying the adverse events that appear to be related to drug use and for approximating rates. The data described below reflect exposure to DETROL LA 4 mg once daily every morning in 505 patients and to placebo in 507 patients exposed for 12 weeks in the Phase 3, controlled clinical study.
Adverse events were reported in 52% (n=263) of patients receiving DETROL LA and in 49% (n=247) of patients receiving placebo. The most common adverse events reported by patients receiving DETROL LA were dry mouth, headache, constipation, and abdominal pain. Dry mouth was the most frequently reported adverse event for patients treated with DETROL LA occurring in 23.4% of patients treated with DETROL LA and 7.7% of placebo-treated patients. Dry mouth, constipation, abnormal vision (accommodation abnormalities), urinary retention, and dry eyes are expected side effects of antimuscarinic agents. A serious adverse event was reported by 1.4% (n=7) of patients receiving DETROL LA and by 3.6% (n=18) of patients receiving placebo.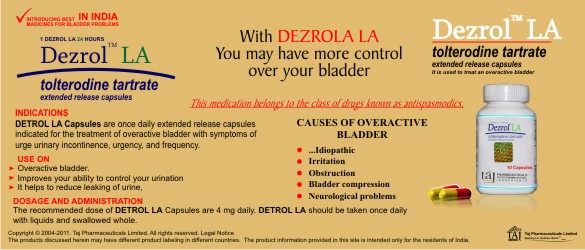 The frequency of discontinuation due to adverse events was highest during the first 4 weeks of treatment. Similar percentages of patients treated with DETROL LA or placebo discontinued treatment due to adverse events. Treatment was discontinued due to adverse events and dry mouth was reported as an adverse event in 2.4% (n=12) of patients treated with DETROL LA and in 1.2% (n=6) of patients treated with placebo.
Table 4 lists the adverse events reported in 1% or more of patients treated with DETROL LA 4 mg once daily in the 12-week study. The adverse events were reported regardless of causality.
OVERDOSE : A 27-month-old child who ingested 5 to 7 tolterodine immediate release tablets 2 mg was treated with a suspension of activated charcoal and was hospitalized overnight with symptoms of dry mouth. The child fully recovered.

CONTRAINDICATIONS : DETROL LA Capsules are contraindicated in patients with urinary retention, gastric retention, or uncontrolled narrow-angle glaucoma. DETROL LA is also contraindicated in patients who have demonstrated hypersensitivity to the drug or its ingredients.
Do not take DETROL LA if
* you have trouble emptying your bladder (also called "urinary retention")
* your stomach empties slowly (also called "gastric retention")
* you have an eye problem called "uncontrolled narrow-angle glaucoma"
* you are allergic to DETROL LA or to any of its ingredients. See the end of this leaflet for a complete list of ingredients.
STORAGE : Store at room temperature (77 degrees F or 25 degrees C) away from light and moisture. Brief storage between 59-86 degrees F (15-30 degrees C) is permitted. Do not store in the bathroom. Keep all medicines away from children
Presentation
Dezrol LA Capsules Blister of 10 Capsules