Country profile:

Albania



Healthcare in Albania
Albania is in serious need of support in public health. Its healthcare services cover the whole country. The Ministry of Health and Environmental Protection oversee the health service, which is a rigidly structured centralised system experiencing difficulty meeting the medical needs of its citizens. Doctors and nurses are often cut off from new techniques and developments in medicine and consequently, the system is finding it hard to cope with modern day health issues like drug abuse, AIDS and sexually transmitted diseases.

Albania is a small mountainous country in the Balkan peninsula with a
long Adriatic and Ionian coastline.
Along with neighbouring and mainly Albanian-inhabited Kosovo
it has a
Muslim majority - a legacy of its centuries of Ottoman rule.
Overview
After World War II Albania became a Stalinist state under Enver Hoxha and remained staunchly isolationist until its transition to democracy after 1990.
The 1992 elections ended 47 years of communist rule but the latter half of the decade saw a quick turnover of presidents and prime ministers.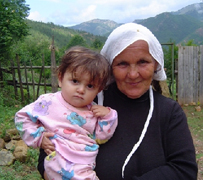 USAID efforts to improve primary health care in Albania have allowed 68 percent of Albanian citizens to have access to family planning services
Many Albanians left the country in search of work; the money they send home remains an important source of revenue.
During the Nato bombing of Yugoslavia in 1999 nearly 500000 ethnic Albanian refugees from Kosovo spilled over the border imposing a huge burden on Albania's already fragile economy.
While there have been signs of economic progress with inflation under tighter control and some growth the country remains one of
the poorest in Europe outside the former Soviet Union.
Unemployment remains stubbornly high and the infrastructure and corruption continue to deter much foreign investment. Agriculture an important sector still suffers from underfunding.
Albania made a formal application for membership of the European Union in 2009 on the basis of a 2006 Stabilisation and Association agreement. The EU is keen to encourage further reform particularly as regards stamping out organised crime and corruption and developing media freedom and property and minority rights.
Facts
Full name: The Republic of Albania
Population: 3.2 million (UN 2009)
Capital: Tirana
Major language: Albanian
Major religions: Islam Christianity
Life expectancy: 73 years (men) 80 years (women) (UN)
Monetary unit: 1 lek = 100 qindars
Main exports: Chromium and chrome products processed foodstuffs
GNI per capita: US $3840 (World Bank 2008)
Internet domain: .al
International dialling code: +355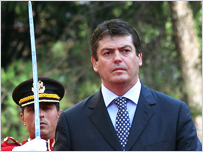 Bamir Topi was elected president in 2007
Leaders
President: Bamir Topi
A research scientist and senior member of Prime Minister Berisha's Democratic Party Mr Topi was elected president for a five-year term by parliament in July 2007. Albanian is a parliamentary republic and executive power resides with the cabinet of ministers.
Prime minister: Sali Berisha
The centre-right Democratic Party led by the former president Sali Berisha was re-elected by a narrow margin in parliamentary elections in July 2009 defeating the main opposition socialists.
The election count which produced the closest result since Albania toppled communism in 1990 was accompanied by disputes over procedure and claims of intimidation.
Sali Berisha was re-elected in July 2009
Mr Berisha first became prime minister following victory in general elections in July 2005.
That vote was also followed by wrangling over the count with re-runs demanded in a number of constituencies. It was nearly two months before the result was finally declared.
An erstwhile communist Mr Berisha formed the Democratic Party in the early 1990s and in 1992 became Albania's first non-communist president since the Second World War.
His bid to liberalise the economy fast increased hardzship for the majority. His presidency came to an end in 1997 when the collapse of fraudulent pyramid investment schemes led to violent unrest.
As prime minister Mr Berisha promised to stamp out corruption reduce taxation attract greater foreign investment and develop the infrastructure.
He succeeded in gaining Albania Nato membership in April 2009 and the country formally applied for European Union membership the same month after a June 2006 Stabilisation and Association agreement.
Born in 1944 and a former heart specialist Mr Berisha is known as an orator and has faced accusations of authoritarianism in the past.
Media
Public broadcaster Albanian Radio and TV (RTSh) operates national radio and TV networks. It faces competition from private stations which have mushroomed since the late 1990s.
The sector is in a "state of anarchy" the Open Society Institute said in October 2008 citing the sheer number of channels a lack of ownership transparency and a weak broadcasting regulator. However recent legislation had put the country's media better in line with world standards OSI said.
Some Albanian newspapers are prone to sensationalism
Many viewers watch Italian and Greek TV via terrestrial reception. Radio services in Albanian from the BBC (103.9 MHz in Tirana) Deutsche Welle Radio France Internationale and the Voice of America are carried on FM.
Sensationalism is often the norm in the print media. Political parties trade unions and various societies publish their own newspapers; dependence on outside revenue tends to limit their objectivity.
Some 580000 Albanians were online by the end of 2008 - around 16% of the population (Internetworldstats).
The press

Television

Radio

News agency



AFRICA | ASIA-PACIFIC | AMERICAS | EUROPE |  MIDDLEEAST |  SOUTHASIA






Mauritania Mauritius Morocco  Mozambique Namibia Niger Nigeria Republic-of-congo Rwanda Sao-tome-and-principe Senegal Seychelles Sierra-leone Somalia South-africa Sudan Swaziland Tanzania The-gambia Togo Tunisia Uganda Australia Brunei Burma Cambodia China East-timor Fiji Indonesia Japan Kazakhstan Kiribati Kyrgyzstan Laos Malaysia Marshall-islands Micronesia Mongolia Nauru New-zealand North-korea Palau Papua-new-guinea Samoa Singapore Solomon-islands South-korea Taiwan Tajikistan Thailand The-philippines Tonga Turkmenistan Tuvalu Uzbekistan Vanuatu Vietnam Antigua-and-barbuda Belize Bolivia  Brazil Canada Chile Colombia Costa-rica Cuba Dominica Dominican-republic Ecuador El-salvador Grenada Guatemala Guyana Haiti Honduras Jamaica Mexico Nicaragua St-kitts-and-nevis St-lucia Suriname Trinidad-and-tobago Uruguay Venezuela Albania Andorra Armenia Austria Azerbaijan Belarus Belgium Bosnia-hercegovina Bulgaria Croatia Cyprus Czech-republic Denmark Estonia Finland France Georgia Germany Greece Hungary Iceland Ireland Italy Latvia Liechtenstein Lithuania Luxembourg Macedonia Malta Moldova Monaco Montenegro Norway Poland Portugal Russia San-marino Serbia Slovakia Slovenia Spain Sweden Algeria Egypt Iran Iraq Israel-and-palestinian-territories Jordan Kuwait Lebanon Libya Mauritania Oman Saudi-arabia Sudan Syria Tunisia United-arab-emirates Yemen Afghanistan Bangladesh Bhutan India Nepal Pakistan Sri-Lanka The-Maldive