Country profile:

Croatia


Croatia Pharmaceuticals and Healthcare Report
Croatia Pharmaceuticals and Healthcare Report provides industry professionals and strategists, corporate analysts, pharmaceutical associations, government departments and regulatory bodies with independent forecasts and competitive intelligence on Croatia's pharmaceuticals and healthcare industry.

Croatia's score is exactly average for the region and the country remains a fairly attractive market for multinational drugmakers. Positive aspects of the Croatian market include above average per-capita spending on pharmaceuticals, an ageing population and sound political and economic indicators. However, regulatory aspects, while improving, remain substandard in relation to other EU states.

Croatia went into the new millennium recovering from a decade of authoritarian nationalism under president Franjo Tudjman and bitter war.
By early 2003 it had made enough progress to apply for EU membership becoming the second former Yugoslav republic after Slovenia to do so.
A country of striking natural beauty with a stunning Adriatic coastline Croatia is again very popular as a tourist destination.
Overview
Croatia's EU Accession talks were postponed because of its failure to detain Gen Ante Gotovina wanted by the international war crimes tribunal in The Hague.
Croatia later got the green light for talks to proceed in October 2005. The fugitive general was arrested in Spain shortly afterwards.
Zagreb's old town blends the Gothic and Baroque
The country hopes to become a member of the EU by 2011 remarkable progress since the time of Tudjman's death in December 1999 when the country was in a parlous state.
Its citizens suffered from government-backed attacks on their civil and political rights. The governing party the HDZ was then corrupt and the economy was in difficulties with around 20% of Croatians unemployed.
Presidential and parliamentary elections at the beginning of 2000 ushered in politicians who pledged commitment to Croatia's integration into the European mainstream.
The constitution has been changed to shift power away from the president to the parliament. Croatia has joined the World Trade Organisation and has pledged to open up its economy. It has achieved growth and inflation is under control.
However organised crime and mafia-linked violence remain a major concern prompting the EU to warn that more action is needed to combat them before membership can be possible.
It has rumbling disputes with Slovenia over sea and land borders dating back to the break-up of Yugoslavia and the construction of a controversial coastal bridge that will allow motorists to skirt Bosnian territory has drawn criticism from Bosnia.
Facts
Full name: Republic of Croatia
Population: 4.4 million (UN 2009)
Capital: Zagreb
Area: 56594 sq km (21851 sq miles)
Major language: Croatian
Major religion: Christianity
Life expectancy: 73years (men) 80 years (women) (UN)
Monetary unit: 1 kuna = 100 lipa
Main exports: Machinery and transport equipment clothing chemicals
GNI per capita: US $13570 (World Bank 2008)
Internet domain: .hr
International dialling code: +385
Leaders
President: Stjepan (Stipe) Mesic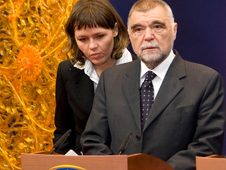 Stjepan Mesic
Stjepan Mesic won a second five-year term in January 2005. The presidency is a largely ceremonial role.
The president proposes the prime minister but it is for parliament to approve the nomination. The president can dissolve parliament and call elections.
Prime minister: Jadranka Kosor
Parliament approved Jadranka Kosor as prime minister in July 2009 days after the unexpected resignation from the post of Ivo Sanader.
Ms Kosor who had been deputy prime minister since 2003 is the first woman premier in the country's history.
She graduated with a law degree from Zagreb University and pursued a successful career as a print and radio journalist before entering politics in the mid-1990s.
In 2005 Ms Kosor ran for Croatia's presidency but was defeated in the second round of voting by the current head of state Stipe Mesic.
A member of Mr Sanader's centre-right Croatian Democratic Union (HDZ) Jadranka Kosor has promised to continue her predecessor's policies.
She said she would lead the government with a "strong female hand" adding that her key task would be to fight Croatia's serious economic downturn. Ms Kosor also pledged to resolve the border dispute with Slovenia which is the stumbling block towards Zagreb's EU accession.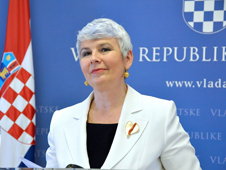 Jadranka Kosor
Media
Croatia's media operate in a climate of relative freedom. The constitution bans censorship and guarantees press freedom.
In 2008 US-based Freedom House rated the Croatian media as "partly free" saying officials had sometimes used libel laws against the press.
Croatian Radio-Television HRT is the state-owned public broadcaster and is financed by advertising and a licence fee.
Public TV is the main source of news and information. National commercial networks and dozens of private local TV stations compete for viewers. Croatia hopes to complete a transition to digital TV broadcasting by January 2011.
The press

Television

Radio

News agencies/internet



AFRICA | ASIA-PACIFIC | AMERICAS | EUROPE |  MIDDLEEAST |  SOUTHASIA






Mauritania Mauritius Morocco  Mozambique Namibia Niger Nigeria Republic-of-congo Rwanda Sao-tome-and-principe Senegal Seychelles Sierra-leone Somalia South-africa Sudan Swaziland Tanzania The-gambia Togo Tunisia Uganda Australia Brunei Burma Cambodia China East-timor Fiji Indonesia Japan Kazakhstan Kiribati Kyrgyzstan Laos Malaysia Marshall-islands Micronesia Mongolia Nauru New-zealand North-korea Palau Papua-new-guinea Samoa Singapore Solomon-islands South-korea Taiwan Tajikistan Thailand The-philippines Tonga Turkmenistan Tuvalu Uzbekistan Vanuatu Vietnam Antigua-and-barbuda Belize Bolivia  Brazil Canada Chile Colombia Costa-rica Cuba Dominica Dominican-republic Ecuador El-salvador Grenada Guatemala Guyana Haiti Honduras Jamaica Mexico Nicaragua St-kitts-and-nevis St-lucia Suriname Trinidad-and-tobago Uruguay Venezuela Albania Andorra Armenia Austria Azerbaijan Belarus Belgium Bosnia-hercegovina Bulgaria Croatia Cyprus Czech-republic Denmark Estonia Finland France Georgia Germany Greece Hungary Iceland Ireland Italy Latvia Liechtenstein Lithuania Luxembourg Macedonia Malta Moldova Monaco Montenegro Norway Poland Portugal Russia San-marino Serbia Slovakia Slovenia Spain Sweden Algeria Egypt Iran Iraq Israel-and-palestinian-territories Jordan Kuwait Lebanon Libya Mauritania Oman Saudi-arabia Sudan Syria Tunisia United-arab-emirates Yemen Afghanistan Bangladesh Bhutan India Nepal Pakistan Sri-Lanka The-Maldive