Country profile:

Nicaragua





The main health determinant for Nicaraguans is poverty. 20% of children aged less than 5 years of age are chronically malnourished. Data from the Ministry of Health (MINSA) show that 9% of children are born with low birth weight. Child mortality for all of Nicaragua is 11 per 100 children. This is not equally distributed through the country with Managua having a rate of 8.7 and Jinotega 14 per 100 children.
Child mortality decreased from 79.8 per 1,000 in 1980-1985 to 35.5 per 1,000 in 2000-2005, as has maternal mortality from 125 per 100,000 to 96.6 per 100,000. The young and adolescents represent 25% of the total population.
Never rich in the first place Nicaragua is striving to overcome the after effects of dictatorship civil war and natural calamities which have made it one of the poorest countries in the Western Hemisphere.
Nicaragua has traditionally relied on agricultural exports to sustain its economy. But these benefited mainly a few elite families of Spanish descent primarily the Somoza family which ruled the country with US backing between 1937 and the Sandinista revolution in 1979.
Overview
The Sandinistas began redistributing property and made huge progress in the spheres of health and education. They won a decisive victory in 1984 elections but their leftist orientation also attracted US hostility and drove them to turn to the USSR and Cuba.
AT-A-GLANCE


Politics:

Former Marxist guerrilla leader Daniel Ortega made a comeback in the November 2006 presidential race

Economy: Nicaragua is the second poorest nation in the Americas after Haiti; former President Bolaños pursued market-friendly policies

International: The US has been vocal in its opposition to Ortega who is seen to be bolstering an increasingly assertive anti-US bloc in Latin America
This set the scene for a US-sponsored counter-revolution which saw Washington arm and finance thousands of rebels or Contras in order to carry out attacks on Nicaragua from bases in Honduras. The US also imposed trade sanctions and mined Nicaraguan harbours.
By 1990 when the Sandinistas were defeated in elections held as part of a peace agreement Nicaragua's per capita income had plummeted and its infrastructure was in tatters.
Peace brought some economic growth lower inflation and lower unemployment. But this was more than counter-balanced by the devastations of Hurricane Mitch in 1998 which killed thousands rendered 20% of the population homeless and caused billions of dollars worth of damage.
Nicaragua's modest tourist industry - which had all but collapsed by the early 1990s - has enjoyed a revival. The country's attractions include wildlife-rich rainforests volcanos beaches and colonial-era architecture.
Facts
Full name: Republic of Nicaragua
Population: 5.7 million (UN 2009)
Capital: Managua
Area: 120254 sq km (46430 sq miles)
Major languages: Spanish English indigenous languages
Major religion: Christianity
Life expectancy: 70 years (men) 76 years (women) (UN)
Monetary unit: 1 gold cordoba = 100 centavos
Main exports: Coffee meat shellfish sugar tobacco cattle gold
GNI per capita: US $1080 (World Bank 2008)
Internet domain: .ni
International dialling code: +505
Leaders
President: Daniel Ortega
Left-wing Sandinista leader Daniel Ortega made his political comeback in the November 2006 elections having led Nicaragua through revolution and a civil war before being voted out in 1990. He took office again in January 2007.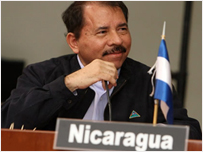 Daniel Ortega toned down his fiery rhetoric for the 2006 campaign
Mr Ortega has sought to calm fears about his Marxist past. He says he will make no major economic changes and he backs a regional free trade deal with the US.
At his inauguration he advocated a new path for Nicaragua away from what he called the savage capitalism that had mired millions in poverty.
Washington says it will work with him if he shows a commitment to Nicaragua's democratic future. The president is likely to maintain close ties with fellow socialist leaders in the region particularly Venezuela and Cuba.
In 2009 he announced plans to change to constitution to allow to stand for another term as president.
Born in 1945 the young Mr Ortega joined the Sandinista movement in 1963. He rose rapidly through its ranks and was a leading player in the guerrilla war against dictator Anastasio Somoza. He was imprisoned several times.
Media
For most Nicaraguans radio and TV are the main sources of news. There are more than 100 radio stations many of them in the capital and several TV networks. Cable TV is available in most urban areas.
The print media are varied and partisan representing pro- and anti-government positions.
The press

Television

Radio



AFRICA | ASIA-PACIFIC | AMERICAS | EUROPE |  MIDDLEEAST |  SOUTHASIA






Mauritania Mauritius Morocco  Mozambique Namibia Niger Nigeria Republic-of-congo Rwanda Sao-tome-and-principe Senegal Seychelles Sierra-leone Somalia South-africa Sudan Swaziland Tanzania The-gambia Togo Tunisia Uganda Australia Brunei Burma Cambodia China East-timor Fiji Indonesia Japan Kazakhstan Kiribati Kyrgyzstan Laos Malaysia Marshall-islands Micronesia Mongolia Nauru New-zealand North-korea Palau Papua-new-guinea Samoa Singapore Solomon-islands South-korea Taiwan Tajikistan Thailand The-philippines Tonga Turkmenistan Tuvalu Uzbekistan Vanuatu Vietnam Antigua-and-barbuda Belize Bolivia  Brazil Canada Chile Colombia Costa-rica Cuba Dominica Dominican-republic Ecuador El-salvador Grenada Guatemala Guyana Haiti Honduras Jamaica Mexico Nicaragua St-kitts-and-nevis St-lucia Suriname Trinidad-and-tobago Uruguay Venezuela Albania Andorra Armenia Austria Azerbaijan Belarus Belgium Bosnia-hercegovina Bulgaria Croatia Cyprus Czech-republic Denmark Estonia Finland France Georgia Germany Greece Hungary Iceland Ireland Italy Latvia Liechtenstein Lithuania Luxembourg Macedonia Malta Moldova Monaco Montenegro Norway Poland Portugal Russia San-marino Serbia Slovakia Slovenia Spain Sweden Algeria Egypt Iran Iraq Israel-and-palestinian-territories Jordan Kuwait Lebanon Libya Mauritania Oman Saudi-arabia Sudan Syria Tunisia United-arab-emirates Yemen Afghanistan Bangladesh Bhutan India Nepal Pakistan Sri-Lanka The-Maldive