Country profile:

South-korea




THE PHARMACEUTICAL MARKET: SOUTH KOREA
Politically, South Korea is entrenched in parliamentary disagreements between the two main parties and the situation with North Korea is constantly changing. Economically, South Korea's economy was quite badly affected by the global recession, but should grow from 2010 onwards. Legally, South Korea still has problems with regards to data exclusivity, although it was removed in 2009 from the USTR's Special 301 List. The recent failure of multinational companies to keep their patents on drugs shows that patent protection is somewhat limited. Demographically, South Korea has a fairly large population. Although compared to many Western countries the population is not old, the elderly population is growing.

Since Korea's division the South has developed into one of Asia's most affluent countries. The North has slipped into totalitarianism and poverty.
The Republic of Korea was proclaimed in August 1948 and received UN-backed support from the US after it was invaded by the North two years later.
The Korean War ended in 1953 without a peace agreement leaving South Korea technically at war for more than fifty years.
Overview
The following four decades were marked by authoritarian rule. Government-sponsored schemes encouraged the growth of family-owned industrial conglomerates known as "chaebol". Foremost among them were the Hyundai and Samsung groups.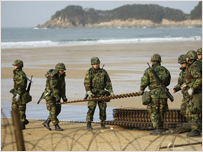 South Korean soldiers take part in a military drill on scenic Mallipo Beach in western South Korea on Sunday, Nov. 28, 2010.
They helped transform South Korea into one of the world's major economies and a leading exporter of cars and electronic goods.
Though the South Korean economy is now the third largest in Asia and the 13th in the world the high levels of foreign debt held by the country's banks have left them exposed to the fallout from the global credit crisis.
A multi-party political system was restored in 1987 and President Roh Tae-Woo launched an anti-corruption campaign against both his own party and his political predecessor.
Relations with its northern neighbour remain a major concern in Seoul particularly over the North's fragile economy and its nuclear ambitions. South Korea has resisted international calls for sanctions against the North and since the late 1990s it has pursued a "sunshine" policy of engagement.
This has involved aid - including shipments of fertiliser and rice - reunions between North and South Koreans tourist projects and economic cooperation. South Korean companies employ thousands of North Korean workers at the Kaesong industrial complex near the border.
However the period of "sunshine" appeared to be over with the election in 2008 of conservative President Lee Myung-bak who adopted a tougher tone towards the North. A spate of missile tests by Pyongyang in 2009 further heightened tensions.
The demilitarised zone (DMZ) between South and North Korea is the world's most heavily-fortified frontier. But the US which maintains tens of thousands of soldiers in South Korea is pulling its forces away from the front line and plans to reduce troop numbers.
Facts
Full name: The Republic of Korea
Population: 48.3 million (UN 2009)
Capital: Seoul
Area: 99,313 sq km (38,345 sq miles)
Major language: Korean
Major religions: Buddhism Christianity
Life expectancy: 76 years (men) 83 years (women) (UN)
Monetary unit: won
Main exports: Electronic products machinery and transport equipment
GNI per capita: US $21,530 (World Bank 2008)
Internet domain: .kr
International dialling code: +82
Leaders
President: Lee Myung-bak
South Korean President Lee Myung-bak took up office in February 2008 after having scored a record victory margin in December's presidential election with his "Economy First!" pledge.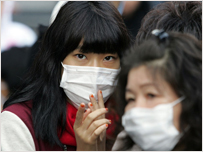 People wait for the H1N1 swine flu test at Korea University Hospital on October 27, 2009 in Seoul, South Korea.
Previously the CEO of Hyundai Construction and a former mayor of Seoul Mr Lee is nicknamed "The Bulldozer" for his forcefulness. He has promised to boost growth cut high youth unemployment and raise competitiveness in the face of challenges from China and Japan.
His Grand National Party won control of parliament in elections in April 2008 which observers predicted would allow him to push through his economic reforms. However his approval ratings plummeted after he agreed to resume US beef imports in order to secure a free trade deal.
He was forced to apologise for failing to heed public concerns and the domestic crisis sparked by the row over US beef imports is thought to have reduced his chances of implementing other promised reforms.
In the autumn of 2008 Mr Lee warned that the South Korean economy could be even more badly affected by the global credit crisis than it was by the Asian financial crisis of the late 1990s.
Lee Myung-bak is the country's first president with a business background. He entered politics in 1992 and became mayor of Seoul in 2002.
Mr Lee has expressed willingness to meet North Korean leader Kim Jong-Il whenever necessary and has described his attitude to inter-Korean relations as "pragmatic not ideological". He has pledged to take a tougher line with Pyongyang than his predecessor Roh Moo-hyun.
Media
Television is influential and the major terrestrial networks command the lion's share of viewing and advertising. Many South Koreans subscribe to digital cable and satellite TV services.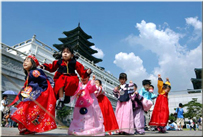 Korean children honoring their ancestors
Newspaper readership is high and there are more than 100 national and local dailies. The press is often critical of the government. Many newspapers are controlled by industrial conglomerates.
Since 2000 and Kim Dae-jung's summit in North Korea the media have adopted a warmer tone towards the North.
Reporters Without Borders notes that "although it is never used" part of the national security law allows for a journalist to be imprisoned
for expressing "sympathy" with the Pyongang regime.
South Korea is at the leading edge of the digital revolution. It is a trailblazer for high-speed and wireless internet services; in September 2008 officials said almost every household had a high-speed net connection.
The country has pioneered the distribution of TV via mobile devices and the internet (IPTV). Online gaming is a national passion.
The press

Television

Radio


AFRICA | ASIA-PACIFIC | AMERICAS | EUROPE |  MIDDLEEAST |  SOUTHASIA






Mauritania Mauritius Morocco  Mozambique Namibia Niger Nigeria Republic-of-congo Rwanda Sao-tome-and-principe Senegal Seychelles Sierra-leone Somalia South-africa Sudan Swaziland Tanzania The-gambia Togo Tunisia Uganda Australia Brunei Burma Cambodia China East-timor Fiji Indonesia Japan Kazakhstan Kiribati Kyrgyzstan Laos Malaysia Marshall-islands Micronesia Mongolia Nauru New-zealand North-korea Palau Papua-new-guinea Samoa Singapore Solomon-islands South-korea Taiwan Tajikistan Thailand The-philippines Tonga Turkmenistan Tuvalu Uzbekistan Vanuatu Vietnam Antigua-and-barbuda Belize Bolivia  Brazil Canada Chile Colombia Costa-rica Cuba Dominica Dominican-republic Ecuador El-salvador Grenada Guatemala Guyana Haiti Honduras Jamaica Mexico Nicaragua St-kitts-and-nevis St-lucia Suriname Trinidad-and-tobago Uruguay Venezuela Albania Andorra Armenia Austria Azerbaijan Belarus Belgium Bosnia-hercegovina Bulgaria Croatia Cyprus Czech-republic Denmark Estonia Finland France Georgia Germany Greece Hungary Iceland Ireland Italy Latvia Liechtenstein Lithuania Luxembourg Macedonia Malta Moldova Monaco Montenegro Norway Poland Portugal Russia San-marino Serbia Slovakia Slovenia Spain Sweden Algeria Egypt Iran Iraq Israel-and-palestinian-territories Jordan Kuwait Lebanon Libya Mauritania Oman Saudi-arabia Sudan Syria Tunisia United-arab-emirates Yemen Afghanistan Bangladesh Bhutan India Nepal Pakistan Sri-Lanka The-Maldive