Country profile:

Guyana





Guyana has a decentralized health care system. The Ministry of Health (MoH) has overall responsibility for health care sector including regulation and policy formulation, standard setting, and monitoring, evaluation and control of health services delivery. The 10 regions assumed responsibility for the provision of health services in 1986. HIV, malaria, and tuberculosis (TB) services are provided through national programs managed by the MoH. Health care is provided free of charge to the Guyanese population.

Guyana boasts a remarkably rich ecology but also has one of South America's poorest economies.
Tropical rainforests - filled with distinctive plants and trees

teeming with exotic birds insects and mammals - are a big
draw for eco-tourists. But political troubles ethnic tension and economic mismanagement have left the former British colony with serious economic problems.
Overview
The only English-speaking country in South America Guyana became independent in 1966.
| | |
| --- | --- |
| | Immunizations and medication for Guyana |
A third of its population is descended from African slaves imported by the Dutch to work on sugar plantations. Around half are the descendants of indentured Indian agricultural workers brought in by the British after slavery was abolished.
Persistent tension between these two groups has fuelled political instability and is reflected in hostility between the two main parties which are ethnically-based.
Until the 1990s more than 80% of Guyana's industries were state-owned. Mismanagement falling commodity prices and high fuel costs created serious economic problems and led to a fall in an already-low living standard.
Since the late 1990s the government has divested itself of many industries but it now faces problems which include environmental threats to the coastal strip and rainforest poverty and violent crime - the latter fuelled by the drugs trade.
The sugar industry - a key source of foreign exchange and Guyana's main employer - has been hit by the loss of preferential access to EU markets and a cut in European sugar subsidies.
Many Guyanese seek their fortunes outside the country; the exodus of skilled migrants is among the highest in the region.
A long-running dispute with neighbouring Suriname over the ownership of a potentially oil-rich offshore area was settled in 2007 by a UN tribunal that redrew the maritime boundary and gave both countries a share of the basin. The ruling could bring a surge of exploration by major oil companies.
The issue came to a head in 2000 when Surinamese patrol boats evicted a Canadian-owned rig from a concession awarded by Guyana.
The demarcation of the Guyana-Venezuela border is also disputed with both countries claiming the mineral and timber-rich Essequibo region.
Facts
Full name: Co-operative Republic of Guyana
Population: 762000 (UN 2009)
Capital: Georgetown
Area: 214969 sq km (83000 sq miles)
Major languages: English indigenous languages Creole Hindi Urdu
Major religions: Christianity Hinduism Islam
Life expectancy: 64 years (men) 70 years (women) (UN)
Monetary unit: 1 Guyanese dollar (G$) = 100 cents
Main exports: Bauxite and alumina sugar gold rice shrimp molasses rum timber
GNI per capita: US$1420 (World Bank 2007)
Internet domain: .gy
International dialling code: +592
Leaders
President: Bharrat Jagdeo
Incumbent President Bharrat Jagdeo from the ruling Indo-Guyanese Progressive People's Party won a five-year term in the August 2006 general elections gaining more than 54% of the vote.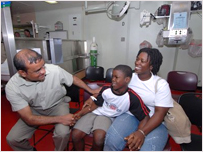 President of Guyana Bharrat Jagdeo greets patients during a tour of Military
The president promised to fight crime - and gang violence in particular - and to improve government services.
He has said Guyana must reduce its dependence on fossil fuel imports and boost access to information technology.
He has also called for the developed world and the developing world to cooperate more effectively in the battle against climate change.
In 2008 Mr Jagdeo accused the EU of 'bullying' Caribbean nations into accepting a trade agreement on what he said was less than favourable terms for the region.
After months of negotiations he eventually signed the Economic Partnership Agreement (EPA) between the EU and over a dozen Caribbean countries.
Mr Jagdeo is a Russian-trained economist and a former finance minister. He worked for local and international financial bodies including the National Bank of Industry and Commerce and the International Monetary Fund.
He first took office in August 1999 after his predecessor Janet Jagan resigned because of poor health.
Media
Guyanese newspapers are free to criticise the government although journalists are apt to exercise self-censorship.
The government operates radio services and a TV channel. Private TV stations freely criticise the government.
The press

Television

Radio

News agency



AFRICA | ASIA-PACIFIC | AMERICAS | EUROPE |  MIDDLEEAST |  SOUTHASIA






Mauritania Mauritius Morocco  Mozambique Namibia Niger Nigeria Republic-of-congo Rwanda Sao-tome-and-principe Senegal Seychelles Sierra-leone Somalia South-africa Sudan Swaziland Tanzania The-gambia Togo Tunisia Uganda Australia Brunei Burma Cambodia China East-timor Fiji Indonesia Japan Kazakhstan Kiribati Kyrgyzstan Laos Malaysia Marshall-islands Micronesia Mongolia Nauru New-zealand North-korea Palau Papua-new-guinea Samoa Singapore Solomon-islands South-korea Taiwan Tajikistan Thailand The-philippines Tonga Turkmenistan Tuvalu Uzbekistan Vanuatu Vietnam Antigua-and-barbuda Belize Bolivia  Brazil Canada Chile Colombia Costa-rica Cuba Dominica Dominican-republic Ecuador El-salvador Grenada Guatemala Guyana Haiti Honduras Jamaica Mexico Nicaragua St-kitts-and-nevis St-lucia Suriname Trinidad-and-tobago Uruguay Venezuela Albania Andorra Armenia Austria Azerbaijan Belarus Belgium Bosnia-hercegovina Bulgaria Croatia Cyprus Czech-republic Denmark Estonia Finland France Georgia Germany Greece Hungary Iceland Ireland Italy Latvia Liechtenstein Lithuania Luxembourg Macedonia Malta Moldova Monaco Montenegro Norway Poland Portugal Russia San-marino Serbia Slovakia Slovenia Spain Sweden Algeria Egypt Iran Iraq Israel-and-palestinian-territories Jordan Kuwait Lebanon Libya Mauritania Oman Saudi-arabia Sudan Syria Tunisia United-arab-emirates Yemen Afghanistan Bangladesh Bhutan India Nepal Pakistan Sri-Lanka The-Maldive