Country profile: Mongolia




Mongolia Health-Care Systems
Mongolia's government has made great efforts to provide modern medical care to the inhabitants. In the 1980s, medical care was free and was provided through a hierarchy of clinics and hospitals. In rural areas, the lowest level of the system was a medical station, staffed by a physician's assistant, serving people within a thirty- to forty-kilometer radius. Above this was a somon medical station, staffed by a physician, serving a forty- to sixty-kilometer radius; an inter-somon hospital, serving a seventy- to eighty-kilometer radius; and an aymag general hospital covering a 150- to 200-kilometer radius. The higher the level in the system, the more numerous the medical specialties and the more sophisticated the diagnostic equipment available. The lowest levels concentrated on acute care, public-health work, and screening and referring cases up the hierarchy.

In 1990 Mongolia abandoned its 70-year-old Soviet-style one-party state and embraced political and economic reforms.
Democracy and privatisation were enshrined in a new constitution but the collapse of the economy after the withdrawal of Soviet support triggered widespread poverty and unemployment.
Once the heartland of an empire stretching to Europe under Genghis Khan Mongolia is a landlocked country dominated by sparsely populated steppe and semi-desert.
Overview
Mongolia spreads across 1.5 million sq km of the Central Asian plateau but its population is far smaller than the Mongol population of China.
Sunni Muslim Kazakhs in the west are the only significant national and religious minority comprising some 5% of the population. Migration to Kazakhstan in the 1990s reduced their numbers.
AT A GLANCE

Politics: The Mongolian People's Revolutionary Party which ruled in Soviet times replaced a coalition in 2006

Economy: Chinese demand for minerals fuels a mining boom but many Mongolians live in poverty

International: Mongolia has strong ties with Russia and China and cultivates relations with the US and Japan; Mongolian troops back the US military in Iraq
A third of the population lives in the capital while around forty percent of the country's workforce herds livestock in Mongolia's extensive pasturelands. However the centuries-old nomadic lifestyle is coming under pressure from climate change and urbanisation.
The country has some of Asia's richest deposits of minerals although these remain largely unexploited.
Mongolia has an extreme climate with a temperature range to suit. Droughts and unusually cold and snowy winters have decimated livestock destroying the livelihoods of thousands of families.
Mongolia has expanded political and financial ties with the US Japan and the European Union but its main trading partners are neighbouring Russia and China. The latter is the biggest market for Mongolian exports; Beijing is also keen to exploit Mongolia's mineral and energy resources.
Despite generous funding by the International Monetary Fund and donor countries economic progress has been slow and growth has been hampered by corruption.
The legacy of Genghis Khan the warrior who united warring tribes and established the Mongol empire in the 13th century has been invoked in an attempt to foster national pride.
Facts
Full name: Mongolia
Population: 2.7 million (UN 2009)
Capital: Ulan Bator
Area: 1.56 million sq km (603909 sq miles)
Major language: Mongolian
Major religion: Buddhism
Life expectancy: 63 years (men) 70 years (women) (UN)
Monetary unit: 1 Togrog (tugrik) = 100 mongos
Main exports: Copper concentrate dehaired cashmere textiles hides
GNI per capita: US $1680 (World Bank 2008)
Internet domain: .mn
International dialling code: +976
Leaders
President: Tsakhiagiin Elbegdorj
Tsakhiagiin Elbegdorj won the presidency with a narrow election win over incumbent Nambaryn Enkhbayar in May 2009 and took office in June.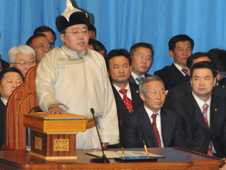 Mr Elbegdorj was elected on a pledge to fight graft and poverty.
Standing for the opposition Democratic Party Mr Elbegdorj won just over 51% of the vote to 47% for Mr Enkhbayar whose ruling Mongolian People's Revolutionary Party (MPRP) said it accepted the result as fair.
The peaceful outcome came after fears of a repeat of the violence which followed opposition claims of fraud after the Democratic Party's defeat in the 2008 parliamentary elections.
Mr Elbegdorj campaigned on promises to fight corruption and to spread the profits of Mongolia's mineral wealth more widely.
To achieve the second aim he planned to tighten rules for contracts under which foreign mining firms operate.
His message proved popular in the big cities especially the capital Ulan Bator and was helped by widespread poverty.
However he faced a parliament which continued to be dominated by a solid MPRP majority but the MPRP prime minister Sanjagiin Bayar promised to ensure that his government would work well with the president.
Although the prime minister and parliament exercise real political power the president heads the armed forces and has the power of veto in parliament. Frequent changes of government have enhanced the role of the presidency.
Born in 1963 Tsakhiagiin Elbegdorj was one of the leaders of the peaceful revolution that ended the Communist dictatorship in 1990.
Since then he has served as prime minister twice briefly in 1998 and in 2006-8.
Media
A law passed in 2005 paved the way for the transformation of Mongolia's state-run radio and TV into a public-service broadcaster. Its networks compete with private TV and radio and satellite and cable services. In all there are more than 300 print and broadcasting outlets.
In general the media are free and sometimes outspoken in their criticism of the authorities. Media watchdog Reporters Without Borders noted in 2007 that journalists risked imprisonment for defamation and violating "state secrets".
Many of Mongolia's livestock herders rely on the national public radio station for information although access to satellite TV is on the rise.
There are many newspapers but despite a high level of literacy circulations and editions are often small. State-owned papers have been privatised; some titles are published by political parties.
The BBC World Service is available on FM in Ulan Bator.
The press
Odriyn Sonin (Daily News) - private daily successor to state-owned Ardyn Erh
Onoodor - private daily the country's biggest
Zuuny Medee - private daily successor to state-owned Zasgiyn Gazryn Medee
Unen (Truth) - Mongolian People's Revolutionary Party daily the country's oldest newspaper founded in 1920
Mongol Messenger - English-language weekly published by state-run Montsame press agency
The UB Post - English-language weekly
Television

Mongolian National Broadcaster (MNB) - national public broadcaster
MN Channel 25 - private
UBS TV - owned by Ulan Bator city government
C1 - private
TV5 - private
TV9 - private
Radio

Mongolian Radio - public sole national broadcaster
Radio Ulan Bator - private FM station
Inforadio 105.5 - Ulan Bator FM station
News agency



AFRICA | ASIA-PACIFIC | AMERICAS | EUROPE |  MIDDLEEAST |  SOUTHASIA






Mauritania Mauritius Morocco  Mozambique Namibia Niger Nigeria Republic-of-congo Rwanda Sao-tome-and-principe Senegal Seychelles Sierra-leone Somalia South-africa Sudan Swaziland Tanzania The-gambia Togo Tunisia Uganda Australia Brunei Burma Cambodia China East-timor Fiji Indonesia Japan Kazakhstan Kiribati Kyrgyzstan Laos Malaysia Marshall-islands Micronesia Mongolia Nauru New-zealand North-korea Palau Papua-new-guinea Samoa Singapore Solomon-islands South-korea Taiwan Tajikistan Thailand The-philippines Tonga Turkmenistan Tuvalu Uzbekistan Vanuatu Vietnam Antigua-and-barbuda Belize Bolivia  Brazil Canada Chile Colombia Costa-rica Cuba Dominica Dominican-republic Ecuador El-salvador Grenada Guatemala Guyana Haiti Honduras Jamaica Mexico Nicaragua St-kitts-and-nevis St-lucia Suriname Trinidad-and-tobago Uruguay Venezuela Albania Andorra Armenia Austria Azerbaijan Belarus Belgium Bosnia-hercegovina Bulgaria Croatia Cyprus Czech-republic Denmark Estonia Finland France Georgia Germany Greece Hungary Iceland Ireland Italy Latvia Liechtenstein Lithuania Luxembourg Macedonia Malta Moldova Monaco Montenegro Norway Poland Portugal Russia San-marino Serbia Slovakia Slovenia Spain Sweden Algeria Egypt Iran Iraq Israel-and-palestinian-territories Jordan Kuwait Lebanon Libya Mauritania Oman Saudi-arabia Sudan Syria Tunisia United-arab-emirates Yemen Afghanistan Bangladesh Bhutan India Nepal Pakistan Sri-Lanka The-Maldive