Country profile:

St-kitts-and-nevis





Governor General Sir Cuthbert Sebastian has announced plans to improve the already high quality health care of St. Kitts and Nevis, saying that "ongoing efforts will progressively upgrade the services."
Plans include the formation of National Health Insurance for all citizens and the addition of more advanced treatment capabilities such as haemodialysis and modern diagnostic tools, including MRI facilities. Minister of Health Marcella Liburd explains, "Our vision for healthcare is a fit and healthy nation and so the coverage of everybody is part of that vision."

The former British colony of St Kitts and Nevis is inhabited mostly by the descendants of West African slaves.

Its beaches scenery and a warm sunny climate give it great tourist potential. It is also vulnerable to hurricanes.
Overview
The islands of St Kitts - also known as St Christopher - and Nevis have been in an uneasy federation since independence from Britain in 1983 with some politicians in Nevis saying the federal government in St Kitts - home to a majority of the population - had ignored the needs of Nevisians.
But a referendum on secession held in Nevis in 1998 failed to gain the two-thirds majority needed to break away.
Tourism offshore finance and service industries are important sources of income - more so since a centuries-old but loss-making sugar industry was wound down in 2005 with the loss of hundreds of jobs.
By 2003 Nevis was home to around 17000 offshore businesses operating under strict secrecy laws making the islands a target for drugs traffickers and money launderers. Laws have been introduced to crack down on the problem.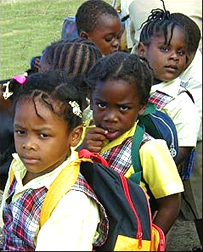 People & Culture of St. Kitts & Nevis
Facts
Full name: Federation of Saint Christopher and Nevis
Population: 46000 (UN 2009)
Capital: Basseterre
Area: 269 sq km (104 sq miles)
Major language: English
Major religion: Christianity
Life expectancy: 68 years (men) 71 years (women) (UN)
Monetary unit: 1 East Caribbean dollar = 100 cents
Main exports: Foodstuffs electronics beverages tobacco
GNI per capita: US $10960 (World Bank 2007)
International dialling code: +869
Leaders
Head of state: Queen Elizabeth II represented by Governor-General Sir Cuthbert Sebastian
Prime minister: Denzil Douglas
Denzil Douglas was re-elected for a third consecutive term in October 2004. He said tourism development and social projects would be among his priorities.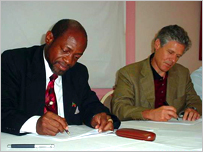 Denzil Douglas is serving his third term
Mr Douglas has been credited with promoting tourism and combating crime but his government failed to rejuvenate the ailing sugar industry and deal with the state's large debt.
The prime minister has said any differences between Nevis and St Kitts should be tackled by constitutional reform rather than by a referendum on secession.
Born in 1953 he became leader of the St Kitts and Nevis Labour Party in 1989. A Labour Party activist since his youth he led the party to victory in the 1995 elections.
Media
The government operates national television and radio networks. There are several private radio stations.
The main political parties publish weekly or fortnightly newspapers and the opposition press is free to criticise the government.
Multichannel cable TV carries local and international TV stations.
The press

Television

Radio



AFRICA | ASIA-PACIFIC | AMERICAS | EUROPE |  MIDDLEEAST |  SOUTHASIA






Mauritania Mauritius Morocco  Mozambique Namibia Niger Nigeria Republic-of-congo Rwanda Sao-tome-and-principe Senegal Seychelles Sierra-leone Somalia South-africa Sudan Swaziland Tanzania The-gambia Togo Tunisia Uganda Australia Brunei Burma Cambodia China East-timor Fiji Indonesia Japan Kazakhstan Kiribati Kyrgyzstan Laos Malaysia Marshall-islands Micronesia Mongolia Nauru New-zealand North-korea Palau Papua-new-guinea Samoa Singapore Solomon-islands South-korea Taiwan Tajikistan Thailand The-philippines Tonga Turkmenistan Tuvalu Uzbekistan Vanuatu Vietnam Antigua-and-barbuda Belize Bolivia  Brazil Canada Chile Colombia Costa-rica Cuba Dominica Dominican-republic Ecuador El-salvador Grenada Guatemala Guyana Haiti Honduras Jamaica Mexico Nicaragua St-kitts-and-nevis St-lucia Suriname Trinidad-and-tobago Uruguay Venezuela Albania Andorra Armenia Austria Azerbaijan Belarus Belgium Bosnia-hercegovina Bulgaria Croatia Cyprus Czech-republic Denmark Estonia Finland France Georgia Germany Greece Hungary Iceland Ireland Italy Latvia Liechtenstein Lithuania Luxembourg Macedonia Malta Moldova Monaco Montenegro Norway Poland Portugal Russia San-marino Serbia Slovakia Slovenia Spain Sweden Algeria Egypt Iran Iraq Israel-and-palestinian-territories Jordan Kuwait Lebanon Libya Mauritania Oman Saudi-arabia Sudan Syria Tunisia United-arab-emirates Yemen Afghanistan Bangladesh Bhutan India Nepal Pakistan Sri-Lanka The-Maldive