Country profile: Papua New Guinea




HEALTH & DEVELOPMENT
The major health problems have remained largely unchanged in the past fifteen years, although there are recent indications of an epidemiologic transition beginning to take effect among some populations. The leading health problems continue to be communicable diseases, with malaria, tuberculosis, diarrhoeal diseases, and acute respiratory disease as major causes of morbidity and mortality. PNG has a generalized HIV epidemic, driven predominantly by heterosexual transmission. Care and treatment for people living with HIV have improved significantly since 2006.
Although there has been a downward trend in infant and
child mortality, the rates are high compared to other countries
in the Asia Pacific region. Maternal mortality remains very
high and the Demographic Health Survey 2006 suggests that
it has increased over the last decade. Addressing
effectively MDG 4 & 5 are therefore key priorities for Papua
New Guinea. Health services are provided by the
Government and non-state providers, mainly the Churches
and to lesser degree economic operators and primarily
financed by public funds. To date, a high level of fragmentation in the institutional and fiscal relationships between national, provincial and lower levels of government has contributed to the poor health outcomes. There is an unclear allocation of responsibilities for service delivery which creates significant barriers to improving access to services.


Papua New Guinea occupies the eastern part of the world's second largest island and is prey to volcanic activity  earthquakes and tidal waves. Linguistically  it is the world's most diverse country  with more than 700 native tongues.

Some 80% of Papua New Guinea's people live in rural areas with few or no facilities.
Many tribes in the isolated mountainous interior have little contact with each other  let alone with the outside world  and live within a non-monetarised economy  dependent on subsistence agriculture.
Overview
A very small proportion of the land can sustain cash crops  including coffee and cocoa. Abundant rainforests provide the raw material for a logging industry  which is dominated by Malaysian-owned companies. Conservation groups have criticised the social and environmental impact of the activity.
Mineral deposits - including gold  copper and nickel - are extensive  but the difficult terrain and poor infrastructure make exploitation slow. There are significant reserves of oil and natural gas and the country has pinned its hopes on becoming a significant energy exporter.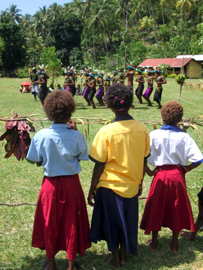 Hagen Festival in Papua New Guinea.
The separatist struggle in the neighbouring Indonesian province of Papua  formerly known as Irian Jaya  prompted the flight of thousands of Papuans into Papua New Guinea from the mid-1980s onwards. Many of them remain in border-area jungle camps.
The Port Moresby government has said it will not tolerate the use of Papua New Guinean territory for Papuan separatist attacks on the Indonesian army.
Papua New Guinea had to deal with separatist forces of its own on the island of Bougainville in the 1990s. Up to 20 000 people were killed in the nine-year conflict which ended in 1997.
A peace deal signed in 2001 provided the framework for the election in 2005 of an autonomous government for Bougainville.
Papua New Guinea has strong ties with its southern neighbour  Australia  which administered the territory until independence in 1975. Canberra's substantial aid programme aims to relieve poverty and to boost development; Australia has also despatched police officers and civil servants to support their local equivalents.
The prevalence of HIV/Aids is on the rise; some experts fear that Papua New Guinea is heading for a crisis similar to that in sub-Saharan Africa.
Facts
Full name: The Independent State of Papua New Guinea
Population: 6.7 million (UN  2009)
Capital: Port Moresby
Area: 462 840 sq km (178 704 sq miles)
Major language: English (official)  Pidgin  native languages
Major religions: Christianity  indigenous beliefs
Life expectancy: 59 years (men)  63 years (women) (UN)
Monetary unit: 1 kina = 100 toea
Main exports: Gold  petroleum  copper  coffee  palm oil  logs
GNI per capita: US $1010 (World Bank  2008)
Internet domain: .pg
International dialling code: +675
Leaders
Head of state: Queen Elizabeth II  represented by the Governor-General
Prime minister: Sir Michael Somare
The founding father of independent Papua New Guinea  Michael Somare  won his second successive term as premier following elections in 2007.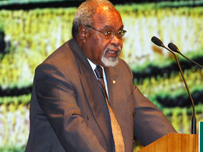 Prime Minister Somare  known as "The Chief"
This is his fourth term of office.
Affectionately known as "The Chief"  Mr Somare led the country to independence from Australia in 1975 and is widely regarded as being untainted by corruption.
He came to power in August 2002 after a violent and chaotic election  and in the 2007 polls his National Alliance party won 27 of the 109 parliamentary seats and was invited by the governor-general to form a coalition government. Parliament subsequently elected Mr Somare as prime minister.
His faces several social challenges  including crime  corruption  and rising rates of HIV and AIDS.
In apparent warning to Australia  he said after his election: "We will guard the sovereignty of our country  we will help our neighbours whenever we can."
Australia  Papua New Guinea's biggest aid donor  has angered Mr Somare  the Solomon Islands and Fiji with its determination to stamp out corruption and crime in the South Pacific  and its demands that Fiji return to democracy after a military coup in December 2006.
Media
Radio is an important medium in Papua New Guinea  a country with widely-scattered  isolated settlements and low levels of literacy.
The government operates a national radio station and a network of provincial stations. Their news coverage is said to be balanced. But funding problems  and the non-payment of power bills  have taken some of the regional radios off the air.
Television coverage is limited mainly to Port Moresby and the provincial capitals.
Two daily newspapers are foreign-owned. The private press  including weeklies and monthlies  is active in reporting on corruption and other sensitive matters.
BBC World Service and Radio Australia are available on FM in the capital.
The press
Television
EMTV - commercial
National Television Service - state-run
Radio


AFRICA | ASIA-PACIFIC | AMERICAS | EUROPE |  MIDDLEEAST |  SOUTHASIA






Mauritania Mauritius Morocco  Mozambique Namibia Niger Nigeria Republic-of-congo Rwanda Sao-tome-and-principe Senegal Seychelles Sierra-leone Somalia South-africa Sudan Swaziland Tanzania The-gambia Togo Tunisia Uganda Australia Brunei Burma Cambodia China East-timor Fiji Indonesia Japan Kazakhstan Kiribati Kyrgyzstan Laos Malaysia Marshall-islands Micronesia Mongolia Nauru New-zealand North-korea Palau Papua-new-guinea Samoa Singapore Solomon-islands South-korea Taiwan Tajikistan Thailand The-philippines Tonga Turkmenistan Tuvalu Uzbekistan Vanuatu Vietnam Antigua-and-barbuda Belize Bolivia  Brazil Canada Chile Colombia Costa-rica Cuba Dominica Dominican-republic Ecuador El-salvador Grenada Guatemala Guyana Haiti Honduras Jamaica Mexico Nicaragua St-kitts-and-nevis St-lucia Suriname Trinidad-and-tobago Uruguay Venezuela Albania Andorra Armenia Austria Azerbaijan Belarus Belgium Bosnia-hercegovina Bulgaria Croatia Cyprus Czech-republic Denmark Estonia Finland France Georgia Germany Greece Hungary Iceland Ireland Italy Latvia Liechtenstein Lithuania Luxembourg Macedonia Malta Moldova Monaco Montenegro Norway Poland Portugal Russia San-marino Serbia Slovakia Slovenia Spain Sweden Algeria Egypt Iran Iraq Israel-and-palestinian-territories Jordan Kuwait Lebanon Libya Mauritania Oman Saudi-arabia Sudan Syria Tunisia United-arab-emirates Yemen Afghanistan Bangladesh Bhutan India Nepal Pakistan Sri-Lanka The-Maldive