Country profile: Cambodia





Abstract. Drugstores and drug outlets are the main sources of care for the majority of Cambodian citizens because of the availability of drugs, short waiting time, and ability to control the cost of treatment. Unfortunately, no enforcement of pharmacy regulations and little consumer and drugstore personnel education contribute to a potential harmful unregulated drug market resulting in high costs and prolonged illness. No study has looked at the quality of over-the-counter drugs, which would have the highest impact on the people. In this study, we were interested in exploring the quality of commonly used pharmaceutical items available from drugstores in Phnom Penh, Cambodia, using uncoated aspirin tablets as a case study. Factors relating to quality of the drug were also examined. The fate of Cambodia shocked the world when the radical communist Khmer Rouge under their leader Pol Pot seized power in 1975 after years of guerrilla warfare.
An estimated 1.7 million Cambodians died during the next three years many from exhaustion or starvation. Others were tortured and executed.
Today Cambodia is one of the poorest countries in the world and relies heavily on aid. Foreign donors have urged the government to clamp down on pervasive corruption.
Overview
Cambodia is burdened with the legacy of decades of conflict; unexploded munitions - thought to number in the millions - continue to kill and maim civilians despite an ongoing de-mining drive.
Only now is the country beginning to put the mechanism in place to bring those responsible for the "killing fields" to justice. Cambodia and the UN have agreed to set up a tribunal to try the surviving leaders of the genocide years.
The tribunal held its first public hearing - a bail request by one of the defendants - in November 2007.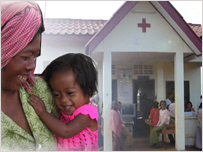 Photo of Cambodian people receiving primary health services at Health Center
The first trial - of former prison warder Kaing Guek Eav or Comrade Duch - started in 2009 with four others expected to begin in 2010.
In pursuit of a rural utopia the Khmer Rouge abolished money and private property and ordered city dwellers into the countryside to cultivate the fields.
The effects can still be seen today with around 70% of Cambodia's workforce employed in subsistence farming.
The Mekong River provides fertile irrigated fields for rice production.
Exports of clothing generate most of Cambodia's foreign exchange and tourism is also important.
The imposing temple complex at Angkor built between the ninth and 13th centuries by Khmer kings is a UN heritage site and a big draw for visitors.
Well over half of Cambodia is forested but illegal logging is robbing the country of millions of dollars of badly-needed revenue.
International watchdog Global Witness claims top officials are involved in the trade. The environment is also suffering with topsoil erosion and flooding becoming prevalent.
The spread of HIV/Aids is another threat; however public health campaigns have reduced the rate of infection.
Facts
Full name: Kingdom of Cambodia
Population: 14.8 million (UN 2009)
Capital and largest city: Phnom Penh
Area: 181035 sq km (69898 sq miles)
Major language: Khmer
Major religion: Buddhism
Life expectancy: 59 years (men) 63 years (women) (UN)
Monetary unit: 1 riel = 100 sen
Main exports: Clothing timber rubber
GNI per capita: US $600 (World Bank 2008)
Internet domain: .kh
International dialling code: +855
Leaders
Head of state: King Norodom Sihamoni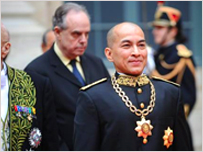 The king's role is mainly ceremonial
The son of former king Norodom Sihanouk King Sihamoni was sworn in as monarch on 29 October 2004. The former king had abdicated because of poor health.
Born in 1953 he studied in Czechoslovakia. He left Cambodia for France after the fall of the Khmer Rouge in 1979. He is a trained classical ballet dancer.
Cambodia's kings once enjoyed a semi-divine status; today the monarch's role is mainly ceremonial.
Prime minister: Hun Sen
Hun Sen one of the world's longest-serving prime ministers has been in power in various coalitions since 1985.
He was re-elected by parliament in July 2004 after nearly a year of political stalemate. His Cambodian People's Party (CPP) won general elections in 2003 but without enough seats for it to rule alone.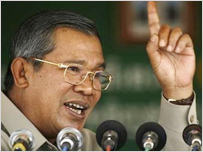 Cambodia's veteran premier Hun Sen
It finally struck a deal with the royalist Funcinpec party which at the time was led by Prince Norodom Ranariddh in June 2004.
Hun Sen is no stranger to controversy. He seized power from his then co-prime minister Prince Ranariddh in 1997. More recently some Western countries have said his rule has become increasingly authoritarian.
Born in 1952 Hun Sen joined the Communist Party in the late 1960s and for a time was a member of the Khmer Rouge. He has denied accusations that he was once a top official within the movement saying he was only an ordinary soldier.
During the Pol Pot regime in the late 1970s he joined anti-Khmer Rouge forces based in Vietnam.
Media
Many Cambodian newspapers and private radio and TV stations depend on support from political parties. Prime Minister Hun Sen and his allies control several broadcasters.
Although press freedom is not guaranteed Hun Sen has declared his support for press freedom publicly praising the benefits to society of an unfettered media.
There are no restrictions on satellite dish ownership and foreign radio broadcasts can be received easily from neighbouring countries. BBC World Service broadcasts via BBC 100 FM in Phnom Penh and BBC 99.25 FM in Siem Reap. Radio France Internationale is available in the capital.
The press

Reaksmei Kampuchea - pro-government daily
Kaoh Santepheap - pro-government daily
Cambodia Daily - English-language
Phnom Penh Post - English-language
Television

Radio

National Radio of Cambodia - state broadcaster
Radio FM 103 - commercial jointly-run by Phnom Penh Municipality
Radio FM 97 - commercial operated by Apsara Radio and TV
Radio FM 95 - commercial operated by Bayon Radio and TV
News agency

AFRICA | ASIA-PACIFIC | AMERICAS | EUROPE |  MIDDLEEAST |  SOUTHASIA






Mauritania Mauritius Morocco  Mozambique Namibia Niger Nigeria Republic-of-congo Rwanda Sao-tome-and-principe Senegal Seychelles Sierra-leone Somalia South-africa Sudan Swaziland Tanzania The-gambia Togo Tunisia Uganda Australia Brunei Burma Cambodia China East-timor Fiji Indonesia Japan Kazakhstan Kiribati Kyrgyzstan Laos Malaysia Marshall-islands Micronesia Mongolia Nauru New-zealand North-korea Palau Papua-new-guinea Samoa Singapore Solomon-islands South-korea Taiwan Tajikistan Thailand The-philippines Tonga Turkmenistan Tuvalu Uzbekistan Vanuatu Vietnam Antigua-and-barbuda Belize Bolivia  Brazil Canada Chile Colombia Costa-rica Cuba Dominica Dominican-republic Ecuador El-salvador Grenada Guatemala Guyana Haiti Honduras Jamaica Mexico Nicaragua St-kitts-and-nevis St-lucia Suriname Trinidad-and-tobago Uruguay Venezuela Albania Andorra Armenia Austria Azerbaijan Belarus Belgium Bosnia-hercegovina Bulgaria Croatia Cyprus Czech-republic Denmark Estonia Finland France Georgia Germany Greece Hungary Iceland Ireland Italy Latvia Liechtenstein Lithuania Luxembourg Macedonia Malta Moldova Monaco Montenegro Norway Poland Portugal Russia San-marino Serbia Slovakia Slovenia Spain Sweden Algeria Egypt Iran Iraq Israel-and-palestinian-territories Jordan Kuwait Lebanon Libya Mauritania Oman Saudi-arabia Sudan Syria Tunisia United-arab-emirates Yemen Afghanistan Bangladesh Bhutan India Nepal Pakistan Sri-Lanka The-Maldive