Country profile:

Armenia





The Government of Armenia has been making concerted efforts to increase public expenditure on health. In recent years there have been steady improvements in this area, however public expenditure channeled from the state budget to health sector as a percentage of GDP is still not sufficient. In 2006 the Government of Armenia spent 1.64% of its GDP on health sector (source: Armenia Mid-Term Expenditure Framework 2007-2009).

A landlocked country with Turkey to the west and Georgia to the north Armenia boasts striking scenery with high mountains and caves lakes and hot springs.
Situated along the route of the Great Silk Road it has fallen within the orbit of a number of empires and come into contact with many cultural influences throughout its history.
Overview
One of the earliest Christian civilisations its first churches were founded in the fourth century. It later spent centuries largely under Turkic or Persian control and its rich cultural and architectural heritage combines elements from different traditions. The Armenian language is part of the Indo-European family but its alphabet is unique.
Yerevan wants the world and particularly Turkey to recognize that the killing by the Ottoman Empire of hundreds of thousands of Armenians between 1915 and 1917 was genocide. Turkey says that there was no genocide and that the dead were victims of World War I. The governments of the two countries agreed to normalise relations in October 2009 although Turkey has said opening the border will depend on progress on the Nagorno-Karabakh dispute.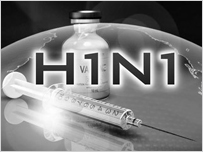 Swine flu case recorded in Armenia
An independent Republic of Armenia was proclaimed at the end of the first world war but was short-lived lasting only until the beginning of the 1920s when the Bolsheviks incorporated it into the Soviet Union.
When Soviet rule collapsed in 1991 Armenia regained independence but retained a Russian military base at Gyumri.
In the mid-1990s the government embarked on an economic reform programme which brought some stability and growth. The country became a member of the Council of Europe in 2001.
Unemployment and poverty remain widespread. Armenia's economic problems are aggravated by a trade blockade imposed by neighbouring Turkey and Azerbaijan since the dispute over Nagorno-Karabakh. The conflict over the predominantly Armenian-populated region in Azerbaijan overshadowed Armenia's return to independence in 1991.
Full-scale war broke out the same year as ethnic Armenians in Karabakh fought for independence supported by troops and resources from Armenia proper. A ceasefire in place since 1994 has failed to deliver any lasting solution.
There is concern over safety at the Metsamor nuclear plant west of Yerevan. It was closed in 1988 following a catastrophic earthquake in the area but reopened in 1995 for economic reasons. The country is heavily reliant on it for electricity.
Armenia receives most of its gas supply from Russia and like some other republics of the former Soviet Union has had to face sharp price rises. The Russian gas giant Gazprom more or less doubled the price in April 2006. Russian gas arrives via a pipeline running through Georgia.
Armenia has a huge diaspora and has always experienced waves of emigration but the exodus of recent years has caused real alarm. It is estimated that Armenia has lost up to a quarter of its population since independence as young families seek what they hope will be a better life abroad.
Conversely Armenia is richly endowed with potential as a tourist destination and recent figures indicate that some success is being achieved in attracting visitors.
Facts
Full name: The Republic of Armenia
Population: 3.1 million (UN 2009)
Capital: Yerevan
Area: 29743 sq km (11484 sq miles)
Major languages: Armenian Russian
Major religion: Christianity
Life expectancy: 70 years (men) 77 years (women) (UN)
Monetary unit: 1 dram = 100 lumas
Main exports: Processed and unprocessed diamonds machinery metal products foodstuffs
GNI per capita: US $3350 (World Bank 2008)
Internet domain: .am
International dialling code: +374
Leaders
President: Serge Sarkisian
In presidential elections held in February 2008 Prime Minister Serge Sarkisian was declared winner in the first round with 52.9% of the vote. But thousands of opposition supporters took to the streets to protest the poll which they say was rigged.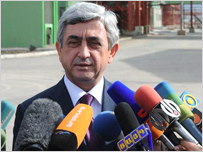 President Serge Sarkisian
Russian President Vladimir Putin congratulated Mr Sarkisian and Europe's main election monitoring body the Organisation for Security and Cooperation in Europe (OSCE) said the vote had mostly met international standards.
Outgoing President and close ally Robert Kocharian handpicked the prime minister to succeed him after Sarkisian's Republican Party swept parliamentary polls in May 2007.
Serge Sarkisian was a Soviet soldier and later worked in the defence-committee of the self-proclaimed Nagorno-Karabakh Republic. He was then appointed Armenia's minister of defence. He had a spell as minister of national security and head of the presidential staff before returning to the defence ministry.
Mr Sarkisian faces the challenge of restarting stalled talks in the dispute over Nagorno-Karabakh. He has also pledged to use his time as leader to improve living standards for the Armenian people.
Mr Sarkisian was born in Nagorno-Karabakh in 1954.
Media
Television is Armenia's dominant medium. There are more than 40 private TV stations operating alongside the two public networks. The main Russian TV channels are widely available.
Few Armenians rely on newspapers as their primary source of news. Print runs are small and most publications are owned by wealthy individuals or political parties.
Censorship is prohibited under a 2004 media law. However libel and defamation are punishable by prison terms and journalists have been sentenced under these laws.
The US-based NGO Freedom House reports that self-censorship is common particularly in coverage of corruption security and the Nagorno-Karabakh situation.
Under a state of emergency which was declared amid political unrest in early 2008 broadcasters could carry only government-sanctioned news. The state of emergency ended on 21 March.
The press

Television
Radio
News agencies


AFRICA | ASIA-PACIFIC | AMERICAS | EUROPE |  MIDDLEEAST |  SOUTHASIA






Mauritania Mauritius Morocco  Mozambique Namibia Niger Nigeria Republic-of-congo Rwanda Sao-tome-and-principe Senegal Seychelles Sierra-leone Somalia South-africa Sudan Swaziland Tanzania The-gambia Togo Tunisia Uganda Australia Brunei Burma Cambodia China East-timor Fiji Indonesia Japan Kazakhstan Kiribati Kyrgyzstan Laos Malaysia Marshall-islands Micronesia Mongolia Nauru New-zealand North-korea Palau Papua-new-guinea Samoa Singapore Solomon-islands South-korea Taiwan Tajikistan Thailand The-philippines Tonga Turkmenistan Tuvalu Uzbekistan Vanuatu Vietnam Antigua-and-barbuda Belize Bolivia  Brazil Canada Chile Colombia Costa-rica Cuba Dominica Dominican-republic Ecuador El-salvador Grenada Guatemala Guyana Haiti Honduras Jamaica Mexico Nicaragua St-kitts-and-nevis St-lucia Suriname Trinidad-and-tobago Uruguay Venezuela Albania Andorra Armenia Austria Azerbaijan Belarus Belgium Bosnia-hercegovina Bulgaria Croatia Cyprus Czech-republic Denmark Estonia Finland France Georgia Germany Greece Hungary Iceland Ireland Italy Latvia Liechtenstein Lithuania Luxembourg Macedonia Malta Moldova Monaco Montenegro Norway Poland Portugal Russia San-marino Serbia Slovakia Slovenia Spain Sweden Algeria Egypt Iran Iraq Israel-and-palestinian-territories Jordan Kuwait Lebanon Libya Mauritania Oman Saudi-arabia Sudan Syria Tunisia United-arab-emirates Yemen Afghanistan Bangladesh Bhutan India Nepal Pakistan Sri-Lanka The-Maldive