Country profile:
Mexico





The Mexico Pharmaceuticals and Healthcare Report has been researched at source and features the latest available data and forecasts to end-2015 covering drugs and healthcare expenditure, the prescription, OTC and generics markets, and foreign trade; company rankings and competitive landscapes including multinational and national drugs companies; and analysis of latest industry news, trends and regulatory developments.

Mexico is a nation where affluence poverty natural splendour and urban blight rub shoulders.
Its politics were dominated for 70 years by the Institutional Revolutionary Party or PRI. But elections in 1997 saw a resurgent opposition break what was in effect a one-party system with a democratic facade.
Elections in 2000 confirmed the trend when Vicente Fox became the first president to come from the opposition.
Overview
Mexico is a major oil producer and exporter. Though production has fallen in the last few years about one-third of government revenue still comes from the industry. Much of the crude is bought by the US.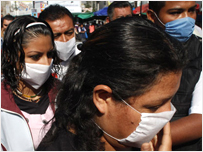 People wearing surgical masks enter the general hospital in Mexico City on Friday. Mexican health authorities closed schools across the metropolis of about 20 million after more than 1,000 people were sickened by what is thought to be a new strain of swine flu.


But prosperity remains a dream for most Mexicans. Rural areas are often neglected and huge shanty towns ring the cities.
Many poor Mexicans try to cross the 3000-km border with the US in search of a job and more than a million are arrested every year.
Hundreds die of heat exhaustion or thirst while making the attempt and the exodus has led to some towns and villages in Mexico being virtually empty of able-bodied men.
The Mexican economy is heavily dependent on the money sent
home by the millions of migrant workers in the US and so it has
been hit hard by the downturn in its neighbour's economy.
Another persistent issue has been the pressure for greater rights for Mexico's indigenous people. A law passed in 2001 fell short of giving Mexico's Indians political autonomy.
However demands for indigenous rights have been largely peaceful since 1994 when at least 150 people died during an uprising in the southern state of Chiapas led by the Zapatista rebel movement.
Violent crime is a major concern; Mexico has one of the highest rates of kidnappings in the world. Turf wars between rival drug cartels are said to lie behind many gangland killings.
Writers such as Octavio Paz and Carlos Fuentes the mural-painter Diego Rivera and popular ranchero and mariachi music mean that Mexican culture is known throughout the Spanish-speaking world and beyond.
Facts
Full name: United Mexican States
Population: 109.6 million (UN 2009)
Capital: Mexico City
Area: 1.96 million sq km (758449 sq miles)
Major language: Spanish
Major religion: Christianity
Life expectancy: 74 years (men) 79 years (women) (UN)
Monetary unit: 1 peso = 100 centavos
Main exports: Machinery and transport equipment mineral fuels and lubricants food and live animals
GNI per capita: US $9980 (World Bank 2008)
Internet domain: .mx
International dialling code: +52
Leaders
President: Felipe Calderon
Felipe Calderon from the governing conservative National Action Party was declared the winner of the bitterly-fought July 2006 presidential election with a lead of less than a percentage point over his left-wing rival Andres Manuel Lopez Obrador.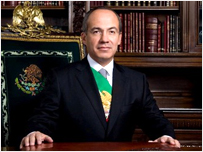 Felipe Calderon's election win was bitterly disputed by opposition
His win was confirmed after weeks of legal wrangling. He took office on 1 December; raucous scenes in Congress accompanied his inauguration. Mr Obrador a populist former mayor of Mexico City challenged the poll outcome in the courts and led a campaign of street protests. He refused to recognise Mr Calderon's win.
Soon after taking office Mr Calderon announced plans for an anti-poverty drive targeting Mexico's 100 poorest towns. He also promised to cut his own salary by 10%. Both themes were central to the election campaign of his rival.
He vowed to tackle violent crime tax evasion and corruption. To this end he promised to raise salaries in the army - a key player in the fight against crime.
He has predicted that the fight against drug gangs will take longer than his six-year term in office. He has dispatched thousands of troops to combat feuding drug cartels.
Mr Calderon has pledged to create jobs in an effort to stem outward migration and to pursue major infrastructure projects including roads airports bridges and dams.
However Mexico's economy was hard hit by the 2008 downtur
n in global demand pushing down the president's approval ratings.
In the 2009 mid-term elections voters punished Mr Calderon and his National Action Party by making the formerly all-powerful Institutional Revolutionary Party (PRI) the biggest force in the Chamber of Deputies.
Born in 1962 in Morelia in Michoacan state he is married and has three children. A lawyer and an economist by profession he resigned as energy minister in 2004 to pursue his presidential ambitions.
His predecessor Vicente Fox took office in December 2000 and was unable by law to run in the 2006 poll.
Media
Mexico's media were traditionally dominated by the Televisa group which had firm links with the PRI. But the loosening of the PRI's hold led to greater editorial independence and the emergence of competitors.
Televisa once had a virtual monopoly in Mexican TV and it is still a major global supplier of programmes in Spanish. New players - such as the Azteca group and foreign satellite and cable operators - have mounted an assault on Televisa's dominance.
The radio market is very large with around 1400 local and regional stations and several major station-owning groups. Some high-powered stations on Mexico's northern border beam their signals into lucrative US markets.
Mexican newspapers reflect different political views; sensationalism characterises the biggest-selling dailies.
The media watchdog Reporters Without Borders said in 2008 that Mexico was the most deadly country in the Americas for journalists.
The press

Television

Radio

News agencies


AFRICA | ASIA-PACIFIC | AMERICAS | EUROPE |  MIDDLEEAST |  SOUTHASIA






Mauritania Mauritius Morocco  Mozambique Namibia Niger Nigeria Republic-of-congo Rwanda Sao-tome-and-principe Senegal Seychelles Sierra-leone Somalia South-africa Sudan Swaziland Tanzania The-gambia Togo Tunisia Uganda Australia Brunei Burma Cambodia China East-timor Fiji Indonesia Japan Kazakhstan Kiribati Kyrgyzstan Laos Malaysia Marshall-islands Micronesia Mongolia Nauru New-zealand North-korea Palau Papua-new-guinea Samoa Singapore Solomon-islands South-korea Taiwan Tajikistan Thailand The-philippines Tonga Turkmenistan Tuvalu Uzbekistan Vanuatu Vietnam Antigua-and-barbuda Belize Bolivia  Brazil Canada Chile Colombia Costa-rica Cuba Dominica Dominican-republic Ecuador El-salvador Grenada Guatemala Guyana Haiti Honduras Jamaica Mexico Nicaragua St-kitts-and-nevis St-lucia Suriname Trinidad-and-tobago Uruguay Venezuela Albania Andorra Armenia Austria Azerbaijan Belarus Belgium Bosnia-hercegovina Bulgaria Croatia Cyprus Czech-republic Denmark Estonia Finland France Georgia Germany Greece Hungary Iceland Ireland Italy Latvia Liechtenstein Lithuania Luxembourg Macedonia Malta Moldova Monaco Montenegro Norway Poland Portugal Russia San-marino Serbia Slovakia Slovenia Spain Sweden Algeria Egypt Iran Iraq Israel-and-palestinian-territories Jordan Kuwait Lebanon Libya Mauritania Oman Saudi-arabia Sudan Syria Tunisia United-arab-emirates Yemen Afghanistan Bangladesh Bhutan India Nepal Pakistan Sri-Lanka The-Maldive