Country profile: New-zealand




History
New Zealand, with a current population of around 4 million, was one of the first countries in the world to provide universal health care.  Under the Social Security Act of 1938, the government began funding hospitals, although medical and pharmaceutical benefits were not fully effective until 1941. The health systems of New Zealand, the United Kingdom and Canada employ similar models; the government bears ultimate responsibility for the payment for health care, even when it is provided through private institutions.  (In contrast, Germany, France and Japan guarantee universal health care but employ "mixed" systems relying more on non-governmental funding sources, primarily employers and individual patients).

New Zealand a wealthy Pacific nation is dominated by two cultural groups: New Zealanders of European descent and the minority Maori whose Polynesian ancestors arrived on the islands around 1000 years ago.
Agriculture is the economic mainstay but manufacturing and tourism are important and there is a fledgling film industry.
New Zealand has diversified its export markets and has developed strong trade links with Australia the US and Japan. In April 2008 it became the first Western country to sign a free trade deal with China.
Overview
British sovereignty was established under the 1840 Treaty of Waitangi - a pact between Maori chiefs and the British government over land rights.
AT-A-GLANCE

Politics: John Key led the National Party to victory in the November 2008 election

Economy: The country officially went into recession in September 2008 for the first time in ten years

International: New Zealand troops have taken part in regional peacekeeping efforts and are deployed in Afghanistan
The treaty gave rise to land claims which culminated in the "New Zealand Wars" a series of skirmishes between colonial forces and Maori on the north island.
The government awarded money and land in settlements during the 1990s but the land issue remains controversial.
In 1984 the government embarked on a dramatic and controversial economic reform programme which lifted controls on wages prices and interest rates and removed agricultural subsidies.
The landscape is diverse and sometimes spectacular. This has fuelled tourism; visitors are drawn to the glacier-carved mountains lakes beaches and thermal springs. Because of the islands' geographical isolation much of the flora and fauna is unique to the country.
New Zealand plays an active role in Pacific affairs. It has constitutional ties with the Pacific territories of Niue the Cook Islands and Tokelau.
Its troops served in East Timor when violence broke out in the territory in 1999 and were part of a multinational force intended to restore order to the Solomon Islands in 2003. Further afield New Zealand forces have backed peacekeeping and development efforts in Afghanistan.
But its anti-nuclear stance - including a ban on nuclear-powered or nuclear-armed vessels from its waters - put it at odds with the US in the 1980s.
A significant amount of New Zealand's electricity is generated by hydropower sources and the country has a range of renewable energy sources at its disposal.
Migration patterns have changed with most incomers coming from Asia and Pacific island states rather than from the UK and Australia. Officials estimate that Asians will make up 13% of the population by 2021.
Facts
Full name: New Zealand
Population: 4.3 million (UN 2009)
Capital: Wellington
Largest city: Auckland
Area: 270534 sq km (104454 sq miles)
Major languages: English Maori
Major religion: Christianity
Life expectancy: 78 years (men) 82 years (women) (UN)
Monetary unit: 1 New Zealand dollar ($NZ) = 100 cents
Main exports: Wool food and dairy products wood and paper products
GNI per capita: US $27940 (World Bank 2008)
Internet domain: .nz
International dialling code: +64
Leaders
Head of state: Queen Elizabeth II represented by Governor-general Anand Satyanand
Prime minister: John Key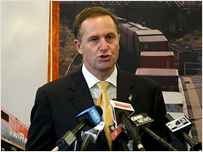 Mr Key's victory ended nine years of Labour rule
John Key led the centre-right National Party to victory in the November 2008 general election ending nine years of Labour-led government.
His party was just short of an overall majority and formed a government after agreeing a coalition deal with two smaller parties.
Born in 1961 and brought up in relative poverty by his Austrian-Jewish immigrant mother after the early death of his father Mr Key became a currency trader and has acquired a substantial personal fortune.
He rose to be head of foreign exchange at Merrill Lynch in Singapore and served as a member of the Foreign Exchange Committee of the New York Federal Reserve Bank in 1999-2001.
National Party president John Slater enouraged him to enter politics in 2001 and Mr Key was elected to parliament the following year. He was appointed opposition finance spokesman in 2004 and became party leader in 2006 after Don Brash resigned over allegations of election-funding irregularities.
Since taking over the party Mr Key has positioned it more on the centre ground. His first speech as leader pledged a future government to measures to prevent the creation of an "underclass" and he has said that reducing greenhouse gas emissions by 50% in the next 50 years will be a priority.
New Zealand has a single-chamber parliament the House of Representatives which is elected for a three-year term. Coalition governments have been the norm since proportional representation replaced the "first past the post" electoral system in 1993.
Media
New Zealand's broadcasters enjoy one of the world's most liberal media arenas.
The broadcasting sector was deregulated in 1988 when the government allowed competition to the state broadcaster Television New Zealand.
Ruia Mai became the country's first Maori-owned Maori language radio station when it launched in 1996.
The New Zealand Herald newspaper has the biggest circulation.
More than 3.3 million New Zealanders - 80% of the population - use the internet (ITU 2008).
The press

Television

Radio

News agencies



AFRICA | ASIA-PACIFIC | AMERICAS | EUROPE |  MIDDLEEAST |  SOUTHASIA






Mauritania Mauritius Morocco  Mozambique Namibia Niger Nigeria Republic-of-congo Rwanda Sao-tome-and-principe Senegal Seychelles Sierra-leone Somalia South-africa Sudan Swaziland Tanzania The-gambia Togo Tunisia Uganda Australia Brunei Burma Cambodia China East-timor Fiji Indonesia Japan Kazakhstan Kiribati Kyrgyzstan Laos Malaysia Marshall-islands Micronesia Mongolia Nauru New-zealand North-korea Palau Papua-new-guinea Samoa Singapore Solomon-islands South-korea Taiwan Tajikistan Thailand The-philippines Tonga Turkmenistan Tuvalu Uzbekistan Vanuatu Vietnam Antigua-and-barbuda Belize Bolivia  Brazil Canada Chile Colombia Costa-rica Cuba Dominica Dominican-republic Ecuador El-salvador Grenada Guatemala Guyana Haiti Honduras Jamaica Mexico Nicaragua St-kitts-and-nevis St-lucia Suriname Trinidad-and-tobago Uruguay Venezuela Albania Andorra Armenia Austria Azerbaijan Belarus Belgium Bosnia-hercegovina Bulgaria Croatia Cyprus Czech-republic Denmark Estonia Finland France Georgia Germany Greece Hungary Iceland Ireland Italy Latvia Liechtenstein Lithuania Luxembourg Macedonia Malta Moldova Monaco Montenegro Norway Poland Portugal Russia San-marino Serbia Slovakia Slovenia Spain Sweden Algeria Egypt Iran Iraq Israel-and-palestinian-territories Jordan Kuwait Lebanon Libya Mauritania Oman Saudi-arabia Sudan Syria Tunisia United-arab-emirates Yemen Afghanistan Bangladesh Bhutan India Nepal Pakistan Sri-Lanka The-Maldive