• During the last 20 years, poverty, disease and limited educational and employment opportunities have taken their toll on health, welfare and dignity of the population.

• Somalia has some of the worst health indicators in the world
HEALTH SITUATION
Somalia is a country in complex emergency due to its long lasting civil war of 18 years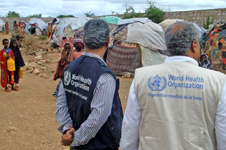 combined with recurrent natural disasters including drought and floods. The health status of Somalia's estimated 8.7 million population has been severely affected by the conflict. Recurrent inter- and intra-clan conflict continues to trigger fresh waves of displacement, loss of life, destruction of infrastructure, and disintegration of basic health and social services (more than 700 000 people have been displaced in 2008). Somalis suffer from chronic food and water insecurity and a wide range of communicable diseases. Access to health care in Somalia remains inequitable, with inadequate distribution of services, human and financial resources to areas where vulnerable populations reside such as camps for internally displaced persons and rural areas.
Somalia has been without an effective central government since President Siad Barre was overthrown in 1991.
Years of fighting between rival warlords and an inability to deal with famine and disease have led to the
deaths of up to one million people. Comprised of a former
British protectorate and an Italian colony, Somalia was created
in 1960 when the two territories merged. Since then its development has been slow. Relations with neighbours have been soured by its territorial claims on Somali-inhabited areas
of Ethiopia, Kenya and Djibouti.