Country profile:

Bulgaria




Bulgaria Pharmaceuticals and Healthcare
Pharmaceuticals and healthcare companies in Bulgaria face a period of challenges and transition over the next five years, as the structure of healthcare provision and escalating debts need to be addressed. Bulgaria has slipped to 14th place in BMI's Business Environment Ratings (BERs) for Emerging Europe as a result of a slower market recovery than many others. Despite the negative consequences of the economic downturn halving growth rates in 2009, figures remained in high single digits, largely as a result of access to new products.
Bulgaria situated in the eastern Balkans has been undergoing a slow and painful transition to a market economy since the end of Communist rule in 1991.
A predominantly Slavic-speaking Orthodox country long influenced by Byzantine culture Bulgaria was part of the Ottoman Empire for 500 years before gaining its independence in the 19th century.
After World War II the country was a satellite of the Soviet Union until 1991 and is now a member country of the EU and NATO.
Overview
Its transition to democracy and a market economy after the collapse of communism has not been easy and the country is striving to boost low standards of living.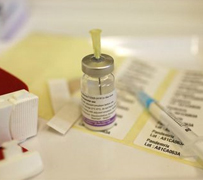 Perth flu' warning in Bulgaria
Throughout the early 1990s Bulgaria was wracked by political instability and strikes. The former communists were a powerful influence. Although the end of the decade was more stable there
was little tangible progress with economic reform.
Under Bulgaria's former king Simeon II who was prime minister between 2001 and 2005 the country pressed ahead with market reforms designed to meet EU economic targets.
It achieved growth saw unemployment fall from highs of nearly 20% and inflation come under control but incomes and living standards remained low.
Bulgaria was not among the countries invited to join the EU in 2004. However it signed an EU accession treaty in April 2005 and joined in January 2007.
EU officials set tough entry requirements reflecting their concerns about corruption and organised crime. After a series of reports found that the Bulgarian government had failed to tackle these issues effectively the EU announced in July 2008 that it was suspending aid worth hundreds of millions of euros. Two months later it announced it was permanently scrapping half of the funding.
Another area of friction has been the Kozloduy nuclear power plant which supplies over a third of Bulgaria's electricity.
Amid concerns over the safety of communist-era nuclear facilities four of Kozloduy's six reactors were shut down as a price for Bulgaria's EU membership two of them closing just minutes before the country joined the EU.
In a bid to offset the loss of production at Kozloduy and restore its position as a major power exporter in the Balkans Bulgaria has revived plans for a second nuclear power plant.
Facts
Full name: Republic of Bulgaria
Population: 7.5 million (UN 2009)
Capital: Sofia
Area: 110994 sq km (42855 sq miles)
Major language: Bulgarian
Major religion: Christianity
Life expectancy: 70 years (men) 77 years (women) (UN)
Monetary unit: 1 lev = 100 stotinki
Main exports: Chemicals and plastics food and drink tobacco machine-building equipment
GNI per capita: US $5490 (World Bank 2008)
Internet domain: .bg
International dialling code: +359
Leaders
President: Georgi Parvanov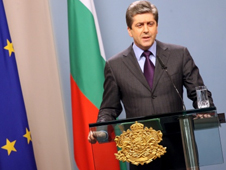 President Georgi Parvanov
Georgi Parvanov won a second five-year term with a landslide victory in October 2006. He beat nationalist Volen Siderov who opposed EU entry.
Bulgaria's presidents are elected to five-year terms. Although
the president is head of the armed forces the role is largely ceremonial. Legislative power is exercised by the prime
minister and parliament.
Prime minister: Boiko Borisov
The centre-right GERB party led by Sofia mayor Boiko Borisov was the clear winner in general elections held in July 2009.
Voters punished the Socialist-led governing coalition of Sergei Stanishev for failing to crack down on corruption and organised crime.
Mr Borisov's poll campaign centred on promises to jail corrupt officials and mafia bosses and pull the country out of its worst economic downturn in years.
Mr Borisov is a black belt and former coach of the national karate team who began his career as a fireman in Communist Bulgaria. He created a private security company in the early 1990s and was bodyguard to both the ousted dictator Todor Zhivkov and to exiled Bulgarian king Simeon Saxe-Coburg-Gotha.
After Mr Saxe-Coburg-Gotha became prime minister in 2001 he appointed Mr Borisov to one of the top jobs in the Interior Ministry.
While there Mr Borisov earned himself the image of a tough operator but his critics accused him of populism arguing that his well-publicised actions did not result in a serious crackdown on organised crime.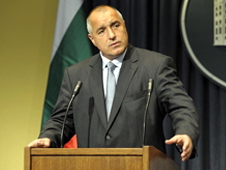 Boiko Borisov
He was elected an MP in 2005 but resigned his seat opting to run successfully for mayor of the capital Sofia several months later. He formed GERB (Citizens for European Development of Bulgaria) the following year.
As leader of the new government Mr Borisov is faced with the task of changing Bulgaria's image as one of Europe's most corrupt countries in the middle of an economic crisis. He has said he may ask the International Monetary Fund for help a move that was resisted by his predecessor.
Media
Global media giants have a stake in Bulgaria's lively broadcasting market. Balkan News Corporation - part of News Corporation - operates bTV the country's first national commercial channel. A Scandinavian group has bought national station Nova TV. A third national network TV2 is Bulgarian-owned.
There are several private regional TV channels and many private radio stations. Freedom of the press is guaranteed under the constitution.
In 2009 Paris-based Reporters Without Borders warned that investigative journalism and media pluralism were "seriously threatened" by organised crime and pressure from political and business quarters.
Some 2.4 million Bulgarians were online by March 2008 (Internetworldstats).
The press
Television
Radio
News agency/internet


AFRICA | ASIA-PACIFIC | AMERICAS | EUROPE |  MIDDLEEAST |  SOUTHASIA






Mauritania Mauritius Morocco  Mozambique Namibia Niger Nigeria Republic-of-congo Rwanda Sao-tome-and-principe Senegal Seychelles Sierra-leone Somalia South-africa Sudan Swaziland Tanzania The-gambia Togo Tunisia Uganda Australia Brunei Burma Cambodia China East-timor Fiji Indonesia Japan Kazakhstan Kiribati Kyrgyzstan Laos Malaysia Marshall-islands Micronesia Mongolia Nauru New-zealand North-korea Palau Papua-new-guinea Samoa Singapore Solomon-islands South-korea Taiwan Tajikistan Thailand The-philippines Tonga Turkmenistan Tuvalu Uzbekistan Vanuatu Vietnam Antigua-and-barbuda Belize Bolivia  Brazil Canada Chile Colombia Costa-rica Cuba Dominica Dominican-republic Ecuador El-salvador Grenada Guatemala Guyana Haiti Honduras Jamaica Mexico Nicaragua St-kitts-and-nevis St-lucia Suriname Trinidad-and-tobago Uruguay Venezuela Albania Andorra Armenia Austria Azerbaijan Belarus Belgium Bosnia-hercegovina Bulgaria Croatia Cyprus Czech-republic Denmark Estonia Finland France Georgia Germany Greece Hungary Iceland Ireland Italy Latvia Liechtenstein Lithuania Luxembourg Macedonia Malta Moldova Monaco Montenegro Norway Poland Portugal Russia San-marino Serbia Slovakia Slovenia Spain Sweden Algeria Egypt Iran Iraq Israel-and-palestinian-territories Jordan Kuwait Lebanon Libya Mauritania Oman Saudi-arabia Sudan Syria Tunisia United-arab-emirates Yemen Afghanistan Bangladesh Bhutan India Nepal Pakistan Sri-Lanka The-Maldive