Country profile:

Canada




Health Care System
Pharmaceuticals are playing an increasingly important role in Canadians' health and Canada's health care system. They save lives, prevent the spread of disease, improve the quality of life for many, and control pain and suffering. Their role is likely to grow in the future as technological advances result in new drug therapies that replace earlier treatment methods or provide new options where no treatment existed before.
Health Canada is committed to ensuring timely access to safe, effective and high quality drugs. Our department works with provinces and territories, and others, to promote optimal drug therapy and focus public funding on therapeutically beneficial and cost-effective pharmaceuticals.

Canada is the second largest country in the world after Russia. Its population is only about one-fifth of Russia's however.
Nearly 90% of Canadians live within 200 km of the border with the United States which means that
Canada contains vast expanses of wilderness to the north.
The relationship to its powerful neighbour is a defining factor for Canada. The US and Canada have the world's largest trading relationship.
Overview
The North American Free Trade Agreement involving Canada the US and Mexico has brought a trade boom for Canada. But thorny issues abound. American moves which impact on Canadian exports in the form of tariffs on Canadian timber and increased subsidies for US farmers have created particular tension.
Canada is also worried about pollution from US factories near the border and about the possible impact on the environment of the exploitation of oil deposits in Alaska.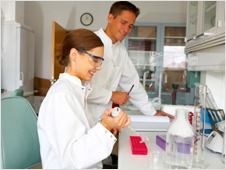 research and development facility is located in Quebec City, Canada.
Canada pursues a foreign policy that is distinct from that of the US. The country has committed troops to the American-led war on terror but does not back the US trade embargo on Cuba. Canada did not send troops to join the US-led war in Iraq.
After the 11 September 2001 attacks in the US the challenge of securing the 9000-km Canada-US border from possible terrorist infiltration prompted both countries to look at ways of sharing information.
Immigration has helped to make Canada one of the world's richest nations. Challenges related to discrimination and integration are gaining increasing attention. Many recent newcomers hail from Asia. Canada's indigenous peoples make up less than two per cent of the population. The way in which provincial governments share land and natural resources with native groups is an ongoing issue.
Separatist aspirations in the predominantly French-speaking province of Quebec are a major domestic issue. A referendum in 1995 saw advocates of an independent Quebec only narrowly defeated. Subsequent opinion polls indicated a fall in support for independence and the pro-independence Parti Quebecois was defeated in 2003's provincial election.
The concept of nationhood for Quebec resurfaced in late 2006 when parliament agreed that the Quebecois should be considered a "nation" within a united Canada. The move was largely symbolic having no constitutional or legal grounding.
Canada has been asserting its sovereignty in the Arctic with growing vigour and has become embroiled in territorial spats with the US and Denmark. At stake is the possible bounty from previously-untapped reserves of oil and gas.
Facts
Full name: Canada
Population: 33.6 million (UN 2009)
Capital: Ottawa
Largest city: Toronto
Area: 9.9 million sq km (3.8 million sq miles)
Major languages: English French (both official)
Major religion: Christianity
Life expectancy: 78 years (men) 83 years (women) (UN)
Monetary unit: 1 Canadian dollar = 100 cents
Main exports: Machinery and equipment automotive products metals and plastics forestry products agricultural and fishing products energy products
GNI per capita: US $41730 (World Bank 2008)
Internet domain: .ca
International dialling code: +1
Leaders
Head of state: Queen Elizabeth II represented by Governor-General Michaelle Jean
Prime minister: Stephen Harper
Twelve years of Liberal government ended when incumbent prime minister Paul Martin was defeated by Stephen Harper's opposition Conservatives in elections on 23 January 2006.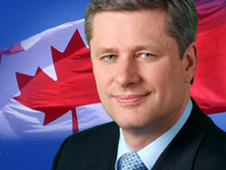 Stephen Harper heads a minority government
Mr Harper failed to win an overall majority and had to work with opposition parties in order to govern.
Buoyed by a solid lead in the polls Mr Harper called an early election for October 2008 in an attempt to win a working
majority. His party improved its position winning 16 more
seats than in the 2006 election but still falling short of an overall majority.
However two months later Mr Harper came close to being toppled by an alliance of the opposition Liberal and New Democrat parties over his handling of the economic crisis but avoided a no-confidence vote by suspending parliament for a month.
The Conservatives have promised to cut taxes fight crime boost military spending and to repair relations with the US. Mr Harper has denied harbouring a radical right-wing agenda a charge levelled by some opponents.
Observers say he has steered the Conservatives towards the political centre switching the party's focus from social to economic matters.
The January 2006 poll was precipitated by a vote of no confidence that brought down Paul Martin's scandal-hit Liberal government the previous November.
Mr Martin had tried in vain to distance himself from allegations of corruption in the French-speaking province of Quebec in the late 1990s when he was federal finance minister.
He was cleared by a judicial inquiry but the fallout from the scandal cost the Liberals a fourth consecutive majority government in 2004.
Born in Toronto Ontario in 1959 Stephen Harper studied economics at the University of Calgary in Alberta. He became an MP in 1993 and headed the newly-merged Conservative party in 2004.
He is married and has two children. Aside from politics and intellectual pursuits he is passionate about ice hockey.
Media
Canada has a long history of public broadcasting. The Canadian Broadcasting Corporation (CBC) was set up in the 1930s in response to the growing influence of American radio.
Broadcasting in French and English the CBC runs four radio networks featuring speech-based and cultural programmes. It also operates two national TV channels TV and radio services for indigenous peoples in the north and the international broadcaster Radio Canada International.
There are just under 2000 licensed radio stations in Canada many of them commercial. There is extensive take-up of multichannel TV.
The Canadian media are free to present a wide range of views and opinions. The broadcasting regulator rules that quotas of Canadian material - usually 30-35% - must be carried by TV and radio stations.
The press

Television

Radio

News agency



AFRICA | ASIA-PACIFIC | AMERICAS | EUROPE |  MIDDLEEAST |  SOUTHASIA






Mauritania Mauritius Morocco  Mozambique Namibia Niger Nigeria Republic-of-congo Rwanda Sao-tome-and-principe Senegal Seychelles Sierra-leone Somalia South-africa Sudan Swaziland Tanzania The-gambia Togo Tunisia Uganda Australia Brunei Burma Cambodia China East-timor Fiji Indonesia Japan Kazakhstan Kiribati Kyrgyzstan Laos Malaysia Marshall-islands Micronesia Mongolia Nauru New-zealand North-korea Palau Papua-new-guinea Samoa Singapore Solomon-islands South-korea Taiwan Tajikistan Thailand The-philippines Tonga Turkmenistan Tuvalu Uzbekistan Vanuatu Vietnam Antigua-and-barbuda Belize Bolivia  Brazil Canada Chile Colombia Costa-rica Cuba Dominica Dominican-republic Ecuador El-salvador Grenada Guatemala Guyana Haiti Honduras Jamaica Mexico Nicaragua St-kitts-and-nevis St-lucia Suriname Trinidad-and-tobago Uruguay Venezuela Albania Andorra Armenia Austria Azerbaijan Belarus Belgium Bosnia-hercegovina Bulgaria Croatia Cyprus Czech-republic Denmark Estonia Finland France Georgia Germany Greece Hungary Iceland Ireland Italy Latvia Liechtenstein Lithuania Luxembourg Macedonia Malta Moldova Monaco Montenegro Norway Poland Portugal Russia San-marino Serbia Slovakia Slovenia Spain Sweden Algeria Egypt Iran Iraq Israel-and-palestinian-territories Jordan Kuwait Lebanon Libya Mauritania Oman Saudi-arabia Sudan Syria Tunisia United-arab-emirates Yemen Afghanistan Bangladesh Bhutan India Nepal Pakistan Sri-Lanka The-Maldive