Country profile:

Dominica


| | |
| --- | --- |
| Health | |
There has been a confirmed case of Swine Flu in Dominica. Hepatitis A and typhoid vaccinations are recommended for visitors to Dominica, and yellow fever vaccination is compulsory for entry for those coming from an infected area. Dengue fever is on the increase and visitors should take precautions against mosquito bites. There is a high prevalence of HIV/AIDS. Medical facilities on the island are limited, so health insurance with evacuation cover is recommended. It is advisable to bring personal medications. Food and drinks are safe to consume in hotels and restaurants, but it is preferable to drink bottled water
With few natural resources and a fledgling tourist industry Dominica is attempting to reduce its reliance on bananas traditionally its main export earner.
The trade has faced stiffer competition since the European Union was forced by the World Trade Organisation to phase out preferential treatment for producers from former colonies.
Overview
A mountainous forested island with a year-round tropical climate national parks rare indigenous birds and the second-largest boiling lake in the world Dominica is potentially a great tourist attraction.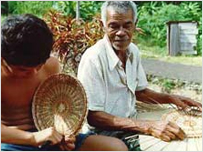 The Carib Territory, on the island of Dominica
But poor infrastructure and the absence of a large airport has impeded the industry's growth. The country is also vulnerable to hurricanes.
Plans to build an airport capable of taking large jet aircraft have raised concerns that an increase in visitor numbers and the rise of eco-tourism would damage the finely-balanced environment.
Offshore finance has had its problems too. For a time Dominica was included on a list of countries deemed to be non-cooperative in the fight against money-laundering. The government tightened up banking rules and set up a financial intelligence unit.
Dominica has a relatively low crime rate for the Caribbean. Although it is among the poorest countries in the region its differences in wealth distribution are not as marked as in the larger Caribbean islands.
Facts
Full name: Commonwealth of Dominica
Population: 70400 (UN 2009)
Capital: Roseau
Area: 751 sq km (290 sq miles)
Major languages: English (official) French patois
Major religion: Christianity
Life expectancy: n/a
Monetary unit: 1 East Caribbean dollar = 100 cents
Main exports: Bananas soap bay oil vegetables grapefruit oranges
GNI per capita: US$4770 (World Bank 2008)
Internet domain: .dm
International dialling code: +1767
Leaders
President: Dr Nicholas Liverpool
Dominica's parliament the House of Assembly appoints the president - the ceremonial head of state. The prime minister and cabinet exercise legislative power.
Prime minister: Roosevelt Skerrit
Roosevelt Skerrit's governing Dominica Labour Party won general elections in May 2005.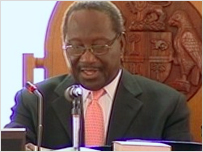 Roosevelt Skerrit grappled with economic challenges
Campaigning focused on a tough International Monetary Fund austerity programme which had boosted growth but at the cost of tax rises and job cuts.
A former education minister Mr Skerrit took office as Dominica's youngest prime minister two days after the sudden death of his predecessor Pierre Charles in January 2004. He was chosen by his party to succeed the late leader.
He inherited the challenge of boosting Dominica's sluggish
economy which relies heavily on tourism and banana exports.
In 2004 Mr Skerrit's government cut diplomatic relations with Taiwan in favour of ties with mainland China. The prime minister said Beijing had agreed to give more than $100 million in aid - equivalent to $1500 for each Dominican.
He has also sought close ties with left-wing President Hugo Chavez's Venezuela. In January 2008 Dominica joined ALBA a Central and South American trade group which was proposed by Venezuela and opposes neoliberal economic policies.
Roosevelt Skerrit - who was 31 when he took office - studied English and psychology in the US before becoming a teacher and a lecturer on the island. He entered parliament in 2000.
Media
Dominica has no daily newspapers; its press consists of weekly publications.
There is no national television service but a cable TV network covers part of the island.
Radio consists of a mix of public and private stations.
All media are free from government interference and carry a range of sometimes critical views.
The press

Television

Radio


AFRICA | ASIA-PACIFIC | AMERICAS | EUROPE |  MIDDLEEAST |  SOUTHASIA






Mauritania Mauritius Morocco  Mozambique Namibia Niger Nigeria Republic-of-congo Rwanda Sao-tome-and-principe Senegal Seychelles Sierra-leone Somalia South-africa Sudan Swaziland Tanzania The-gambia Togo Tunisia Uganda Australia Brunei Burma Cambodia China East-timor Fiji Indonesia Japan Kazakhstan Kiribati Kyrgyzstan Laos Malaysia Marshall-islands Micronesia Mongolia Nauru New-zealand North-korea Palau Papua-new-guinea Samoa Singapore Solomon-islands South-korea Taiwan Tajikistan Thailand The-philippines Tonga Turkmenistan Tuvalu Uzbekistan Vanuatu Vietnam Antigua-and-barbuda Belize Bolivia  Brazil Canada Chile Colombia Costa-rica Cuba Dominica Dominican-republic Ecuador El-salvador Grenada Guatemala Guyana Haiti Honduras Jamaica Mexico Nicaragua St-kitts-and-nevis St-lucia Suriname Trinidad-and-tobago Uruguay Venezuela Albania Andorra Armenia Austria Azerbaijan Belarus Belgium Bosnia-hercegovina Bulgaria Croatia Cyprus Czech-republic Denmark Estonia Finland France Georgia Germany Greece Hungary Iceland Ireland Italy Latvia Liechtenstein Lithuania Luxembourg Macedonia Malta Moldova Monaco Montenegro Norway Poland Portugal Russia San-marino Serbia Slovakia Slovenia Spain Sweden Algeria Egypt Iran Iraq Israel-and-palestinian-territories Jordan Kuwait Lebanon Libya Mauritania Oman Saudi-arabia Sudan Syria Tunisia United-arab-emirates Yemen Afghanistan Bangladesh Bhutan India Nepal Pakistan Sri-Lanka The-Maldive