Country profile:

Azerbaijan




HEALTH IN AZERBAIJAN
Overview: In 2005, Azerbaijan launched an ambitious program to address long overdue reforms of its health care system. The country is making steady progress but continues to face formidable challenges that will require ongoing support, especially technical assistance, from its development partners. The USG is assisting efforts to strengthen the health care system, particularly in the areas of primary health care; reproductive health and family planning; maternal, neonatal, and child health; and tuberculosis. USG longer-term goals contribute to initiatives to increase and use more efficiently government spending on health; rationalize the health care system; and improve service provision with a strong investment in health care human capital.

Oil-rich Azerbaijan gained independence from the Soviet Union in 1991 amid political turmoil and against a backdrop of violence in Nagorno-Karabakh.
It has been famed for its oil springs and natural gas sources since ancient times when Zoroastrians for whom fire is an important symbol erected temples around burning gas vents in the ground.
Overview
In the 19th century this part of the Russian empire experienced an unprecedented oil boom which attracted international investment. By the beginning of the 20th century Azerbaijan was supplying almost half of the world's oil.
In 1994 Azerbaijan signed an oil contract worth $7.4bn with a Western consortium. Since then Western companies have invested millions in the development of the country's oil and gas reserves. However the economy as a whole has not benefited as much as it might have done.
Caspian oil is now flowing through a pipeline running from Baku through Georgia to the Turkish port of Ceyhan providing western countries with ready access to a vast new source of supply. Environmental groups have protested that the cost of this benefit is unacceptable.
Azerbaijan has large gas reserves too.
Azerbaijan became a member of the Council of Europe in 2001. Often accused of rampant corruption and election-rigging ruling circles walk a tightrope between Russian and Western regional geo-strategic interests.
As the Soviet Union collapsed the predominantly Armenian population of the Nagorno-Karabakh region stated their intention to secede from Azerbaijan. War broke out. Backed by troops and resources from Armenia proper the Armenians of Karabakh took control of the region and surrounding territory.
In 1994 a ceasefire was signed. About one-seventh of Azerbaijan's territory remains occupied while 800000 refugees and internally displaced persons are scattered around the country.
Azerbaijan was in the media spotlight in June 2007 when Russian President Vladimir Putin offered the US the use of the Gabala radar station for missile defence as an alternative to using bases in Poland and the Czech Republic.
Facts
Full name: Republic of Azerbaijan
Population: 8.8 million (UN 2009)
Capital: Baku
Area: 86600 sq km (33400 sq miles)
Major language: Azeri Russian
Major religion: Islam
Life expectancy: 68 years (men) 72 years (women) (UN)
Monetary unit: 1 manat = 100 qapik
Main exports: Oil oil products
GNI per capita: US $3830 (World Bank 2008)
Internet domain: .az
International dialling code: +994
Leaders
President: Ilham Aliyev
Ilham Aliyev took over as president from his father Heydar in 2003.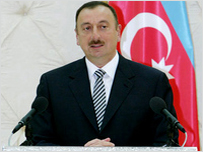 Ilham Aliyev son of post-independence strongman
Heydar Aliyev described his son as his "political successor". When his father died Ilham was already prime minister vice chairman of the state oil company and deputy leader of the ruling New Azerbaijan Party (NAP).
He won the 2003 presidential elections by a landslide. Western observers were highly critical of the campaign which they said had been marred by voter intimidation violence and media bias. Opposition demonstrations were met with police violence. There were many arrests.
Heydar Aliyev a former Soviet Communist leader reinvented himself as a post-independence political strongman and had ruled Azerbaijan with an iron fist since 1993 following a period of great instability. His record on human rights and media freedom was often criticised in the West.
The opposition continues to have strong doubts about Ilham Aliyev's commitment to democracy.
These were reinforced when police used force to break up opposition demonstrations in Baku in the run-up to and following November 2005 parliamentary elections in which the ruling NAP won well over half of the seats. OSCE and Council of Europe observers declared that the vote fell a long way short of international standards.
Mr Aliyev won a second term of office in 2008 scoring an overwhelming victory in an election that was boycotted by the main opposition parties. Western observers said that although the conduct of the election represented a marked improvement on previous votes it still fell short of fully democratic standards.
He looked set to cement his grip on power even further when a move to lift the two-term limit on the president was approved in a referendum in March 2009 paving the way for a possible third term.
Ilham Aliyev was born in 1961 and has a doctorate in history. His business interests have enabled him to build substantial personal wealth since independence. He is married with three children.
Media
Azerbaijan's state-run and public media outlets compete with private and opposition publications and broadcasters. Television is the most-popular medium.
Freedom of speech is guaranteed by the constitution but in 2009 Paris-based Reporters Without Borders said journalists "who dare to speak out against the evils of the regime... expose themselves to real danger". The organization said there was a lack of pluralism in the media.
A public broadcaster set up in 2005 is intended to be free from government control. The service is a requirement for Azerbaijan's membership of the democracy and human rights body the Council of Europe.
Local relays of the BBC and US international radio stations were taken off the air at the end of 2008 by the broadcasting regulator. The move was condemned by media rights bodies.
Turkey's state-run TRT TV is rebroadcast in Azerbaijan. Iranian and Russian channels can be seen in border areas.
There were around 1.5 million internet users by December 2008 (InternetWorldStats).
The press

Television

AzTV - state-run
iTV - public launched August 2005
ANS TV - established private network
Space TV - private
Lider TV - private
Azad Azarbaycan (ATV) - private
Radio

Azerbaijan Radio - state-run
Public Radio - public launched January 2006
ANS ChM - private FM news and music station
Radio Lider - private FM station
Radio Azad Azerbaijan - private FM station
News agencies


AFRICA | ASIA-PACIFIC | AMERICAS | EUROPE |  MIDDLEEAST |  SOUTHASIA






Mauritania Mauritius Morocco  Mozambique Namibia Niger Nigeria Republic-of-congo Rwanda Sao-tome-and-principe Senegal Seychelles Sierra-leone Somalia South-africa Sudan Swaziland Tanzania The-gambia Togo Tunisia Uganda Australia Brunei Burma Cambodia China East-timor Fiji Indonesia Japan Kazakhstan Kiribati Kyrgyzstan Laos Malaysia Marshall-islands Micronesia Mongolia Nauru New-zealand North-korea Palau Papua-new-guinea Samoa Singapore Solomon-islands South-korea Taiwan Tajikistan Thailand The-philippines Tonga Turkmenistan Tuvalu Uzbekistan Vanuatu Vietnam Antigua-and-barbuda Belize Bolivia  Brazil Canada Chile Colombia Costa-rica Cuba Dominica Dominican-republic Ecuador El-salvador Grenada Guatemala Guyana Haiti Honduras Jamaica Mexico Nicaragua St-kitts-and-nevis St-lucia Suriname Trinidad-and-tobago Uruguay Venezuela Albania Andorra Armenia Austria Azerbaijan Belarus Belgium Bosnia-hercegovina Bulgaria Croatia Cyprus Czech-republic Denmark Estonia Finland France Georgia Germany Greece Hungary Iceland Ireland Italy Latvia Liechtenstein Lithuania Luxembourg Macedonia Malta Moldova Monaco Montenegro Norway Poland Portugal Russia San-marino Serbia Slovakia Slovenia Spain Sweden Algeria Egypt Iran Iraq Israel-and-palestinian-territories Jordan Kuwait Lebanon Libya Mauritania Oman Saudi-arabia Sudan Syria Tunisia United-arab-emirates Yemen Afghanistan Bangladesh Bhutan India Nepal Pakistan Sri-Lanka The-Maldive