Country profile:

Vanuatu



MEDICAL FACILITIES AND HEALTH INFORMATION: Hospital and medical facilities in Vanuatu are limited. Costs for treatment, including for pharmaceuticals, can be very expensive. Doctors and hospitals often expect immediate cash payment for their services. If you become seriously ill or have an accident (including diving-related injuries), medical evacuation to a destination with appropriate facilities will be necessary. A medical evacuation can cost more than ten thousand US dollars, and the nearest reliable medical treatment is in Australia or New Zealand. There is only one hyperbaric chamber in Vanuatu, located in Port Vila, Efate. Many of the popular dive sites are located on other islands, and it may take several hours to reach facilities in the event of an accident. Rescue and emergency services are much less comprehensive than in the United States. There is a paramedic service in Vanuatu called ProMedica operated by Australian and New Zealand personnel that handles any medical evacuations.
Pharmacies in Vanuatu are found only in urban centers and at missionary clinics.

Vanuatu - a string of more than 80 islands once known as the New Hebrides - achieved independence from France and Britain in 1980.
Most of the islands are inhabited; some have active volcanoes.
Vanuatu is mountainous and much of it is covered with tropical rainforests. Like most of the area it is prone to earthquakes and tidal waves. Most of the people live in rural areas and practice subsistence agriculture.
Overview
Vanuatu has been spared the unrest which has befallen neighbouring countries such as the Solomon Islands and Fiji although the largest island Espiritu Santo experienced a brief insurrection in 1980.
| | |
| --- | --- |
| | Our Active Pharma Ingredients are highly reliable. |
Local traditions are strong. Women for example generally have lower social standing than men and have fewer educational opportunities.
The economy has been unable to grow fast enough to meet the needs of Vanuatu's expanding population.
The main sources of revenue are agriculture and eco-tourism. Both depend on the weather and when as in 1999 cyclones and persistent rain hit Vanuatu both suffer.
Tax revenue is derived from import duties and neither personal income nor company profits are taxed.
Vanuatu tightened up its tax and regulatory systems after the Organisation for Economic Cooperation and Development warned that it could face sanctions if lax taxation regimes were exploited by criminals for money-laundering.
Australia a key donor has pushed for good governance and economic reform in the islands.
Facts
Full name: Republic of Vanuatu
Population: 239,000 (UN 2009)
Capital: Port-Vila
Area: 12,190 sq km (4,707 sq miles)
Major languages: Bislama French English
Major religion: Christianity
Life expectancy: 68 years (men) 72 years (women) (UN)
Monetary unit: 1 vatu = 100 centimes
Main exports: Copra timber beef cocoa
GNI per capita: US $2,330 (World Bank 2008)
Internet domain: .vu
International dialling code: +678
Leaders
President: Iolu Abil
Iolu Abil was chosen as president by Vanuatu's electoral college - comprising the 52 members of parliament and the heads of the six provincial governments - in September 2009.
He served as a cabinet minister in the first Vanuatu government after the country gained independence in 1980.
He succeeded Kalkot Mataskelekele when his five-year term in office expired.
Prime minister (outgoing): Edward Natapei
Edward Natapei came into office at the head of a new coalition government after his Vanuaaku Pati emerged as the largest force in parliament following elections in September 2008.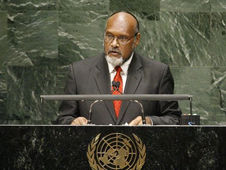 Edward Natapei was stripped of his position because of a clerical error.
Born in 1954 Edward Natapei was prime minister once before between 2001 and 2004.
He reassumed the premiership in 2008 at the head of a governing alliance that also included the second largest party in parliament the National United Party of former prime minister Ham Lini.
Mr Natapei pledged to continue the reforms and policies of Mr Lini's government and said transparency good governance and fighting corruption would be among the main priorities.
He was stripped of his position and his parliamentary seat in November 2009 on account of a basic paperwork error - he missed three consecutive parliamentary sittings without submitting a written explanation for his absence.
Under Vanuatu's law a caretaker government takes over until MPs have elected a new prime minister.
Media
The single TV channel on Vanuatu was established with the help of Radio France Overseas (RFO) and broadcasts in French and English.
Radio Vanuatu runs a shortwave and medium wave (AM) service as well as a commercial FM station.
BBC World Service (99 MHz) Radio Australia Radio France Internationale and China Radio International are available on FM.
There is a government newspaper Vanuatu Weekly and a handful of privately-owned papers.
The press

Vanuatu Weekly - state-owned
Nasara - private weekly
Vanuatu Daily Post - published Monday-Saturday
L'Hebdo Du Vanuatu - French-language from publisher of Daily Post
Port Vila Presse - private weekly
Ni-Vanuatu - private weekly
Television

Television Blong Vanuatu - operated by state-owned Vanuatu Broadcasting and Television Corporation (VBTC)
Radio



AFRICA | ASIA-PACIFIC | AMERICAS | EUROPE |  MIDDLEEAST |  SOUTHASIA






Mauritania Mauritius Morocco  Mozambique Namibia Niger Nigeria Republic-of-congo Rwanda Sao-tome-and-principe Senegal Seychelles Sierra-leone Somalia South-africa Sudan Swaziland Tanzania The-gambia Togo Tunisia Uganda Australia Brunei Burma Cambodia China East-timor Fiji Indonesia Japan Kazakhstan Kiribati Kyrgyzstan Laos Malaysia Marshall-islands Micronesia Mongolia Nauru New-zealand North-korea Palau Papua-new-guinea Samoa Singapore Solomon-islands South-korea Taiwan Tajikistan Thailand The-philippines Tonga Turkmenistan Tuvalu Uzbekistan Vanuatu Vietnam Antigua-and-barbuda Belize Bolivia  Brazil Canada Chile Colombia Costa-rica Cuba Dominica Dominican-republic Ecuador El-salvador Grenada Guatemala Guyana Haiti Honduras Jamaica Mexico Nicaragua St-kitts-and-nevis St-lucia Suriname Trinidad-and-tobago Uruguay Venezuela Albania Andorra Armenia Austria Azerbaijan Belarus Belgium Bosnia-hercegovina Bulgaria Croatia Cyprus Czech-republic Denmark Estonia Finland France Georgia Germany Greece Hungary Iceland Ireland Italy Latvia Liechtenstein Lithuania Luxembourg Macedonia Malta Moldova Monaco Montenegro Norway Poland Portugal Russia San-marino Serbia Slovakia Slovenia Spain Sweden Algeria Egypt Iran Iraq Israel-and-palestinian-territories Jordan Kuwait Lebanon Libya Mauritania Oman Saudi-arabia Sudan Syria Tunisia United-arab-emirates Yemen Afghanistan Bangladesh Bhutan India Nepal Pakistan Sri-Lanka The-Maldive