Country profile: Kiribati



Health
Medical facilities at the general hospital in Tarawa are modest and elsewhere generally consist of island clinics staffed by nurse practitioners. Pharmaceuticals and prescription medicines are not generally available and all requirements for existing medical conditions should be brought with you.

Dengue Fever occurs in Kiribati, with a high number of cases being reported in 2008. Dengue is transmitted by mosquitoes.

The 33 atolls that make up Kiribati - the former Gilbert Islands - occupy a vast area in the Pacific. They stretch nearly 4000 km from east to west more than 2000 km from north to south and straddle the Equator.
The country won independence from the United Kingdom in 1979. Many of the atolls are inhabited; most of them are very low-lying and at risk from rising sea levels.
Overview
Kiribati used to lie either side of the International Date Line but the government unilaterally moved the line eastwards in 1995 to ensure the day was the same in the whole country.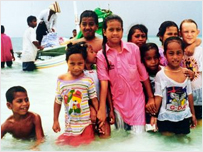 Baha'i children in Kiribati, 1997.
This was a shrewd move as Kiribati marketed itself as the first inhabited place on Earth to greet the new millennium on 1 January 2000. The world's media descended on Caroline Island renamed Millennium Island to record the event.
Kiribati's economy is weak and is affected by rises and falls in the world demand for coconut.
Fishing licences foreign aid and money sent home by workers abroad also play their part as does a trust fund set up with revenues from phosphate mining on the island of Banaba. The mines were depleted by 1980 precipitating the evacuation of much of the population.
Kiribati is home to the South Pacific's largest marine reserve.
Facts
Full name: The Republic of Kiribati
Population: 99000 (UN 2009)
Capital: Tarawa Atoll
Area: 810 sq km (313 sq miles)
Major language: English Gilbertese
Major religion: Christianity
Life expectancy: 59 years (men) 63 years (women) (UN)
Monetary unit: 1 Australian dollar = 100 cents
Main exports: Copra fish seaweed
GNI per capita: US $2000 (World Bank 2008)
Internet domain: .ki
International dialling code: +686
Leaders
President: Anote Tong
Anote Tong narrowly defeated his older brother Harry in presidential elections in July 2003 and was re-elected for a second term in October 2007.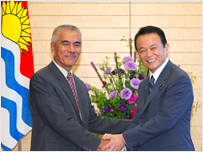 Prime Minister Aso shaking hands with President Tong
The presence of a Chinese satellite tracking base in Kiribati was a key issue in the campaign. Beijing subsequently dismantled the station after Kiribati established diplomatic ties with Taiwan.
The president has also highlighted the "very real" threat to the country from climate change and rising sea levels. In 2005 he identified rapidly-rising population levels and youth unemployment as challenges for Kiribati.
The president is also head of the government. Parliament has 42 members one of whom represents evacuees from Banaba who now live on Rabi in Fiji.
Media
Freedom of speech and of the media is generally respected. The government-run radio station and newspaper offer diverse views. Both Protestant and Catholic churches publish newsletters and periodicals; these are important sources of information. There is no domestic television service.
Former President Ieremia Tabai was blocked from setting up Kiribati's first private radio station Newair FM 101 in 2000. The directors were fined for operating an unlicensed radio station. They subsequently set up the country's first private weekly newspaper the Kiribati New Star.
The press

Te Ukera - government-owned weekly
Kiribati New Star - private weekly
Radio



AFRICA | ASIA-PACIFIC | AMERICAS | EUROPE |  MIDDLEEAST |  SOUTHASIA






Mauritania Mauritius Morocco  Mozambique Namibia Niger Nigeria Republic-of-congo Rwanda Sao-tome-and-principe Senegal Seychelles Sierra-leone Somalia South-africa Sudan Swaziland Tanzania The-gambia Togo Tunisia Uganda Australia Brunei Burma Cambodia China East-timor Fiji Indonesia Japan Kazakhstan Kiribati Kyrgyzstan Laos Malaysia Marshall-islands Micronesia Mongolia Nauru New-zealand North-korea Palau Papua-new-guinea Samoa Singapore Solomon-islands South-korea Taiwan Tajikistan Thailand The-philippines Tonga Turkmenistan Tuvalu Uzbekistan Vanuatu Vietnam Antigua-and-barbuda Belize Bolivia  Brazil Canada Chile Colombia Costa-rica Cuba Dominica Dominican-republic Ecuador El-salvador Grenada Guatemala Guyana Haiti Honduras Jamaica Mexico Nicaragua St-kitts-and-nevis St-lucia Suriname Trinidad-and-tobago Uruguay Venezuela Albania Andorra Armenia Austria Azerbaijan Belarus Belgium Bosnia-hercegovina Bulgaria Croatia Cyprus Czech-republic Denmark Estonia Finland France Georgia Germany Greece Hungary Iceland Ireland Italy Latvia Liechtenstein Lithuania Luxembourg Macedonia Malta Moldova Monaco Montenegro Norway Poland Portugal Russia San-marino Serbia Slovakia Slovenia Spain Sweden Algeria Egypt Iran Iraq Israel-and-palestinian-territories Jordan Kuwait Lebanon Libya Mauritania Oman Saudi-arabia Sudan Syria Tunisia United-arab-emirates Yemen Afghanistan Bangladesh Bhutan India Nepal Pakistan Sri-Lanka The-Maldive