Country profile: Fiji




Health Promotio
Overtime the Centre has initiated programs and strategies, provide advice to government on policy matters affecting healthy promotion, provide training and resource support to other health workers and forge strategic coalitions in the interest of improving the health of the people of Fiji.
The process of strategic planning commenced in May 1996 and was facilitated by the Fiji Trilateral Health Promotion Project based at the Centre for the period 1996-1998. One of the key components of this project, which was a joint venture of the Fiji, Australia and Japanese governments, was to strengthen the health promotion capacity of the National Centre for Health Promotion and Primary and Preventive Health Care Service.

The 800-plus volcanic and coral islands that make up the Pacific nation of Fiji enjoy a tropical climate and are a prime destination for tourists.
However since 1987 racial and political tensions have been an intermittent source of instability and international isolation.
Overview
In 1987 a coup by indigenous Fijians overthrew the elected Indian-dominated coalition. This triggered a series of adverse events including the introduction - and subsequent withdrawal - of a constitution enshrining indigenous Fijian political supremacy.
A further coup in 2000 led by businessman George Speight saw the country's first ethnic Indian prime minister his cabinet and several MPs held hostage for several weeks.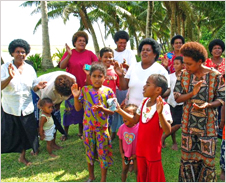 At FIJI HEALTH, our mission is to help preserve the uniqueness of Fiji's village culture by providing Healthcare and Educational.
These events caused great harm to the economy - the tourism industry in particular - and Fiji's international reputation.
Rancour over the 2000 coup persisted with bitter divisions over plans to grant an amnesty to those behind it. The proposals underlay tensions which culminated in a bloodless military takeover in 2006 - Fiji's fourth coup in 20 years.
In September 2009 Fiji was suspended from the Commonwealth over its lack of progress towards democracy. It was only the second full suspension in the organisation's history.
Fiji's population which resides mostly on the two main islands of Viti Levu and Vanua Levu is divided almost equally between indigenous Fijians and Indo-Fijians the descendents of indentured labourers brought from India.
Mixing between the two groups is minimal and informal segregation runs deep at almost every level of society.
There are also very small non-Indo-Fijian non-Fijian minority communities such as Chinese and Rotumans.
Although the former British colony relies heavily on the sugar and tourism industries for its foreign exchange its economy is diverse. Gold silver and limestone are mined and there is a strong services sector and some light manufacturing.
Nonetheless Fiji has been hampered by persistent trade and budget deficits making it one of the world's largest per capita recipients of aid.
Facts
Full name: Republic of the Fiji Islands
Population: 849000 (UN 2009)
Capital: Suva
Area: 18376 sq km (7095 sq miles)
Major languages: English Fijian Hindi
Major religions: Christianity Hinduism Islam
LIfe expectancy: 67 years (men) 71 years (women) (UN)
Monetary unit: 1 Fijian dollar = 100 cents
Main exports: Sugar clothing gold processed fish timber
GNI per capita: US $3930 (World Bank 2008)
Internet domain: .fj
International dialling code: +679
Leaders
Interim prime minister: Commodore Josaia Voreqe (Frank) Bainimarama
| | |
| --- | --- |
| | Bainimarama tightened his grip on power in April 2009 |
Fiji's military chief Commodore Frank Bainimarama seized power in the December 2006 coup and first became interim prime minister in January 2007.
He accused deposed prime minister Laisenia Qarase of corruption and of discriminating against Fiji's ethnic Indian minority.
Mr Qarase who had secured a second term in May 2006 had angered the opposition and the military with his controversial proposal to pardon or amnesty some of those behind the 2000 nationalist coup.
Commodore Bainimarama promised to restore democracy through elections but said the constitution would have to be revised first as in his view it enshrined racial divisions.
He maintains that his aim is to create a fairer multi-racial society but he has excluded political opponents from discussions on the constitutional reforms.
A move by Fiji's Appeal Court in April 2009 to declare the military government illegal prompted the president Ratu Josefa Iloilo to suspend the constitution and reappoint Commodore Bainimarama as interim prime minister for a further five years leaving the military chief's grip on power apparently stronger than ever.
Commodore Bainimarama insists that he enjoys broad popular support for his elections reform plan but the events of April 2009 have made Fiji even more of a diplomatic outcast than before.
President: Ratu Josefa Iloilo
President Ratu Josefa Iloilo was appointed in the aftermath of the May 2000 coup and was re-elected president by the Great Council of Chiefs in March 2006.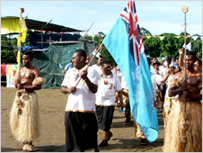 Fiji for the second Pacific Youth Festival. The festival was held from July 11th to 18th and was attended by almost 300 young people.
In the December 2006 coup Mr Iloilo lost his executive powers to military chief Commodore Frank Bainimarama who dissolved parliament and declared a state of emergency.
Commodore Bainimarama reinstated Mr Iloilo as president in January 2007.
Mr Iloilo endorsed the December 2006 coup saying general elections would be held once the political and economic conditions were suitable.
When the Court of Appeal declared the military government illegal in April 2009 Mr Iloilo responded by assuming governing power suspending the constitution and dismissing the judiciary.
He then reappointed Commodore Bainimarama as interim prime minister and said that elections would not be held until 2014.
He is seen as a close ally of the military chief but denied that he was acting at the behest of Commodore Bainimarama.
Now in his late eighties he is said to be in poor health.
Media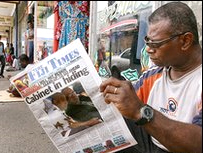 Tight press control was imposed in April 2009
Fiji's private press was long noted for its vigorous reporting but the authorities imposed strict media censorship in April 2009 allowing nothing critical of the military-led government to be published.
Radio has always been a key source of information particularly on the outer islands. There are publicly and privately-owned stations. The BBC World Service and Radio Australia are normally available via FM relays though the transmitters for the latter were shut down after a 30-day state of emergency was imposed following the suspension of the constitution.
Several foreign correspondents based in Fiji were expelled from the country and some internet cafes were closed as part of the media crackdown.
The press

Television

Radio



AFRICA | ASIA-PACIFIC | AMERICAS | EUROPE |  MIDDLEEAST |  SOUTHASIA






Mauritania Mauritius Morocco  Mozambique Namibia Niger Nigeria Republic-of-congo Rwanda Sao-tome-and-principe Senegal Seychelles Sierra-leone Somalia South-africa Sudan Swaziland Tanzania The-gambia Togo Tunisia Uganda Australia Brunei Burma Cambodia China East-timor Fiji Indonesia Japan Kazakhstan Kiribati Kyrgyzstan Laos Malaysia Marshall-islands Micronesia Mongolia Nauru New-zealand North-korea Palau Papua-new-guinea Samoa Singapore Solomon-islands South-korea Taiwan Tajikistan Thailand The-philippines Tonga Turkmenistan Tuvalu Uzbekistan Vanuatu Vietnam Antigua-and-barbuda Belize Bolivia  Brazil Canada Chile Colombia Costa-rica Cuba Dominica Dominican-republic Ecuador El-salvador Grenada Guatemala Guyana Haiti Honduras Jamaica Mexico Nicaragua St-kitts-and-nevis St-lucia Suriname Trinidad-and-tobago Uruguay Venezuela Albania Andorra Armenia Austria Azerbaijan Belarus Belgium Bosnia-hercegovina Bulgaria Croatia Cyprus Czech-republic Denmark Estonia Finland France Georgia Germany Greece Hungary Iceland Ireland Italy Latvia Liechtenstein Lithuania Luxembourg Macedonia Malta Moldova Monaco Montenegro Norway Poland Portugal Russia San-marino Serbia Slovakia Slovenia Spain Sweden Algeria Egypt Iran Iraq Israel-and-palestinian-territories Jordan Kuwait Lebanon Libya Mauritania Oman Saudi-arabia Sudan Syria Tunisia United-arab-emirates Yemen Afghanistan Bangladesh Bhutan India Nepal Pakistan Sri-Lanka The-Maldive