Country profile:

Guatemala



Guatemala's health care system consists of three sectors: public, private nonprofit, and private for-profit. Health coverage has been estimated to be low, with more than 40% of the population receiving no access to health care services. As of 1999, there were an estimated 0.9 physicians and 1 hospital bed per 1,000 people. As of 1999, 4.3% of GDP went to health expenditures. Among the chief causes of death are heart disease, intestinal parasites, bronchitis, influenza, and tuberculosis. In 1994, major causes of death were pneumonia and influenza (16.5%), perinatal conditions (13.8%), intestinal infectious diseases (8.9%), and nutritional deficiencies (5.7%). Malnutrition, alcoholism, and inadequate sanitation and housing also pose serious health problems.
A country of striking features and a strong indigenous culture Guatemala's natural beauty and powerful identity stand in stark contrast to its bloody past and troubled present.
Mountainous heavily forested and dotted with Mayan ruins
lakes volcanoes orchids and exotic birds Guatemala is one of the most beautiful countries in Central America.
Its indigenous population the Maya make up about half of the population. Mayan languages are spoken alongside Spanish the official tongue. Many Guatemalans are of mixed Amerindian-Hispanic origin.
Overview
Guatemala's beauty and strength of identity have not been accompanied by cohesion and prosperity. In 1996 it emerged from a 36-year-long civil war which pitted leftist mostly Mayan insurgents against the army which - backed by the US - waged a vicious campaign to eliminate the guerrillas.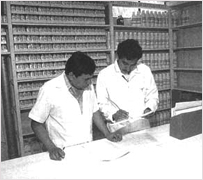 A pharmaceuticals factory in Guatemala. Drug regulatory harmonization is the subject of complex international debate
More than 200000 people - most of them civilians - were killed or disappeared.
Despite an official finding that 93% of all atrocities carried out during the war had been committed by the security forces moves to bring those responsible to account started only after a long delay.
Guatemalans live in one of the most inequitable societies in the region. Poverty is particularly widespread in the countryside and among indigenous communities.
Illiteracy infant mortality and malnutrition are among the highest in the region life expectancy is among the lowest and in common with many of its neighbours the country is plagued by organised crime and violent street gangs. It is a major corridor for smuggling drugs from South America to the United States.
Despite talks and international mediation a long-running territorial dispute with neigbouring Belize remains unresolved. Guatemala lays claim to thousands of square kilometres of land.
Facts
Full name: Republic of Guatemala
Population: 14 million (UN 2009)
Capital: Guatemala City
Major languages: Spanish more than 20 indigenous languages
Major religion: Christianity indigenous Mayan beliefs
Life expectancy: 67 years (men) 74 years (women) (UN)
Monetary unit: 1 quetzal = 100 centavos
Main exports: Coffee sugar bananas fruits and vegetables meat petroleum cardamon
GNI per capita: US $2680 (World Bank 2008)
Internet domain: .gt
International dialling code: + 502
Leaders
President: Alvaro Colom
Engineer and businessman Alvaro Colom narrowly won the presidential election in November 2007 as centre left candidate of the National Unity for Hope (UNE).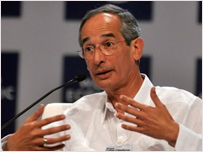 Alvaro Colom
He took office in January 2008.
He defeated right-wing retired general Otto Perez Molina who said he would take a tough approach - mano dura or strong hand - to social problems.
Although Colom does not belong to any of Guatemala's 23 Mayan ethnic groups he is an ordained Mayan minister and won a large share of the vote from the indigenous groups that represent 40% of the population.
Following his victory he said he would create a government with a ''Mayan face'' that would seek national unity.
He also pledged to deal with the country's high crime and murder rates by tackling corruption in the security forces and judiciary taking on the drug barons and working to lift people out of poverty.
But the former deputy minister of economy inherits one of the poorest countries in Spanish speaking Latin America where a large proportion of the population live on less than US$2 a day and the rich oppose tax increases.
In May 2009 Mr Colom's presidency was clouded by controversy when a murdered lawyer in a video recorded before his death said the president and other senior officials were trying to kill him and would be responsible for his murder.
Thousands of protesters marched though the capital to demand Mr Colom's resignation in response. The president insists he was not involved in the death of the lawyer Rodrigo Rosenberg.
Media
Press freedom is enshrined in Guatemala's constitution and newspapers freely criticise the government.
Nonetheless many journalists face intimidation because of their reporting often in the form of anonymous threats. Reporters who expose corruption are particularly exposed.
Private operators dominate the media scene. Four national TV channels share the same owner and have a virtual monopoly in TV broadcasting. They have been criticised for being pro-government. Two state TV channels are licensed but are not broadcasting.
The press

Television

Radio

News agencys



AFRICA | ASIA-PACIFIC | AMERICAS | EUROPE |  MIDDLEEAST |  SOUTHASIA






Mauritania Mauritius Morocco  Mozambique Namibia Niger Nigeria Republic-of-congo Rwanda Sao-tome-and-principe Senegal Seychelles Sierra-leone Somalia South-africa Sudan Swaziland Tanzania The-gambia Togo Tunisia Uganda Australia Brunei Burma Cambodia China East-timor Fiji Indonesia Japan Kazakhstan Kiribati Kyrgyzstan Laos Malaysia Marshall-islands Micronesia Mongolia Nauru New-zealand North-korea Palau Papua-new-guinea Samoa Singapore Solomon-islands South-korea Taiwan Tajikistan Thailand The-philippines Tonga Turkmenistan Tuvalu Uzbekistan Vanuatu Vietnam Antigua-and-barbuda Belize Bolivia  Brazil Canada Chile Colombia Costa-rica Cuba Dominica Dominican-republic Ecuador El-salvador Grenada Guatemala Guyana Haiti Honduras Jamaica Mexico Nicaragua St-kitts-and-nevis St-lucia Suriname Trinidad-and-tobago Uruguay Venezuela Albania Andorra Armenia Austria Azerbaijan Belarus Belgium Bosnia-hercegovina Bulgaria Croatia Cyprus Czech-republic Denmark Estonia Finland France Georgia Germany Greece Hungary Iceland Ireland Italy Latvia Liechtenstein Lithuania Luxembourg Macedonia Malta Moldova Monaco Montenegro Norway Poland Portugal Russia San-marino Serbia Slovakia Slovenia Spain Sweden Algeria Egypt Iran Iraq Israel-and-palestinian-territories Jordan Kuwait Lebanon Libya Mauritania Oman Saudi-arabia Sudan Syria Tunisia United-arab-emirates Yemen Afghanistan Bangladesh Bhutan India Nepal Pakistan Sri-Lanka The-Maldive