Country profile:

El-salvador





The El Salvador Health Mission provides the opportunity for PeaceHealth, through volunteer participation of employees and affiliates, to bring human and material resources to people in a country with inadequate health care.
The compelling motivation for the project is the reality that overwhelming numbers of persons living in unemployment and poverty - particularly those persons living in rural areas - have little or no access to the limited and El Salvadoran health services provided by the government and by non-governmental organizations.
El Salvador which is Spanish for "the saviour" - or Jesus Christ - has been wracked by civil war and a succession of natural disasters.
The tiny country is the most densely-populated state on the mainland of the Americas and is highly industrialised. But social inequality and a susceptibility to earthquakes have shaped much of modern El Salvador.
Overview
In the 1980s El Salvador was ravaged by a bitter civil war. This was stoked by gross inequality between a small and wealthy elite which dominated the government and the economy and the overwhelming majority of the population many of whom lived - and continue to live - in abject squalor. The war left around 70000 people dead and caused damage worth $2bn but it also brought about important political reforms.
In 1992 a United Nations-brokered peace agreement ended the civil war but no sooner had El Salvador begun to recover when it was hit by a series of natural disasters notably Hurricane Mitch in 1998 and earthquakes in 2001. These left at least 1200 people dead and more than a million others homeless.
The economy depends heavily on the money sent home by Salvadoreans living in the US. Poverty civil war natural disasters and their consequent dislocations have left their mark on El Salvador's society which is among the most crime-ridden in the Americas.
Violent street gangs known as "maras" have been described by President Saca as a "regional problem that requires regional solutions". One of the most notorious groups was started in the 1980s by Salvadoran immigrants in the US.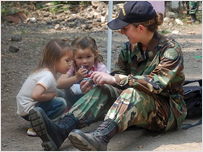 SONSONATE, El Sal­vador (May 19, 2008) U.S. Pub­lic Health Service's Lt. Eliz­a­beth Leav­itt, embarked aboard the amphibi­ous assault ship USS Boxer (LHD 4), takes a break to spend some time withSal­vado­ran chil­dren dur­ing con­tin­u­ing Promise (CP) 2008.
Facts
Full name: Republic of El Salvador
Population: 6.2 million (UN 2009)
Capital: San Salvador
Area: 21041 sq km (8124 sq miles)
Major language: Spanish
Major religion: Christianity
Life expectancy: 67 years (men) 76 years (women) (UN)
Monetary unit: US dollar & Salvadoran colon
Main exports: Offshore assembly exports coffee sugar shrimp textiles chemicals electricity
GNI per capita: US $3480 (World Bank 2007)
Internet domain: .sv
International dialling code: +503
Leaders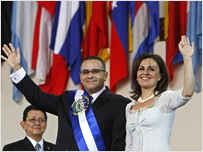 Funes is the first left-wing president in two decades
President: Mauricio Funes
Mauricio Funes' election victory in March 2009 marked the first time in 20 years that a left-wing leader had come to power in El Salvador.
He defeated his conservative rival from the Arena party which had previously won every election since El Salvador's civil war ended in 1992. Mr Funes took office on 1 June 2009.
Mr Funes' FMLN party ( Farabundo Marti National Liberation Front) was founded by Marxist guerillas who were engaged in a conflict against the US-backed government in the 1980s.
At least 75000 people were killed during the civil war. In 1992 the FMLN signed a peace agreement and re-branded itself as a legitimate political party.
Mr Funes himself was never involved in armed uprising. He gave up his career as TV journalist to run for president.
He is considered a moderate and says he admires US President Barack Obama. Like Mr Obama he campaigned on a platform of change. Mr Funes says he wants to build a relationship of "understanding and mutual respect" with the United States.
He has also expressed admiration for the economic policies of Brazil's moderate left-wing president Luiz Inacio Lula da Silva.
Mauricio Funes was born on 18 October 1959. He is married to a Brazilian doctor and has three children.
Media
Press freedom is guaranteed under El Salvador's constitution and the media freely and routinely criticise the government and report on opposition activities.
Broadcasting is dominated by private operators with a handful of national TV networks. There are scores of radio stations in the capital alone.
Cable TV is widely available and carries international channels.
The press

Television

Radio



AFRICA | ASIA-PACIFIC | AMERICAS | EUROPE |  MIDDLEEAST |  SOUTHASIA






Mauritania Mauritius Morocco  Mozambique Namibia Niger Nigeria Republic-of-congo Rwanda Sao-tome-and-principe Senegal Seychelles Sierra-leone Somalia South-africa Sudan Swaziland Tanzania The-gambia Togo Tunisia Uganda Australia Brunei Burma Cambodia China East-timor Fiji Indonesia Japan Kazakhstan Kiribati Kyrgyzstan Laos Malaysia Marshall-islands Micronesia Mongolia Nauru New-zealand North-korea Palau Papua-new-guinea Samoa Singapore Solomon-islands South-korea Taiwan Tajikistan Thailand The-philippines Tonga Turkmenistan Tuvalu Uzbekistan Vanuatu Vietnam Antigua-and-barbuda Belize Bolivia  Brazil Canada Chile Colombia Costa-rica Cuba Dominica Dominican-republic Ecuador El-salvador Grenada Guatemala Guyana Haiti Honduras Jamaica Mexico Nicaragua St-kitts-and-nevis St-lucia Suriname Trinidad-and-tobago Uruguay Venezuela Albania Andorra Armenia Austria Azerbaijan Belarus Belgium Bosnia-hercegovina Bulgaria Croatia Cyprus Czech-republic Denmark Estonia Finland France Georgia Germany Greece Hungary Iceland Ireland Italy Latvia Liechtenstein Lithuania Luxembourg Macedonia Malta Moldova Monaco Montenegro Norway Poland Portugal Russia San-marino Serbia Slovakia Slovenia Spain Sweden Algeria Egypt Iran Iraq Israel-and-palestinian-territories Jordan Kuwait Lebanon Libya Mauritania Oman Saudi-arabia Sudan Syria Tunisia United-arab-emirates Yemen Afghanistan Bangladesh Bhutan India Nepal Pakistan Sri-Lanka The-Maldive