Country profile: Brunei





A rarity in this part of Southeast Asia, Brunei is completely free of malaria and other common tropical diseases. The nation's healthcare system is among the best in Asia, so visitors should have little to worry about despite the steamy tropical conditions. There are a number of excellent private health clinics in each district, and for anything serious the Raja Isteri Pengiran Anak Saleha Hospital (RIPAS) in Brunei's capital has every modern facility imaginable.

A tiny country with a small population Brunei was the only Malay state in 1963 to choose to remain a British dependency rather than join the Malaysian Federation.
It became independent in 1984 and thanks to its large reserves of oil and gas now has one of the highest standards of living in the world.
Its ruling royals led by the head of state Sultan Hassanal Bolkiah possess a huge private fortune.
Overview
A country of dense forests and mangrove swamps whose people enjoy high subsidies and pay no taxes Brunei is highly dependent on imports. Despite its immense wealth most of the country outside the capital remains undeveloped and unexploited.
Friday prayers in the capital Bandar Seri Begawan
While oil and gas exports account for the bulk of government revenues reserves are dwindling and Brunei is attempting to diversify its economy. It markets itself as a financial centre and as a destination for upmarket and eco-tourism.
About two-thirds of the people of Brunei are ethnic Malays and these benefit from positive discrimination. The Chinese comprise about 16% of the population. There are also Indians and indigenous groups of whom the Murut and Dusuns are favoured over the Ibans.
Since 1962 the sultan has ruled by decree. In a rare move towards political reform an appointed parliament was revived in 2004. The constitution provides for an expanded house with up to 15 elected MPs. However no date has been set for elections.
Brunei's financial fortunes have wavered. Shares and other assets were hit by the crash of the Asian financial markets in the late 1990s. In 1998 Prince Jefri's Amedeo conglomerate collapsed leaving massive debts and precipitating a financial scandal.
Facts
Full name: Sultanate of Brunei

Princess Fadzillah Lubabul Bolkiah was a guest of honor for the opening ceremonies of the 5th Special Olympics Brunei Darussalam (SOBD) on Thursday

Population: 399000 (UN 2009)
Capital: Bandar Seri Begawan
Area: 5765 sq km (2226 sq miles)
Major languages: Malay English Chinese
Major religions: Islam Buddhism Christianity
Life expectancy: 75 years (men) 80 years (women) (UN)
Monetary unit: 1 Bruneian dollar = 100 cents
Main exports: Crude oil liquefied natural gas petroleum products
GNI per capita: US $26930 (World Bank 2007)
Internet domain: .bn
International dialling code: +673
Leaders
Head of state: Sultan Hassanal Bolkiah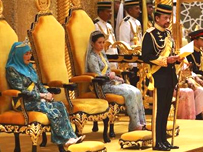 Sultan Bolkiah: Ruling family has a large private fortune
Hassanal Bolkiah one of the world's longest-reigning monarchs became sultan in October 1967 after his father Sir Haji Omar Ali Saifuddin abdicated. He was crowned in August 1968.
In 1991 he introduced a conservative ideology called Malay Muslim Monarchy which presented the monarchy as the defender of the faith.
Apparently aimed at pre-empting calls for democratisation it is said to have alienated Brunei's large Chinese and expatriate communities.
In September 2004 the sultan reopened Brunei's parliament 20 years after it was suspended. Observers said it was a tentative step towards giving some political power to the country's citizens.
The sultan was born in 1946 and was educated in Malaysia and Britain. He has two wives and is one of the world's richest individuals.
Media
A press law provides prison terms of up to three years for reporting "false news".
The only local broadcast media are operated by the government-controlled Radio Television Brunei. Foreign TV is available via cable. Access to the internet is said to be unrestricted.
The press

Borneo Bulletin - English-language daily
Media Permata - Malay-language newspaper
Television

Radio


AFRICA | ASIA-PACIFIC | AMERICAS | EUROPE |  MIDDLEEAST |  SOUTHASIA






Mauritania Mauritius Morocco  Mozambique Namibia Niger Nigeria Republic-of-congo Rwanda Sao-tome-and-principe Senegal Seychelles Sierra-leone Somalia South-africa Sudan Swaziland Tanzania The-gambia Togo Tunisia Uganda Australia Brunei Burma Cambodia China East-timor Fiji Indonesia Japan Kazakhstan Kiribati Kyrgyzstan Laos Malaysia Marshall-islands Micronesia Mongolia Nauru New-zealand North-korea Palau Papua-new-guinea Samoa Singapore Solomon-islands South-korea Taiwan Tajikistan Thailand The-philippines Tonga Turkmenistan Tuvalu Uzbekistan Vanuatu Vietnam Antigua-and-barbuda Belize Bolivia  Brazil Canada Chile Colombia Costa-rica Cuba Dominica Dominican-republic Ecuador El-salvador Grenada Guatemala Guyana Haiti Honduras Jamaica Mexico Nicaragua St-kitts-and-nevis St-lucia Suriname Trinidad-and-tobago Uruguay Venezuela Albania Andorra Armenia Austria Azerbaijan Belarus Belgium Bosnia-hercegovina Bulgaria Croatia Cyprus Czech-republic Denmark Estonia Finland France Georgia Germany Greece Hungary Iceland Ireland Italy Latvia Liechtenstein Lithuania Luxembourg Macedonia Malta Moldova Monaco Montenegro Norway Poland Portugal Russia San-marino Serbia Slovakia Slovenia Spain Sweden Algeria Egypt Iran Iraq Israel-and-palestinian-territories Jordan Kuwait Lebanon Libya Mauritania Oman Saudi-arabia Sudan Syria Tunisia United-arab-emirates Yemen Afghanistan Bangladesh Bhutan India Nepal Pakistan Sri-Lanka The-Maldive