Country profile:

Cuba




The pharmaceutical industry in Cuba
Cuba has developed a relatively sophisticated pharmaceutical sector, originally to provide medicinal products for her own population and, more recently, to earn hard currency through exports. Cuba has achieved both of these goals despite the US trade embargo, which isolates Cuba from commercial relations with US firms. Cuba is opening its economy to firms from other countries through the use of joint ventures and other forms of cooperation. US firms are unable to avail themselves of these opportunities, and the opportunities are thus being lost. In the case of pharmaceuticals, the Cubans recognize that they need assistance, particularly in the areas of marketing and packaging. Allowing the participation of US firms in the Cuban pharmaceutical industry could enhance the possibility of improving worldwide health care.
Cuba has survived more than 40 years of US sanctions intended to topple the government of Fidel Castro. It also defied predictions that it would not survive the collapse of its one-time supporter the Soviet Union.
Since the fall of the US-backed dictatorship of Fulgencio Batista in 1959 Cuba has been a one-party state
led by Mr Castro and - since February 2008 - by his annointed successor younger brother Raul.
Fidel exercised control over virtually all aspects of Cuban life through the Communist Party and its affiliated mass organisations the government bureaucracy and the state security apparatus.
Overview
Exploiting the US-Soviet Cold War Fidel Castro was for decades able to rely on strong Soviet backing including annual subsidies worth $4-5 billion and succeed in building reputable health and education systems. But at least partly because of the US trade sanctions he failed to diversify the economy.
The disappearance of Soviet aid following the collapse of the USSR forced the government to introduce tight rationing of energy food and consumer goods.
AT-A-GLANCE

Politics: Communist leader Fidel Castro led the one-party state for nearly 50 years; his brother Raul took over as leader in 2008

Economy: US economic embargo has been in force since 1961; 1990s liberalisation has given way to greater state control; economic hardship has prompted many to leave

International: US EU have pressed for democratic change and criticise the state of human rights; Venezuela under Hugo Chavez is an important ally
The economy has soldiered on with the help of Canadian European and Latin American investments especially in tourism.
Controls were relaxed in the 1990s with companies allowed to import and export without seeking permission and a number of free trade zones opening up.
But some of these economic reforms were later rolled back with Fidel Castro denouncing what he called the "new rich".
Cuba has forged closer ties with China and with oil-producing Venezuela. The former has invested in the nickel industry; the latter supplies cheap fuel.
But the money sent home by Cubans living abroad - many of them in the US city of Miami - is still crucial to the economy. Hardships have led to an increase in prostitution corruption black marketeering and desperate efforts to escape in search of a better life.
Cuba has fallen foul of international bodies including the UN's top human rights forum over rights abuses. The UN's envoy has urged Havana to release imprisoned dissidents and to allow freedom of expression.
The US leases the Guantanamo Naval Base on the eastern tip of the island under a 1903 treaty and continues to send Cuba payment for it. Cuba under the Castros disputes the lease saying that it was concluded under duress and has refused to cash any of the cheques since the early days of the revolution.
Relations with the US showed signs of a thaw following the election of President Barack Obama who in April 2009 said he wanted a new beginning with Cuba.
Russia has also taken steps to revitalise ties with its Soviet-era ally and in July 2009 signed an agreement to explore Cuba's offshore oil reserves.
Facts
Full name: Republic of Cuba
Population: 11.2 million (UN 2009)
Capital: Havana
Area: 110860 sq km (42803 sq miles)
Major language: Spanish
Major religion: Christianity
Life expectancy: 77 years (men) 81 years (women) (UN)
Monetary unit: 1 Cuban peso = 100 centavos
Main exports: Nickel sugar tobacco shellfish medical products citrus coffee
GNI per capita: n/a
Internet domain: .cu
International dialling code: +53
Leaders
President: Raul Castro
Raul Castro the world's longest-serving defence minister took over as president in February 2008 succeeding his ailing brother Fidel who had been in power for five decades.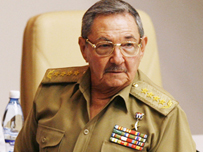 Raul Castro picked up the reins of power from his brother Fidel
Raul Castro became acting president 18 months earlier when his brother was incapacitated by ill health and was formally named as president by the National Assembly days after Fidel announced his retirement.
Fidel Castro a devotee of Marxist-Leninist theory brought revolution to Cuba and created the western hemisphere's first communist state. His bearded figure long speeches army fatigues and defiance of the United States earned him iconic status across the globe.
Raul 76 at the time of this appointment has been his brother's trusted right-hand man and was once known as an iron-fisted ideologue who executed Fidel Castro's orders - and enemies - ruthlessly.
Under his leadership Cuba's Revolutionary Armed Forces became one of the most formidable fighting forces in the Third World with combat experience in Africa where they defeated South Africa's army in Angola in 1987.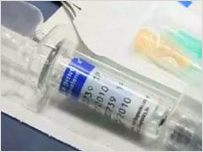 The Cuban Government is stepping up preventive measures in the face of a second wave of the A (H1N1) flu that has killed 41 people and infected about 1000.
Known as a good administrator Raul Castro substantially cut the size of the army after the collapse of Soviet Communism threw Cuba into severe economic crisis. He introduced Western business practices to help make the armed forces self-sufficient. The military has a large stake in the most dynamic sectors of the Cuban economy including tourism.
Raul Castro has also eased some restrictions on personal freedoms by lifting bans on mobile phones and home computers.
Following the election of US President Barack Obama he said he was willing to respond to overtures from Washington and enter into dialogue with the US administration but insisted that Cuba's communist system remained non-negotiable.
Media
The Cuban media are tightly controlled by the government and journalists must operate within the confines of laws against anti-government propaganda and the insulting of officials which carry penalties of up to three years in prison.
| | |
| --- | --- |
| | The state maintains a tight hold on the media |
Private ownership of electronic media is prohibited by the constitution and foreign news agencies must hire local journalists only through government offices.
Paris-based media rights body Reporters Without Borders has said the press freedom situation is "disastrous". It adds that with less than 2% of the country's population online Cuba is "one of the most backward internet countries".
Cuban officials accuse the US of blocking access to high-speed links.
Since Fidel Castro relinquished power to his brother Raul international watchdogs have intensified their condemnation of the lack of media freedom and jailed journalists' conditions of detention.
The US tries hard to reach Cuban listeners and viewers. Washington-backed Radio-TV Marti says it provides "balanced uncensored" news for the Cuban people.
The service beams programmes to Cuba from high-power transmitters some based in the Florida Keys.
In late 2006 TV Marti began buying airtime on a station in Miami Florida which Cubans using illegal satellite equipment can pick up.
However the effectiveness - or otherwise - of such operations has been debated in US government circles.
The press

Granma - official Communist Party newspaper online version in five languages including English
Television

Tele-Rebelde
CHTV - subsidiary of Tele-Rebelde
Radio

News agencies



AFRICA | ASIA-PACIFIC | AMERICAS | EUROPE |  MIDDLEEAST |  SOUTHASIA






Mauritania Mauritius Morocco  Mozambique Namibia Niger Nigeria Republic-of-congo Rwanda Sao-tome-and-principe Senegal Seychelles Sierra-leone Somalia South-africa Sudan Swaziland Tanzania The-gambia Togo Tunisia Uganda Australia Brunei Burma Cambodia China East-timor Fiji Indonesia Japan Kazakhstan Kiribati Kyrgyzstan Laos Malaysia Marshall-islands Micronesia Mongolia Nauru New-zealand North-korea Palau Papua-new-guinea Samoa Singapore Solomon-islands South-korea Taiwan Tajikistan Thailand The-philippines Tonga Turkmenistan Tuvalu Uzbekistan Vanuatu Vietnam Antigua-and-barbuda Belize Bolivia  Brazil Canada Chile Colombia Costa-rica Cuba Dominica Dominican-republic Ecuador El-salvador Grenada Guatemala Guyana Haiti Honduras Jamaica Mexico Nicaragua St-kitts-and-nevis St-lucia Suriname Trinidad-and-tobago Uruguay Venezuela Albania Andorra Armenia Austria Azerbaijan Belarus Belgium Bosnia-hercegovina Bulgaria Croatia Cyprus Czech-republic Denmark Estonia Finland France Georgia Germany Greece Hungary Iceland Ireland Italy Latvia Liechtenstein Lithuania Luxembourg Macedonia Malta Moldova Monaco Montenegro Norway Poland Portugal Russia San-marino Serbia Slovakia Slovenia Spain Sweden Algeria Egypt Iran Iraq Israel-and-palestinian-territories Jordan Kuwait Lebanon Libya Mauritania Oman Saudi-arabia Sudan Syria Tunisia United-arab-emirates Yemen Afghanistan Bangladesh Bhutan India Nepal Pakistan Sri-Lanka The-Maldive