Country profile:

Haiti




Health care in Haiti
Deficient sanitation systems, poor nutrition, and inadequate health services have pushed Haiti to the bottom of the World Bank's rankings of health indicators. According to the United Nations World Food Programme, 80 percent of Haiti's population lives below the poverty line. Consequently, malnutrition is a significant problem. Half the population can be categorized as "food insecure," and half of all Haitian children are undersized as a result of malnutrition. Less than half the population has access to clean drinking water, a rate that compares poorly even with other less-developed nations. Haiti's healthy life expectancy at birth is only 54 years. The World Health Organization (WHO) estimates that only 43 percent of the target population receives the recommended immunizations
Haiti became the world's first black-led republic and the first independent Caribbean state when it threw off French colonial control and slavery in a series of wars in the early 19th century.
However decades of poverty environmental degradation violence instability and dictatorship have left it as the poorest nation in the Americas.
A mostly mountainous country with a tropical climate Haiti's location history and culture - epitomised by voodoo - once made it a potential tourist hot spot but instability and violence especially since the 1980s have severely dented that prospect.
Overview
Haiti achieved notoriety during the brutal dictatorships of the voodoo physician Francois "Papa Doc" Duvalier and his son Jean-Claude or "Baby Doc". Tens of thousands of people were killed under their 29-year rule.
Hopes that the election in 1990 of Jean-Bertrand Aristide a former priest would herald a brighter future were dashed when he was overthrown by the military a short time later.
AT A GLANCE

Politics: Democratic rule was restored
in 2006 two years after a violent revolt ousted former leader Jean-Bertrand Aristide; bitter political divisions persist

Economy: The economy is in ruins and unemployment is chronic

International: The UN has deployed peacekeepers; international aid is seen as key to recovery
Although economic sanctions and US-led military intervention forced a return to constitutional government in 1994 Haiti's fortunes did not pick up with allegations of electoral irregularities ongoing extra-judicial killings torture and brutality.
A bloody rebellion and pressure from the US and France forced Mr Aristide out of the country in 2004.
Since then an elected leadership has taken over from an interim government and a UN stabilisation force has been deployed. But Haiti is still plagued by violent confrontations between rival gangs and political groups and the UN has described the human rights situation as "catastrophic".
Meanwhile Haiti's most serious underlying social problem the huge wealth gap between the impoverished Creole-speaking black majority and the French-speaking minority 1% of whom own nearly half the country's wealth remains unaddressed.
Many Haitians seek work and a better life in the US or other Caribbean nations including the neighbouring Dominican Republic which is home to hundreds of thousands of Haitian migrants.
Furthermore the infrastructure has all but collapsed and drug trafficking has corrupted the judicial system and the police.
Haiti is also ill-equipped to deal with the aftermath of the tropical storms that frequently sweep across the island with severe deforestation having left it vulnerable to flooding.
Facts
Full name: Republic of Haiti
Population: 10 million (UN 2009)
Capital: Port-au-Prince
Area: 27750 sq km (10714 sq miles)
Major languages: Creole French
Major religion: Christianity
Life expectancy: 59 years (men) 63 years (women) (UN)
Monetary unit: 1 gourde = 100 centimes
Main exports: Light manufactures coffee oils mangoes
GNI per capita: US $660 (World Bank 2008)
Internet domain: .ht
International dialling code: +509
Leaders
President: Rene Preval
Rene Preval often described as a champion of the poor won presidential elections in February 2006 with 51% of the vote.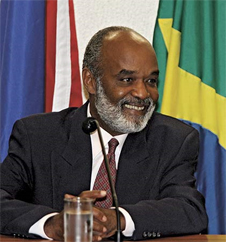 Rene Preval was declared 2006 poll victor after days of protests
He was declared the victor after officials agreed to discount thousands of blank ballot papers. His supporters had taken to the streets rejecting initial results which would have led to a second round.
Mr Preval the front-runner said "massive fraud" was being used to deny him a first-round victory.
Rene Preval is a former president and a one-time ally of Haiti's exiled former leader Jean-Bertrand Aristide.
He says he wants to tackle social inequalities and to create jobs. In the run-up to his inauguration he visited potential donor countries in pursuit of aid.
Born in Port-au-Prince in 1943 Rene Preval studied in Belgium and lived in the US in the 1970s. He is often portrayed as being shy and softly-spoken. He was president from 1996-2001 between Jean-Bertrand Aristide's first and second terms.
Mr Aristide was Haiti's first democratically-elected president taking office in 1990 amid great popular support.
Having weathered a bloody military coup and ongoing political and economic crises he was forced out in February 2004 when opposition to his rule grew increasingly violent.
Now in exile in South Africa Mr Aristide has promised to return to Haiti and accuses the US of forcing him into exile. Washington denies this.
Prime Minister: Jean-Max Bellerive
Jean-Max Bellerive was appointed premier by President Preval in October 2009 after the sacking of the government headed by Michelle Pierre-Louis who had held the post for just over a year.
Jean-Max Bellerive previously served as planning minister
Haiti's Senate had voted to dissolve Ms Pierre-Louis' cabinet amid a power struggle that threatened to undermine efforts to attract foreign investment to the country.
The senators who pushed through a censure motion against Ms Pierre-Louis accused her of failing to make sufficient progress in setting Haiti on the path to economic recovery.
Mr Bellerive trained as an economist and has long experience in public administration. He has held a variety of government posts and was an official in the administration of former President Jean-Bertrand Aristide.
As minister of planning and external cooperation under Ms Pierre-Louis he played an important role in courting foreign investors.
He faces the task of establishing his authority quickly so as to avoid Haiti being plunged into a new phase of instability that could jeopardise what progress has been made in attracting investment.
Media
Radio is Haiti's most important information medium; access to the press is limited by low literacy levels.
There are more than 250 private radio stations with around 50 FM broadcasters in the capital alone providing a full spectrum of political views. But self-censorship is common with journalists trying to avoid offending commercial sponsors or politicians.
The media rights body Reporters Without Borders said press freedom improved "dramatically" after the fall of Jean-Bertrand Aristide. The organisation had put the former president on its list of "predators of press freedom".
But it warned in 2007 that impunity for attacks on media workers could continue in the absence of an effective justice system.
Amid the escalating violence in early 2004 radio and TV stations were targeted by gangs from both sides of the political divide. Studios and transmitters were destroyed.
The press

Television

Radio
News agency



AFRICA | ASIA-PACIFIC | AMERICAS | EUROPE |  MIDDLEEAST |  SOUTHASIA






Mauritania Mauritius Morocco  Mozambique Namibia Niger Nigeria Republic-of-congo Rwanda Sao-tome-and-principe Senegal Seychelles Sierra-leone Somalia South-africa Sudan Swaziland Tanzania The-gambia Togo Tunisia Uganda Australia Brunei Burma Cambodia China East-timor Fiji Indonesia Japan Kazakhstan Kiribati Kyrgyzstan Laos Malaysia Marshall-islands Micronesia Mongolia Nauru New-zealand North-korea Palau Papua-new-guinea Samoa Singapore Solomon-islands South-korea Taiwan Tajikistan Thailand The-philippines Tonga Turkmenistan Tuvalu Uzbekistan Vanuatu Vietnam Antigua-and-barbuda Belize Bolivia  Brazil Canada Chile Colombia Costa-rica Cuba Dominica Dominican-republic Ecuador El-salvador Grenada Guatemala Guyana Haiti Honduras Jamaica Mexico Nicaragua St-kitts-and-nevis St-lucia Suriname Trinidad-and-tobago Uruguay Venezuela Albania Andorra Armenia Austria Azerbaijan Belarus Belgium Bosnia-hercegovina Bulgaria Croatia Cyprus Czech-republic Denmark Estonia Finland France Georgia Germany Greece Hungary Iceland Ireland Italy Latvia Liechtenstein Lithuania Luxembourg Macedonia Malta Moldova Monaco Montenegro Norway Poland Portugal Russia San-marino Serbia Slovakia Slovenia Spain Sweden Algeria Egypt Iran Iraq Israel-and-palestinian-territories Jordan Kuwait Lebanon Libya Mauritania Oman Saudi-arabia Sudan Syria Tunisia United-arab-emirates Yemen Afghanistan Bangladesh Bhutan India Nepal Pakistan Sri-Lanka The-Maldive