Country profile: Samoa




Samoa Healthcare System
Samoa Healthcare System is under the supervision of the Ministry of Health, Samoa. The condition of Samoa Health depends on the betterment of the Healthcare system of Samoa. The Ministry of Health provides the funds for improvement of the infrastructure of Samoa Healthcare System.

The main aim of Samoa Healthcare System is to provide the people of the country with the maximum benefits of healthcare services and facilities. The healthcare services provided by Samoa Ministry of Health range from basic healthcare to prevention of diseases. The clinics, hospitals and mobile clinics are part of the healthcare system of Samoa.

The Independent State of Samoa known as Western Samoa until 1997 is made up of nine volcanic islands two of which - Savai'i and Upolu - make up more than 99% of the land.
It was governed by New Zealand until its people voted for independence in 1961.
Overview
Samoa has the world's second-largest Polynesian group after the Maori. Its deeply conservative and devoutly Christian society centres around the extended family which is headed by an elected chief who directs the family's social economic and political affairs and the church which is a focus of recreational and social life. Many Samoan villages hold up to 20 minutes of prayer curfews in the evenings.
The economy revolves around fishing and agriculture which is vulnerable to cyclones and disease.
Attempts at diversification have met with success. Tourism is growing thanks to the islands' scenic attractions and fine beaches. Offshore banking spearheads an expanding services sector. Light manufacturing is expanding and has attracted foreign investment.
Despite this many younger Samoans are leaving for New Zealand the US and American Samoa. Money sent home by Samoans living abroad can be a key source of household income.
Facts
Full name: The Independent State of Samoa
Population: 179,000 (UN 2009)
Capital: Apia
Area: 2,831 sq km (1,093 sq miles)
Major languages: Samoan English
Major religion: Christianity
Life expectancy: 69 years (men) 75 years (women) (UN)
Monetary unit: 1 tala = 100 sene
Main exports: Coconut oil and cream copra fish beer
GNI per capita: US $2,780 (World Bank 2008)
Internet domain: .ws
International dialling code: +685
Leaders
Head of state: Tuiatua Tupua Tamasese Efi
Former prime minister Tupua was elected head of state by parliament for a five-year term in 2007 on the death of Malietoa Tanumafili II who had been in office since independence.
Born in 1938 he is an academic historian and a member of one of the leading extended families of the country.
He entered parliament as a Christian Democrat MP in 1966 and served as prime minister in 1976-82 and deputy prime minister in 1985-88.
Prime minister: Tuila'epa Sailele Malielegaoi
Prime Minister Tuila'epa's ruling Human Rights Protection Party (HRPP) gained a landslide victory in parliamentary polls in April 2006 heralding a third term for the premier.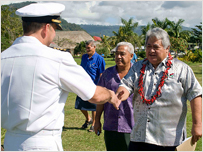 Tuila'epa Sailele Malielegaoi in office since 1998
The HRPP claimed 30 seats in the Fono - Samoa's 49-seat assembly.
Mr Tuila'epa became prime minister in 1998 when his predecessor Tofilau Eti Alesana resigned on health grounds after 16 years in the job. He won a second term in 2001.
Born in 1945 and an economist by training Mr Tuila'epa was educated in Samoa and New Zealand where he gained a master's degree - the first Samoan to do so.
In 1978 he moved to Brussels to work for the European Economic Community. He entered the Fono two years later while simultaneously working as a partner in the accounting firm Coopers and Lybrand.
All but two of the seats in the Fono are reserved for ethnic Samoans and only the heads of extended families known as "matai" may stand for election to them. The Fono selects the prime minister.
Media
Samoa enjoys a "generally free" press according to the US-based media monitor Freedom House.
But officials have sued the main privately-owned newspaper the Samoa Observer for reporting on alleged corruption and abuse of public office. The authorities have also withdrawn government advertising from the paper.
The government and private operators run TV stations and channels from American Samoa are readily available.
The press

Samoa Observer - private daily
Samoa Times - daily
Le Samoa - weekly in Samoan and English languages
Savali - fortnightly in Samoan and English languages
Talamua Magazine - monthly in Samoan and English languages
Television

Samoa Broadcasting Corporation (SBC) - state-run commercial
TV3 - private
Vaiala Beach Television (VBTV) - private
Radio



AFRICA | ASIA-PACIFIC | AMERICAS | EUROPE |  MIDDLEEAST |  SOUTHASIA






Mauritania Mauritius Morocco  Mozambique Namibia Niger Nigeria Republic-of-congo Rwanda Sao-tome-and-principe Senegal Seychelles Sierra-leone Somalia South-africa Sudan Swaziland Tanzania The-gambia Togo Tunisia Uganda Australia Brunei Burma Cambodia China East-timor Fiji Indonesia Japan Kazakhstan Kiribati Kyrgyzstan Laos Malaysia Marshall-islands Micronesia Mongolia Nauru New-zealand North-korea Palau Papua-new-guinea Samoa Singapore Solomon-islands South-korea Taiwan Tajikistan Thailand The-philippines Tonga Turkmenistan Tuvalu Uzbekistan Vanuatu Vietnam Antigua-and-barbuda Belize Bolivia  Brazil Canada Chile Colombia Costa-rica Cuba Dominica Dominican-republic Ecuador El-salvador Grenada Guatemala Guyana Haiti Honduras Jamaica Mexico Nicaragua St-kitts-and-nevis St-lucia Suriname Trinidad-and-tobago Uruguay Venezuela Albania Andorra Armenia Austria Azerbaijan Belarus Belgium Bosnia-hercegovina Bulgaria Croatia Cyprus Czech-republic Denmark Estonia Finland France Georgia Germany Greece Hungary Iceland Ireland Italy Latvia Liechtenstein Lithuania Luxembourg Macedonia Malta Moldova Monaco Montenegro Norway Poland Portugal Russia San-marino Serbia Slovakia Slovenia Spain Sweden Algeria Egypt Iran Iraq Israel-and-palestinian-territories Jordan Kuwait Lebanon Libya Mauritania Oman Saudi-arabia Sudan Syria Tunisia United-arab-emirates Yemen Afghanistan Bangladesh Bhutan India Nepal Pakistan Sri-Lanka The-Maldive