Country profile:

Uruguay




Health Sector in Uruguay
There are a large number of hospitals in Uruguay that provide medical facilities and services to the people there. The Military Hospital has the reputation of being the second largest hospital of Uruguay. There are professional nurses, doctors, physicians and dentists attached with various hospitals of Uruguay.

As per the 2001 data report, the rate of adult population with AIDS was 0.3%. The number of deaths due to this disease was less than 500 as per the report of 2003. It should also be noted that majority of the people of Uruguay die due to cancer, digestive disorders and heart diseases.
Uruguay has traditionally been better off than many other countries in South America and is known for its advanced education and social security systems and liberal laws governing social issues such as divorce.
It was among the first nations in Latin America to establish a welfare state maintained through relatively high taxes on industry. The system which had increasingly strained state finances was reformed in the 1990s.
Overview
Colonial towns beach resorts and a year-round mild climate have contributed to a growing tourist industry. The economy has also benefited from offshore banking.
But a dependence on livestock and related exports has left Uruguay vulnerable to ups and downs in world commodity prices. Recessions in Brazil and Argentina - its main export markets and sources of tourists - propelled the country into economic crisis in 2002.
AT-A-GLANCE

Politics: The Broad Front coalition came to power in the 2004 elections and won a second mandate in 2009

Economy: Uruguay is recovering from economic upheaval in 2002 brought on by recessions in Brazil Argentina

International: Relations with Argentina are strained over two paper mills that Uruguay is building along a border river
Payouts from the International Monetary Fund (IMF) and a restructuring of foreign debt encouraged a fragile recovery. But the recession left many Uruguayans living in poverty and prompted thousands of younger people to leave.
Most Uruguayans are of European origin - chiefly Spanish and Italian. The country has a large middle class and is largely free of serious income inequality. But the minority who are of African or mixed European-indigenous descent form a higher proportion of its poorest people.
In the 19th century Uruguay's newly-won independence was followed by a prolonged and ruinous conflict between two political factions - the land-owning Blancos (whites) and the urban Colorados (reds).
More recently Marxist Tupamaro urban guerrillas waged a campaign against the establishment in the 1960s and Uruguay suffered repressive military rule between 1973 and 1985.
Uruguay staged football's first World Cup in 1930 and has won the tournament twice.
Facts
Full name: Oriental Republic of Uruguay
Population: 3.4 million (UN 2009)
Capital: Montevideo
Area: 176215 sq km (68037 sq miles)
Major languages: Spanish Portunol or Brazilero (Portuguese-Spanish mix)
Major religion: Christianity
Life expectancy: 73 years (men) 80 years (women) (UN)
Monetary unit: 1 Uruguayan peso = 100 centesimos
Main exports: Meat rice leather products vehicles dairy products wool electricity
GNI per capita: US $8260 (World Bank 2008)
Internet domain: .uy
International dialling code: +598
Leaders
Outgoing President: Tabare Vazquez
Tabare Vazquez from the Broad Front coalition is due to step down in March 2010.
He became Uruguay's first left-wing head of state in March 2005 having defeated the ruling Colorado Party's candidate in the presidential election.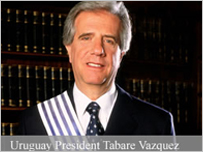 Tabare Vazquez Uruguay's first left-wing leader
His win was part of a regional trend which had seen the emergence of left-wing governments in Brazil Venezuela Chile and Argentina.
Mr Vazquez a cancer specialist and a former mayor of Montevideo said he would pursue a moderate political course with the emphasis on alleviating poverty.
On taking office he announced a $100m emergency plan to help the poor and promised an investigation into the disappearances of opponents of the military dictatorship in the 1970s and 1980s.
He also restored diplomatic ties with Cuba. Relations had been broken after a war of words between the Cuban leader and Mr Vazquez's predecessor Jorge Batlle.
Public anger over the 2002 economic crisis and disenchantment with free-market economic policies were said to have contributed to Uruguay's dramatic political shift.
The centrist Batlle government pushed through controversial reforms including privatisations and the outsourcing of some public services to the private sector.
The Broad Front coalition won a second mandate to govern in the October 2009 parliamentary elections. However the coalition failed to get a clear majority for its presidential candidate in elections held on the same day. José Mujica will face a run-off in November against the conservative former president Luis Lacalle. Mr Mujica is a senator and former leading member of the Tupamaros left-wing urban guerrillas.
Media
Uruguayans have access to a wide range of political views via more than 100 private daily and weekly newspapers more than 100 radio stations and some 20 television channels. Cable TV is widely available.
State-run radio and TV are operated by the official broadcasting service SODRE. Some newspapers are owned by or linked to the main political parties.
Freedom of speech and media are guaranteed by the constitution with qualifications for inciting violence or "insulting the nation".
Rights body Reporters Without Borders noted in 2008 that Uruguay was free from the "media polarisation" seen across much of the continent scoring highly in press freedom rankings.
The press
Television
Radio


AFRICA | ASIA-PACIFIC | AMERICAS | EUROPE |  MIDDLEEAST |  SOUTHASIA






Mauritania Mauritius Morocco  Mozambique Namibia Niger Nigeria Republic-of-congo Rwanda Sao-tome-and-principe Senegal Seychelles Sierra-leone Somalia South-africa Sudan Swaziland Tanzania The-gambia Togo Tunisia Uganda Australia Brunei Burma Cambodia China East-timor Fiji Indonesia Japan Kazakhstan Kiribati Kyrgyzstan Laos Malaysia Marshall-islands Micronesia Mongolia Nauru New-zealand North-korea Palau Papua-new-guinea Samoa Singapore Solomon-islands South-korea Taiwan Tajikistan Thailand The-philippines Tonga Turkmenistan Tuvalu Uzbekistan Vanuatu Vietnam Antigua-and-barbuda Belize Bolivia  Brazil Canada Chile Colombia Costa-rica Cuba Dominica Dominican-republic Ecuador El-salvador Grenada Guatemala Guyana Haiti Honduras Jamaica Mexico Nicaragua St-kitts-and-nevis St-lucia Suriname Trinidad-and-tobago Uruguay Venezuela Albania Andorra Armenia Austria Azerbaijan Belarus Belgium Bosnia-hercegovina Bulgaria Croatia Cyprus Czech-republic Denmark Estonia Finland France Georgia Germany Greece Hungary Iceland Ireland Italy Latvia Liechtenstein Lithuania Luxembourg Macedonia Malta Moldova Monaco Montenegro Norway Poland Portugal Russia San-marino Serbia Slovakia Slovenia Spain Sweden Algeria Egypt Iran Iraq Israel-and-palestinian-territories Jordan Kuwait Lebanon Libya Mauritania Oman Saudi-arabia Sudan Syria Tunisia United-arab-emirates Yemen Afghanistan Bangladesh Bhutan India Nepal Pakistan Sri-Lanka The-Maldive