Country profile:

Trinidad and Tobago




Health Sector Programme of Trinidad and Tobago
Based on standard health care indicators, Trinidad and Tobago's medical system continued to improve in the 1980s. The purpose of this organisation is to improve the health status of the people of Trinidad and Tobago by promoting wellness and providing quality health care in an affordable, efficient, equitable and sustainable manner.
Trinidad and Tobago is one of the wealthiest countries in the Caribbean thanks to its large reserves of oil and gas the exploitation of which dominates its economy.

Inhabited mostly by people of African and Indian descent the two-island state enjoys a per capita income well above the average for Latin America. Natural gas - much of it exported to the US - is expected to overtake oil as its main source of revenue.
Overview
Dependence on oil has made the republic a hostage to world crude prices whose fall during the 1980s and early 1990s led to the build-up of a large foreign debt widespread unemployment and labour unrest.
As with other nations in the region Trinidad and Tobago - a major trans-shipment point for cocaine - has become ridden with drug and gang-related violence. This has clogged up the courts and has fuelled a high murder rate and much of the corruption that is reputedly endemic in the police. It also threatens the tourism industry.
In response the government reintroduced capital punishment in 1999 despite strong international pressure. Trinidad and Tobago hosts the Caribbean Court of Justice a regional supreme court which aims to replace Britain's Privy Council as a final court of appeal. The council had been seen as an obstacle to the speedy implementation of death sentences.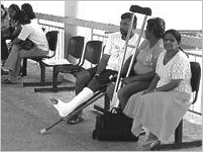 Health and postal workers in Trinidad and Tobago have been out on strike this week over hospital overcrowding and pay and conditions respectively.
Sighted by the explorer Christopher Columbus in 1498 Trinidad
was settled by the Spanish before being taken by Britain in 1797. A succession of European powers laid claim to Tobago.
Calypso music and steel drum bands feature in carnival
celebrations on the larger island. Relaxed and peaceful in comparison to its densely-populated neighbour Tobago attracts diving enthusiasts and nature lovers. The island is self-governing.
Facts
Full name: Republic of Trinidad and Tobago
Population: 1.4 million (UN 2009)
Capital: Port of Spain
Area: 5128 sq km (1980 sq miles)
Major language: English
Major religions: Christianity Hinduism Islam
Life expectancy: 66 years (men) 73 years (women) (UN)
Monetary unit: 1 Trinidad and Tobago dollar = 100 cents
Main exports: Petroleum and petroleum products natural gas chemicals
GNI per capita: US $16540 (World Bank 2008)
Internet domain: .tt
International dialling code: +1868
Leaders
President: Maxwell Richards
The president is elected by parliament for a term of five years. Maxwell Richards was elected president in 2003 and won a second term in February 2008.
Prime minister: Patrick Manning
Patrick Manning was appointed as prime minister following inconclusive elections in December 2001.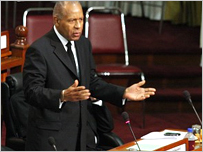 Prime Minister Patrick Manning
His People's National Movement (PNM) won re-election 2002 and again in November 2007 when it picked up 26 seats in a newly-expanded 41-seat parliament.
The PNM's victory fell short of the two-thirds majority Mr Manning needed to push through his proposed constitutional changes - branded as a dictatorial power grab by critics - but he said it was "a comfortable majority with which to rule".
He is keen to replace the current parliamentary system with a presidential one.
Mr Manning a geologist served as prime minister from 1991 to 1995.
His administration has been credited with attracting major investments in the petrochemical industries and substantially alleviating poverty.
Politics is divided along racial lines; the PNM draws support mostly from Trinidadians of African descent while most followers of the opposition United National Congress (UNC) are of Indian descent.
The PNM has been in charge of the country for all but 11 years since the party was founded in 1956.
Media
Privately-run TV6 dominates the ratings in Trinidad and Tobago with its blend of domestically-made programmes including the soap opera Westwood Park which chronicles the lives of several wealthy Trinidadian families.
The state-owned Caribbean New Media Group (CNMG) replaced the former public broadcaster NBN which closed in January 2005 after more than 40 years on the air. CNMG operates a TV network and radio stations.
The government generally respects press freedom which is enshrined in the constitution.
BBC World Service radio programmes are available 24 hours a day via BBC 98.7 FM.
The press

Television
Radio


AFRICA | ASIA-PACIFIC | AMERICAS | EUROPE |  MIDDLEEAST |  SOUTHASIA






Mauritania Mauritius Morocco  Mozambique Namibia Niger Nigeria Republic-of-congo Rwanda Sao-tome-and-principe Senegal Seychelles Sierra-leone Somalia South-africa Sudan Swaziland Tanzania The-gambia Togo Tunisia Uganda Australia Brunei Burma Cambodia China East-timor Fiji Indonesia Japan Kazakhstan Kiribati Kyrgyzstan Laos Malaysia Marshall-islands Micronesia Mongolia Nauru New-zealand North-korea Palau Papua-new-guinea Samoa Singapore Solomon-islands South-korea Taiwan Tajikistan Thailand The-philippines Tonga Turkmenistan Tuvalu Uzbekistan Vanuatu Vietnam Antigua-and-barbuda Belize Bolivia  Brazil Canada Chile Colombia Costa-rica Cuba Dominica Dominican-republic Ecuador El-salvador Grenada Guatemala Guyana Haiti Honduras Jamaica Mexico Nicaragua St-kitts-and-nevis St-lucia Suriname Trinidad-and-tobago Uruguay Venezuela Albania Andorra Armenia Austria Azerbaijan Belarus Belgium Bosnia-hercegovina Bulgaria Croatia Cyprus Czech-republic Denmark Estonia Finland France Georgia Germany Greece Hungary Iceland Ireland Italy Latvia Liechtenstein Lithuania Luxembourg Macedonia Malta Moldova Monaco Montenegro Norway Poland Portugal Russia San-marino Serbia Slovakia Slovenia Spain Sweden Algeria Egypt Iran Iraq Israel-and-palestinian-territories Jordan Kuwait Lebanon Libya Mauritania Oman Saudi-arabia Sudan Syria Tunisia United-arab-emirates Yemen Afghanistan Bangladesh Bhutan India Nepal Pakistan Sri-Lanka The-Maldive