Country profile:

Dominican-Republic





Organization of individual health care services: The public subsector (administered by the Secretary of Health) is organized at four levels of management, central, regional, provincial and local. Health services are organized in three levels of care: primary care (1,099 ambulatory establishments; 474 are rural), secondary care (126 establishments with five basic specialties), and tertiary care (42 specialized hospitals). Furthermore, the Dominican Institute of Social Security and the Armed Forces have health care facilities of diverse complexity. During the period 1996-2000, mental health services were expanded. At least 10 hospitals incorporated beds for mental health patients, and 5 crisis intervention units, community centers and 1 daytime care hospital. Care of persons with disabilities is provided in more than 310 establishments, in public and private centers of health care. There are many clinical laboratories, some of them of great complexity, where quality has increased progressively. The state offers free oral health services, especially those of preventive character and those of low complexity and cost, with emphasis on maternal and child population.

Once ruled by Spain the Dominican Republic (DR) shares the island of Hispaniola with Haiti a former French colony.
The Caribbean nation is a major tourist destination. Tourism
and the DR's free-trade zones have become major employers and key sources of revenue. Sugar coffee and tobacco are among the main exports.
Overview
The largely mountainous country includes Pico Duarte - the highest point in the West Indies the fertile Cibao Valley swathes of desert and Lake Enriquillo - the lowest point in the region.
AT-A-GLANCE

Politics: President Leonel Fernandez has made economic recovery a priority; he won his third term in May 2008

Economy: The DR has entered a free trade accord with the US and Central American nations; President Fernandez has cut spending restructured debt and secured IMF funds

International: Hundreds of thousands of Haitians live and work illegally in the DR
The DR is inhabited mostly by people of mixed European and African origins. Western influence is seen in the colonial buildings of the capital Santo Domingo as well as in art and literature. African heritage is reflected in music. The two heritages blend in the popular song and dance the merengue.
No blending of fortunes however is evident in the distribution of wealth between ethnic groups.
The DR is one of the poorest countries in the Caribbean. There is a huge gap between the rich and the poor with the richest being the white descendants of Spanish settlers who own most of the land and the poorest comprising people of African descent. The mixed race majority controls much of the commerce.
Mutual distrust has soured relations between the DR and its troubled neighbour Haiti. Up to one million Haitians live in the DR many of them illegally. The government has carried out mass deportations.
Facts
Full name: Dominican Republic
Population: 10 million (UN 2008)
Capital: Santo Domingo
Area: 48072 sq km (18696 sq miles)
Major language: Spanish
Major religion: Christianity
Life expectancy: 70 years (men) 75 years (women) (UN)
Monetary unit: 1 Dominican peso = 100 centavos
Main exports: Ferronickel sugar gold silver coffee cocoa tobacco meats
GNI per capita: US$4390 (World Bank 2008)
Internet domain: .do
International dialling code: +1809
Leaders
President: Leonel Fernandez
Leonel Fernandez of the Dominican Liberation Party won a third term as president in elections in May 2008 propelled back into office by what many see as his success in pulling his country out of a deep economic slump.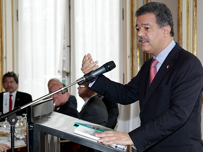 Leonel Fernandez promised to tackle soaring inflation
He inherited a crumbling economy in 2004 when he became president for the second time. His first term was from 1996 to 2000.
With the help of loans from the International Monetary Fund Fernandez managed to turn things around. However official unemployment in 2008 was still nearly 16 percent and about a quarter of the population lives below the poverty line according to the government.
Born in 1953 the son of an army officer the young Leonel Fernandez moved to New York with his family. He returned to the Dominican Republic and attended the Autonomous University of Santo Domingo. Active in student politics he obtained a doctorate in 1978.
He has worked as a lawyer and university professor. He speaks Spanish French and English and is married with three children.
Politics was dominated for decades by former President Joaquin Balaguer who jailed critics and rigged elections. He became president in 1960 and stepped down after mass demonstrations in 1996.
In 1994 Congress barred sitting presidents from seeking new terms but lifted the ban in 2002 allowing presidents to run for four more years.
Media
Ownership of TV channels radio stations and newspapers is concentrated in a few economically or politically-powerful hands.
There are several terrestrial TV channels and many multichannel cable TV operators. More than 200 radio stations are on the air most of them commercial. The government operates TV and radio networks.
Press freedom is guaranteed by law and media outlets carry diverse political views. Some subjects such as the Catholic Church and the army are generally avoided.
The press

Television

Radio

Internet


AFRICA | ASIA-PACIFIC | AMERICAS | EUROPE |  MIDDLEEAST |  SOUTHASIA






Mauritania Mauritius Morocco  Mozambique Namibia Niger Nigeria Republic-of-congo Rwanda Sao-tome-and-principe Senegal Seychelles Sierra-leone Somalia South-africa Sudan Swaziland Tanzania The-gambia Togo Tunisia Uganda Australia Brunei Burma Cambodia China East-timor Fiji Indonesia Japan Kazakhstan Kiribati Kyrgyzstan Laos Malaysia Marshall-islands Micronesia Mongolia Nauru New-zealand North-korea Palau Papua-new-guinea Samoa Singapore Solomon-islands South-korea Taiwan Tajikistan Thailand The-philippines Tonga Turkmenistan Tuvalu Uzbekistan Vanuatu Vietnam Antigua-and-barbuda Belize Bolivia  Brazil Canada Chile Colombia Costa-rica Cuba Dominica Dominican-republic Ecuador El-salvador Grenada Guatemala Guyana Haiti Honduras Jamaica Mexico Nicaragua St-kitts-and-nevis St-lucia Suriname Trinidad-and-tobago Uruguay Venezuela Albania Andorra Armenia Austria Azerbaijan Belarus Belgium Bosnia-hercegovina Bulgaria Croatia Cyprus Czech-republic Denmark Estonia Finland France Georgia Germany Greece Hungary Iceland Ireland Italy Latvia Liechtenstein Lithuania Luxembourg Macedonia Malta Moldova Monaco Montenegro Norway Poland Portugal Russia San-marino Serbia Slovakia Slovenia Spain Sweden Algeria Egypt Iran Iraq Israel-and-palestinian-territories Jordan Kuwait Lebanon Libya Mauritania Oman Saudi-arabia Sudan Syria Tunisia United-arab-emirates Yemen Afghanistan Bangladesh Bhutan India Nepal Pakistan Sri-Lanka The-Maldive