Country profile: Mauritania



The Islamic Republic of Mauritania is a sub-Saharan African country with a population of about 3.3 million. It is inhabited by Arab Berbers in the North and Black Africans in the south. Mauritania was a French colony and became an independent country in 1960. The country's political landscape has been marked by a series of coups and democratic transitions, and has attracted international attention for its wide spread practice of slavery. Life expectancy is 58 years. Maternal death occurs in about 1 in 100 pregnancies (less than 1 in 10,000 in developed countries) and 1 in 8 babies born alive die by the age of 5 years. There are less than 10 obstetricians for the whole contry and most deliveries are performed by unqualified and often illiterate birth attendants.As part of the Look for Life project a team from the Fetal Medicine Foundation visited Nouakchott and Atar in October 2009, to assess the situation concerning pregnancy care and to provide basic training in obstetric ultrasound to a group of midwives and nurses.
One of Africa's newest oil producers, Mauritania bridges the Arab Maghreb and western sub-Saharan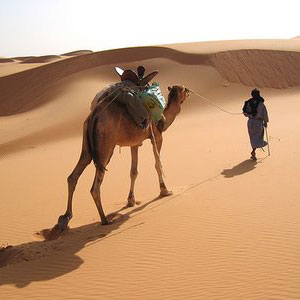 Africa.
The largely-desert country presents a cultural contrast, with an Arab-Berber population to the north and black Africans to the south. Many of its people are nomads.
Overview
In the Middle Ages Mauritania was the cradle of the Almoravid movement, which spread Islam throughout the region and for a while controlled the Islamic part of Spain.
European traders began to show interest in Mauritania in the 15th century. France gained control of the coastal region in 1817, and in 1904 a formal French protectorate was extended over the territory.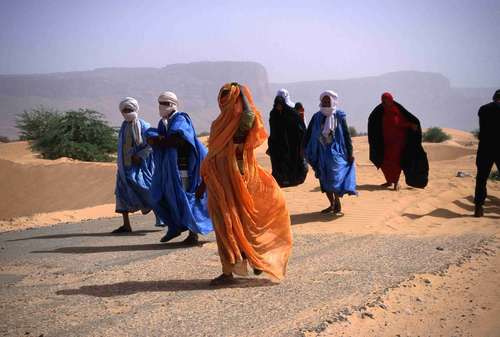 Morocco opposed the country's independence in 1960 and for a time tried to absorb it. But Morocco's King Hassan II later improved ties as part of his plan to divide Western Sahara.
The eventual deal in 1976 brought more problems, though, with Mauritania coming under attack by Polisario Front guerrillas, who opposed Moroccan control of Western Sahara, and the subsequent downfall of the leader since independence - Moktar Ould Daddah - in a military coup.
Peace was agreed with the Polisario in 1979, but this in turn worsened relations with Morocco, until a detente in 1985. More recently, ties with Senegal have been strained over the use of the Senegal River, which forms the border between the two countries.
Mauritania officially banned slavery in 1981. The government has denied accusations that it is still being practised.
One of the world's poorest countries, Mauritania has pinned hopes for future prosperity on the exploitation of its offshore reserves of oil and natural gas. The Chinguetti and Tiof fields are expected to yield millions of barrels of oil.
The country forged diplomatic ties with Israel in 1999, one of three Arab nations to have done so, but suspended them in January 2009 in protest at Israel's military operation in Gaza. It closed the Israeli embassy in March.
Under former President Maaouiya Ould Sid Ahmed Taya, Mauritania was an ally of the US in its "war on terror". American special forces were despatched to train Mauritanian troops.
Facts
Full name: The Islamic Republic of Mauritania
Population: 3.3 million (UN, 2009)
Capital: Nouakchott
Area: 1.04 million sq km (398,000 sq miles)
Major languages: Arabic (official), French, others
Major religion: Islam
Life expectancy: 55 years (men), 59 years (women) (UN)
Monetary unit: 1 ouguiya = 5 khoums
Main exports: Fish and fish products, iron ore, gold
GNI per capita: US $840 (World Bank, 2007)
Internet domain: .mr
International dialling code: +222
Leaders

President: Mohamed Ould Abdelaziz

General Mohamed Ould Abdelaziz came to power by ousting his democratically-elected predecessor, President Sidi Ould Cheikh Abdallahi, in a military coup in August 2008.

Nearly a year later, he won his own democratic mandate by being elected president in elections held under an agreement with coup opponents in July 2009.

The official results gave Gen Abdelaziz 52%, well ahead of the second placed candidate, parliament speaker Messaoud Ould Boulkheir, who got 16%.

The main opposition candidates claimed the result was fabricated and merely designed to legitimise Gen Abdelaziz's military rule, but international observers said the vote had been largely free and fair. Sid'Ahmed Ould Deye, the head of the Electoral Commission, resigned after expressing his own doubts about the result.

After his win, the new president-elect said he would strengthen Mauritania's army to "fight terrorism in all its forms".

Previously serving as President Abdallahi's chief of the presidential staff, he toppled his boss when Mr Abdallahi tried to dismiss him in August 2008, amid reports of a political rift between the two men.

Gen Abdelaziz had also been instrumental in the 2005 coup that overthrew former President Maaouiya Ould Taya and installed the coup leader Ely Ould Mohamed Vall as president.

President Abdallahi's overthrow was one of 11 coups or attempted coups since independence from France in 1960. He won a presidential vote in March 2007 to become Mauritania's first democratically-elected president since independence. Media

Although Mauritania's TV and radio stations are state-owned, privately-owned publications are permitted.

Reporters Without Borders, in its review of 2007, said press freedom was "alive and well", and "much better" than under the Taya regime.

In the same year, rights body Freedom House described the Mauritanian press as being "partly free" and noted that a June 2006 law had eliminated the need for newspapers to seek pre-publication approval from officials.

However, journals may be banned for publishing material that "undermines" Islam or is perceived to threaten national security.

The BBC is available on FM in the capital (106.9) and in the second city, Nouadhibou (102.4). Radio France Internationale is also relayed.

The press

Television

Radio

. Radio Mauritanie - state-run, programmes in Arabic and French

News agency


AFRICA | ASIA-PACIFIC | AMERICAS | EUROPE |  MIDDLEEAST |  SOUTHASIA






Mauritania Mauritius Morocco  Mozambique Namibia Niger Nigeria Republic-of-congo Rwanda Sao-tome-and-principe Senegal Seychelles Sierra-leone Somalia South-africa Sudan Swaziland Tanzania The-gambia Togo Tunisia Uganda Australia Brunei Burma Cambodia China East-timor Fiji Indonesia Japan Kazakhstan Kiribati Kyrgyzstan Laos Malaysia Marshall-islands Micronesia Mongolia Nauru New-zealand North-korea Palau Papua-new-guinea Samoa Singapore Solomon-islands South-korea Taiwan Tajikistan Thailand The-philippines Tonga Turkmenistan Tuvalu Uzbekistan Vanuatu Vietnam Antigua-and-barbuda Belize Bolivia  Brazil Canada Chile Colombia Costa-rica Cuba Dominica Dominican-republic Ecuador El-salvador Grenada Guatemala Guyana Haiti Honduras Jamaica Mexico Nicaragua St-kitts-and-nevis St-lucia Suriname Trinidad-and-tobago Uruguay Venezuela Albania Andorra Armenia Austria Azerbaijan Belarus Belgium Bosnia-hercegovina Bulgaria Croatia Cyprus Czech-republic Denmark Estonia Finland France Georgia Germany Greece Hungary Iceland Ireland Italy Latvia Liechtenstein Lithuania Luxembourg Macedonia Malta Moldova Monaco Montenegro Norway Poland Portugal Russia San-marino Serbia Slovakia Slovenia Spain Sweden Algeria Egypt Iran Iraq Israel-and-palestinian-territories Jordan Kuwait Lebanon Libya Mauritania Oman Saudi-arabia Sudan Syria Tunisia United-arab-emirates Yemen Afghanistan Bangladesh Bhutan India Nepal Pakistan Sri-Lanka The-Maldive