Country profile:

Tuvalu





MEDICAL FACILITIES AND HEALTH INFORMATION: Medical and dental care is very limited in Tuvalu, including in the capital, Funafuti. Serious medical problems are referred to Guam or Hawaii. Serious medical conditions requiring hospitalization and/or medical evacuation to the United States can cost thousands of dollars. Doctors and hospitals often expect immediate cash payment for health services.
Good Information on vaccinations and other health precautions can be found via the CDC website.  For information about outbreaks of infectious diseases abroad, consult the World Health Organization (WHO) website.  The WHO website also contains additional health information for travelers, including detailed country-specific health information

Tuvalu is a group of nine tiny islands in the South Pacific which won independence from the United Kingdom in 1978. Five of the islands are coral atolls the other four consist of land rising from the sea bed.
All are low-lying with no point on Tuvalu being higher than 4.5 metres above sea level. Local politicians have campaigned against global warming arguing that climate change could see the islands swamped by rising sea levels.
Overview
Life on the islands is simple and often harsh. There are no streams or rivers so the collection of rain is essential.
Coconut palms cover most of the islands and copra - dried coconut kernel - is practically the only export commodity. Increasing salination of the soil threatens traditional subsistence farming.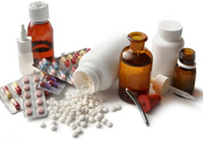 All Healthcare products
Tuvalu depends on foreign aid the income from the sale of tuna fishing licences and the interest from a trust fund set up in 1987. The sale of postage stamps also brings in revenues.
It is one of a handful of countries to have diplomatic relations with Taiwan which has funded the construction of Tuvalu's largest building - a three-storey administrative headquarters.
Tuvalu has shown ingenuity by exploiting another source of income. It has sold its internet suffix - .tv - to a Californian company for several million dollars a year in continuing revenue. The company sells the suffix on to television broadcasters.
Some of the money has been used to pave roads - which were formerly made of crushed coral - and to build schools.
Facts
Full name: Tuvalu
Population: 11,000 (UN 2009)
Capital: Funafuti
Area: 26 sq km (10 sq miles)
Major language: Tuvaluan English
Major religion: Christianity
Life expectancy: 62 years (men) 65 years (women) (UN)
Monetary unit: 1 Tuvaluan dollar or 1 Australian dollar = 100 cents
Main exports: Copra handicrafts
GNI per capita: n/a
Internet domain: .tv
International dialling code: +688
Leaders
Head of state: Queen Elizabeth II represented by Governor-General Filoimea Telito
Prime minister: Apisai Ielemia
Apisai Ielemia took office in August 2006 after nearly all the ministers in the previous government were ousted at the ballot box.
On taking office he promised to improve media freedom and accused the previous government of gagging the press.
Mr Ielemia is a former civil servant.
Tuvalu has no political parties. Allegiances revolve around personalities and geography. The 12-member parliament is popularly-elected. The prime minister is chosen by MPs.
Media
Media freedom is respected in Tuvalu but the market is very small. The government operates Radio Tuvalu. Many islanders use satellite dishes to watch foreign TV stations.
The government publishes the fortnightly newspaper Tuvalu Echoes in the Tuvalu language and in English.
There were around 4,000 internet users by March 2008 (ITU).
The press
Sikuleo o Tuvalu - government news sheet published in Tuvaluan
Tuvalu Echoes - run by state-owned Tuvalu Media Corporation
Radio


AFRICA | ASIA-PACIFIC | AMERICAS | EUROPE |  MIDDLEEAST |  SOUTHASIA






Mauritania Mauritius Morocco  Mozambique Namibia Niger Nigeria Republic-of-congo Rwanda Sao-tome-and-principe Senegal Seychelles Sierra-leone Somalia South-africa Sudan Swaziland Tanzania The-gambia Togo Tunisia Uganda Australia Brunei Burma Cambodia China East-timor Fiji Indonesia Japan Kazakhstan Kiribati Kyrgyzstan Laos Malaysia Marshall-islands Micronesia Mongolia Nauru New-zealand North-korea Palau Papua-new-guinea Samoa Singapore Solomon-islands South-korea Taiwan Tajikistan Thailand The-philippines Tonga Turkmenistan Tuvalu Uzbekistan Vanuatu Vietnam Antigua-and-barbuda Belize Bolivia  Brazil Canada Chile Colombia Costa-rica Cuba Dominica Dominican-republic Ecuador El-salvador Grenada Guatemala Guyana Haiti Honduras Jamaica Mexico Nicaragua St-kitts-and-nevis St-lucia Suriname Trinidad-and-tobago Uruguay Venezuela Albania Andorra Armenia Austria Azerbaijan Belarus Belgium Bosnia-hercegovina Bulgaria Croatia Cyprus Czech-republic Denmark Estonia Finland France Georgia Germany Greece Hungary Iceland Ireland Italy Latvia Liechtenstein Lithuania Luxembourg Macedonia Malta Moldova Monaco Montenegro Norway Poland Portugal Russia San-marino Serbia Slovakia Slovenia Spain Sweden Algeria Egypt Iran Iraq Israel-and-palestinian-territories Jordan Kuwait Lebanon Libya Mauritania Oman Saudi-arabia Sudan Syria Tunisia United-arab-emirates Yemen Afghanistan Bangladesh Bhutan India Nepal Pakistan Sri-Lanka The-Maldive