Country profile:

Bahamas





MEDICAL FACILITIES AND HEALTH INFORMATION : Adequate medical care is available on New Providence and Grand Bahama islands. Medical care is more limited elsewhere. Serious health problems requiring hospitalization and/or medical evacuation to the United States can cost tens of thousands of dollars, and air ambulance companies generally require payment or an insurer's guarantee of payment up front. Bahamian physicians and hospitals do not usually accept U.S. medical insurance policies and typically expect immediate cash payment for professional services.
There is a chronic shortage of blood at Princess Margaret Hospital in Nassau, where most emergency surgery is performed. Travelers with rare blood types should know the names and locations of possible blood donors should the need arise. The Lyford Cay Hospital has a hyperbaric chamber for treatment of decompression illness.
An archipelago of 700 islands and isletsthe Bahamas attracts millions of tourists each year.
The visitors come to enjoy its mild climatefine beaches and beautiful forests.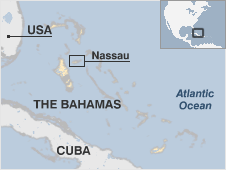 A former British colony and now a Commonwealth memberthe country is a major centre for offshore finance and has one of the world's largest open-registry shipping fleets.
Overview
The Bahamas enjoys a high per capita incomebut there are imbalances in the distribution of wealthmost of which is concentrated in the commercial and tourist centres.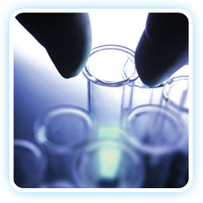 The pharmaceutical industry has a long history of worker safety and fire prevention, and has made signicant strides in eliminating static hazards within dangerous process environments.

The huge growth in the services sector of the economy has prompted people to leave fishing and farming villages for the commercial centres in New Providence IslandGrand Bahama and Great Abaco.
This trend has compounded the islands' dependence on tourism and banking.
As with other Caribbean countriesThe Bahamas faces the challenge of tackling drugs trafficking and illegal immigration. It has taken steps to clean-up its offshore banking system.
The Bahamas is a destination for migrants from its strife-torn Caribbean neighbourHaiti. Tens of thousands of Haitians are thought to be living illegally in the country.
Bahamian culture is expressed most colourfully in "Junkanoo"
street celebrationswhich feature rhythmic musicdance and
elaborate costumes and masks.
Facts
Full name: Commonwealth of the Bahamas
Population: 342,000 (UN2009)
Capital and largest city: Nassau
Area: 13,939 sq km (5,382 sq miles)
Major language: English
Major religion: Christianity
Life expectancy: 71 years (men)76 years (women) (UN)
Monetary unit: 1 Bahamian dollar = 100 cents
Main exports: Pharmaceuticalscementrumcrawfishrefined petroleum products
GNI per capita: US$14,920 (World Bank2005)
Internet domain: .bs
International dialling code: +1242
Leaders
Head of state: Queen Elizabeth IIrepresented by Governor-General Arthur D Hanna
Prime minister: Hubert Ingraham
Hubert Ingraham's opposition Free National Movement (FNM) won parliamentary elections in May 2007securing 23 seats in the 41-seat parliament.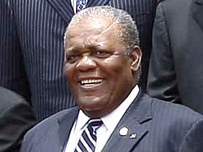 Time-served leader Hubert Ingraham ousted the PLP in 2007

Mr Ingrahama lawyerserved two terms as prime minister between 1992 and 2002. The FNM had campaigned on issues of trustcriticising the ruling Progressive Liberal Party (PLP) over a series of scandals.
Financial analysts predicted little change in economic policy under the FNM.
Mr Ingraham's predecessorPerry Christietook office in May 2002
after the PLP won 29 seats in parliament.
The PLP has dominated Bahamian politics through much of the post-independence erawinning every election from 1973 through to the 1992 poll when voters rejected the late Sir Lynden Pindling and a government accused of corruption and drug trafficking.
Media
The government operates a radio network and the islands' only TV station. There is a handful of private radio stations. Multichannel cable TV is widely available.
The islands' privately-owned press carry a variety of viewsincluding criticism of the government.
The press

Television

Radio



AFRICA | ASIA-PACIFIC | AMERICAS | EUROPE | MIDDLEEAST | SOUTHASIA






Mauritania Mauritius Morocco  Mozambique Namibia Niger Nigeria Republic-of-congo Rwanda Sao-tome-and-principe Senegal Seychelles Sierra-leone Somalia South-africa Sudan Swaziland Tanzania The-gambia Togo Tunisia Uganda Australia Brunei Burma Cambodia China East-timor Fiji Indonesia Japan Kazakhstan Kiribati Kyrgyzstan Laos Malaysia Marshall-islands Micronesia Mongolia Nauru New-zealand North-korea Palau Papua-new-guinea Samoa Singapore Solomon-islands South-korea Taiwan Tajikistan Thailand The-philippines Tonga Turkmenistan Tuvalu Uzbekistan Vanuatu Vietnam Antigua-and-barbuda Belize Bolivia  Brazil Canada Chile Colombia Costa-rica Cuba Dominica Dominican-republic Ecuador El-salvador Grenada Guatemala Guyana Haiti Honduras Jamaica Mexico Nicaragua St-kitts-and-nevis St-lucia Suriname Trinidad-and-tobago Uruguay Venezuela Albania Andorra Armenia Austria Azerbaijan Belarus Belgium Bosnia-hercegovina Bulgaria Croatia Cyprus Czech-republic Denmark Estonia Finland France Georgia Germany Greece Hungary Iceland Ireland Italy Latvia Liechtenstein Lithuania Luxembourg Macedonia Malta Moldova Monaco Montenegro Norway Poland Portugal Russia San-marino Serbia Slovakia Slovenia Spain Sweden Algeria Egypt Iran Iraq Israel-and-palestinian-territories Jordan Kuwait Lebanon Libya Mauritania Oman Saudi-arabia Sudan Syria Tunisia United-arab-emirates Yemen Afghanistan Bangladesh Bhutan India Nepal Pakistan Sri-Lanka The-Maldive