Country profile: Morocco
THE PHARMACEUTICAL MARKET: MOROCCO - REVIEW
The pharmaceutical sector has entered a new phase of development with the adoption of new pharmaceutical legislation, which provides a modern legal framework for the pharmaceutical sector. The new legislation aims to address some of the structural weaknesses inherent in the previous system and to open up the pharmaceutical sector to foreign investment by abolishing the requirement that pharmaceutical companies be majority-owned by a pharmacist. A patent law has also been ratified which, although not meeting all the demands of the international pharmaceutical industry, does provide a much clearer legal framework regarding intellectual property rights. Although the Moroccan pharmaceutical market is small in global terms, per capita spending on pharmaceutical products is comparatively high for an African country, where average per capita income is just above US$3,000. The pharmaceutical market, which was stagnating prior to the launch of the universal health insurance scheme in 2006, is expected to grow by a moderate CAGR between 2010 and 2015. Around 2,600 drugs are eligible for reimbursement under the national health insurance scheme. Reimbursement is made on the basis of the retail price of generic products where these exist. The government aims to cut drug prices and encourage generics consumption in 2010, following a Parliamentary report published in November 2009.

The Kingdom of Morocco is the most westerly of the North African countries known as the Maghreb.

Strategically situated with both Atlantic and Mediterranean coastlines, but with a rugged mountainous interior, it stayed independent for centuries while developing a rich culture blended from Arab, Berber, European and African influences.
Overview
Morocco was a French protectorate from 1912 to 1956, when Sultan Mohammed became king. He was succeeded in 1961 by his son, Hassan II, who ruled for 38 years. He played a prominent role in the search for peace in the Middle East, given the large number of Israelis of Moroccan origin, but was criticised for suppressing domestic opposition.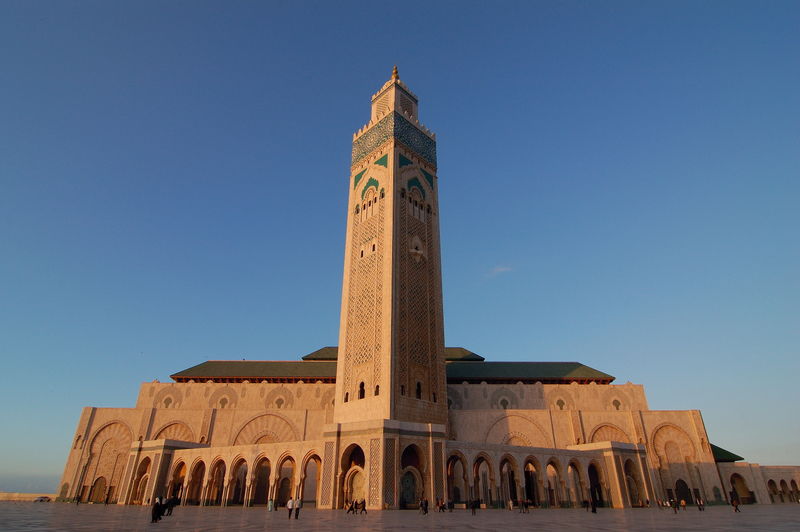 The Kingdom of Morocco is a peaceful constitutional monarchy
A truth commission set up to investigate human rights violations during Hassan's reign has confirmed nearly 10,000 cases, ranging from death in detention to forced exile.
After his death in 1999 Hassan was succeeded by his son, who became King Mohammed VI and was seen as a moderniser. There has been some economic and social liberalisation, but the monarch has retained sweeping powers.
Morocco is bidding for membership of the European Union, its main trade partner, but there appears to be little enthusiasm for this within the bloc.
To the south, the status of Western Sahara remains unresolved. Morocco
annexed the territory in 1975 and a guerrilla war with Algerian-backed pro-independence forces ended in 1991. UN efforts have failed to break the political deadlock.
To the north, a dispute with Spain in 2002 over the tiny island of Perejil revived the issue of the sovereignty of Melilla and Ceuta. The small enclaves on the Mediterranean coast are surrounded by Morocco and have been administered by Madrid for centuries.
Morocco has been given the status of non-Nato ally by Washington, which has praised its support for the US-led war on terror. After deadly suicide bombings in Casablanca in 2003, Morocco launched a crackdown on suspected Islamic militants.
Facts
Full name: The Kingdom of Morocco
Population: 32 million (UN, 2009)
Capital: Rabat
Largest city: Casablanca
Area: 710,850 sq km (274,461 sq miles) (including W Sahara)
Major languages: Arabic (official), Berber, French, Spanish
Major religion: Islam
Life expectancy: 69 years (men), 73 years (women) (UN)
Monetary unit: Dirham = 100 centimes
Main exports: Minerals, seafood products, citrus fruit
GNI per capita: US $2,580 (World Bank, 2008)
Internet domain: .ma
International dialling code: +212
Leaders
King: King Mohammed VI
Groomed for "kingship", as his late father King Hassan II referred to his upbringing, Mohammed VI became monarch in 1999.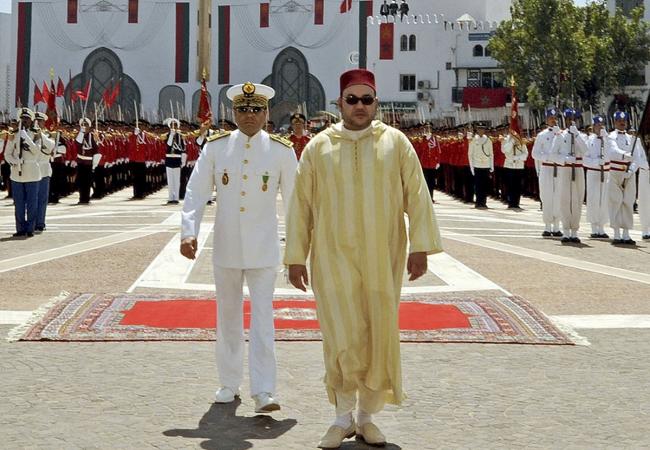 King Mohammed VI embarked on reforms
He initiated political and economic changes and an investigation into human rights abuses during his father's rule.
The king says the fight against poverty is a priority, earning him the name "guardian of the poor". Economic liberalisation has attracted foreign investment and officials point to better basic services in shanty towns and rural areas. But some non-government groups say little has changed, with poverty still widespread and unemployment remaining high.
A key reform has been the Mudawana, a law which grants more rights to women. The king has said it is in line with Koranic principles, but religious conservatives have opposed it.
Bomb attacks in Casablanca in 2003 prompted the enactment of new anti-terrorism laws and a reinvigorated campaign against extremists. But some rights groups say the measures have eroded human rights.
King Mohammed married computer engineer Salma Bennani in 2002. They have a son, Crown Prince Moulay Hassan, born in 2003, and a daughter, Princess Lalla Khadija, born in 2007.
Under the constitution, the king can dissolve parliament and dismiss or appoint the prime minister.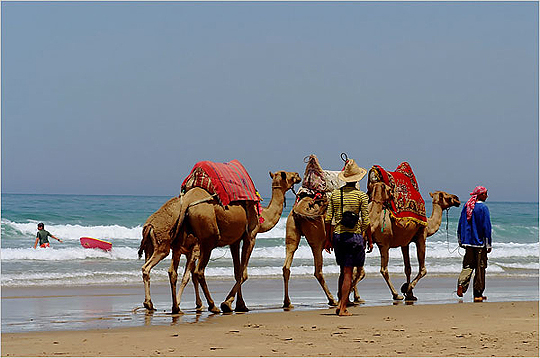 Camel train through desert, Morocco, North Africa Camel train
Prime minister: Abbas El Fassi
Mr El Fassi, leader of the conservative Istiqlal Party, took office in September 2007 after his party emerged as the largest in parliamentary elections.
Born in 1940, Mr El Fassi has served as a minister and diplomat since 1977, including a stint as ambassador to France in 1990-1994. He was minister of state in the coalition govermment of his predecessor, Driss Jettou, from 2002-2007.
His government also includes the Socialist Union of Popular Forces, the National Rally of Independents, and the Party of Progress and Socialism.
Media
Morocco's private press is free to cover many previously-taboo issues, including social problems.
Satellite dishes are widely used in Morocco
But this freedom is not unbounded. Paris-based Reporters Without Borders, while noting "positive changes", has called for an overhaul of press laws. US-based Human Rights Watch says the press code "provides an arsenal of repressive tools". Western Sahara, the monarchy and corruption are all sensitive topics and self-censorship is commonplace.
Newspaper readership is limited by low literacy levels, and competition for advertising is intense.
The government owns, or has a stake in, RTM and 2M, Morocco's main TV networks. An expansion of private TV and radio services is under way. Broadcasters are tamer in their coverage of sensitive topics than the print media.
Satellite dishes are widely used, giving access to a range of foreign TV stations.
The press
Television
Radio
Radio-Television Marocaine (RTM) - state-run, operates national networks in Arabic, French and regional services
Medi 1 - Tangier-based, privately-owned by Moroccan and French concerns, programmes in Arabic and French
WESTERN SAHARA:
News agency

AFRICA | ASIA-PACIFIC | AMERICAS | EUROPE |  MIDDLEEAST |  SOUTHASIA






Mauritania Mauritius Morocco  Mozambique Namibia Niger Nigeria Republic-of-congo Rwanda Sao-tome-and-principe Senegal Seychelles Sierra-leone Somalia South-africa Sudan Swaziland Tanzania The-gambia Togo Tunisia Uganda Australia Brunei Burma Cambodia China East-timor Fiji Indonesia Japan Kazakhstan Kiribati Kyrgyzstan Laos Malaysia Marshall-islands Micronesia Mongolia Nauru New-zealand North-korea Palau Papua-new-guinea Samoa Singapore Solomon-islands South-korea Taiwan Tajikistan Thailand The-philippines Tonga Turkmenistan Tuvalu Uzbekistan Vanuatu Vietnam Antigua-and-barbuda Belize Bolivia  Brazil Canada Chile Colombia Costa-rica Cuba Dominica Dominican-republic Ecuador El-salvador Grenada Guatemala Guyana Haiti Honduras Jamaica Mexico Nicaragua St-kitts-and-nevis St-lucia Suriname Trinidad-and-tobago Uruguay Venezuela Albania Andorra Armenia Austria Azerbaijan Belarus Belgium Bosnia-hercegovina Bulgaria Croatia Cyprus Czech-republic Denmark Estonia Finland France Georgia Germany Greece Hungary Iceland Ireland Italy Latvia Liechtenstein Lithuania Luxembourg Macedonia Malta Moldova Monaco Montenegro Norway Poland Portugal Russia San-marino Serbia Slovakia Slovenia Spain Sweden Algeria Egypt Iran Iraq Israel-and-palestinian-territories Jordan Kuwait Lebanon Libya Mauritania Oman Saudi-arabia Sudan Syria Tunisia United-arab-emirates Yemen Afghanistan Bangladesh Bhutan India Nepal Pakistan Sri-Lanka The-Maldive